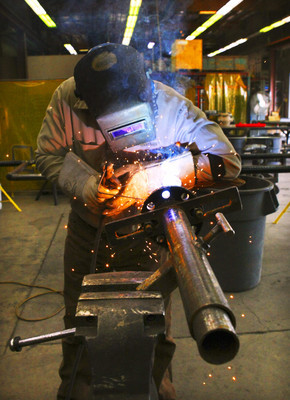 An ailing housing market slashed customer growth for Southern Nevada's natural gas utility by nearly 80 percent in 2008.
And thanks partly to that flagging consumer demand and warmer-than-average temperatures, earnings for Southwest Gas Corp. fell in the fourth quarter and in 2008.
Just 6,000 new customers connected to service through Southwest Gas last year, the company said in its Thursday earnings report. That compares with 29,000 connection hookups in 2007. It's also the slowest growth rate in more than two decades for Southwest Gas.
A virtual halt in new-home construction and a spike in foreclosures caused the dip in customer expansion, company officials said.
In its earnings report, the company reported net income of $31.2 million, or 71 cents a share, in the quarter ended Dec. 31, down from net income of $43.1 million, or $1.01 a share, a year earlier.
The earnings missed analysts' expectations, which Thomson Reuters set at $1.01 a share.
Revenue fell 9.1 percent to $509.4 million, down from $560.3 million.
Relatively high temperatures, gains in energy efficiency and conservation efforts affected the utility's operating margin, or the difference between operating revenue and the cost of gas sold. The spread fell $5 million, or 2 percent, in the fourth quarter, when compared with the same quarter in 2007. Operating expenses jumped $4.6 million, or 4 percent, in the period.
In 2008, the company posted net income of $61 million, or $1.40 a share. That's below the $83.2 million, or $1.97 a share, the utility earned in 2007, and it fell short of analyst expectations of $1.85 a share, according to Thomson Reuters. The utility's revenue dropped 0.34 percent, from $2.15 billion to $2.14 billion, and its operating margin grew 1 percent, or $7 million, from 2007 to 2008.
In addition to smaller customer growth, which cost the company $9 million in income, a drop in cash-surrender values on its insurance policies pared $12 million from earnings. The utility's construction subsidiary also recorded a drop in earnings as the new-home market slowed.
Still, Chief Executive Officer Jeffrey Shaw said in a statement that he saw bright spots in the company's 2008 performance. Efficiency initiatives boosted Southwest's customer-employee ratio from 714-1 to 743-1, he said, and the utility maintained "stable operating cash flows, an improved capital structure, lower financing costs and a strong liquidity position."
Shaw also said he expects 2009 to be "another challenging year." Southwest executives will continue to look for new cost controls, and they plan to seek additional revenue through a general rate case filing in the second quarter.
Southwest Gas released its earnings after the markets closed. The company's shares fell 43 cents, or 2.01 percent, Thursday to close at $20.91 on the New York Stock Exchange.
Contact reporter Jennifer Robison at jrobison@reviewjournal.com or 702-380-4512.