Proposed purchase protested
October 26, 2007 - 9:00 pm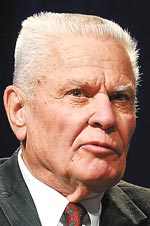 CARSON CITY — While state regulators have approved United Health Group's $2.6 billion purchase of Sierra Health Services, Nevada's largest health insurer, the American Medical Association continued its fight against the deal during a congressional hearing Thursday.
The association's immediate past president, Dr. William Plested, asked the House Committee on Small Business to urge the federal Justice Department to block the purchase, saying it's part of a trend that will lead to a few big companies "that operate in the interest of shareholders rather than patients."
The Justice Department's approval is the last one needed for the deal to go through. Regulators in Nevada, California and Arizona already have endorsed the plan — although Nevada Attorney General Catherine Cortez Masto still could intervene.
Plested told the House committee that the United-Sierra deal will "drastically" reduce competition because United would end up with 80 percent of the market in Nevada, and 94 percent of the market in the Las Vegas area, the state's population center.
Sierra Health spokesman Peter O'Neill said discussions involving Sierra, UnitedHealth and the Justice Department are likely to continue "for the next several weeks." He also said the companies are working with the Nevada attorney general's requests for data.
During hearings in Nevada, representatives of the two companies sought to reassure regulators that Las Vegas-based Sierra Health would retain its own leadership and expand services without raising rates.
While Nevada's insurance commissioner has approved the deal, Cortez Masto could go to state or federal court if she determines there's an antitrust violation.
Sierra Health has 310,000 members in employer-sponsored plans in Nevada and another 320,000 people in plans for retirees and government workers.