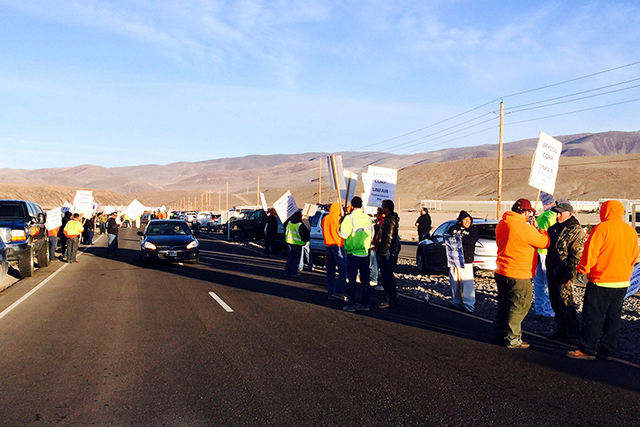 CARSON CITY — Construction workers at Tesla's massive battery factory east of Reno returned to their jobs Tuesday after a one-day walkout to protest the hiring of out-of-state workers by a contractor.
"Workers did go back to work today," said Russell James, District 16 business development specialist for the Building and Construction Trades Council of Northern Nevada.
"We are planning further strategy," James said Tuesday. "It won't be an ongoing work stoppage. It will be an ongoing campaign."
More than 100 — and by some estimates up to 300 — construction workers set up pickets lines outside the Tesla security gate early Monday. They demonstrated against the hiring of out-of-state workers by Brycon Corp., a New Mexico-based contractor.
State lawmakers in 2014 approved $1.3 billion in tax abatements and incentives to lure the so-called "gigafactory," a $5 billion joint venture between Tesla Motors and Panasonic Corp., to the Tahoe Reno Industrial Center.
Under the deal, at least 50 percent of construction and permanent jobs are to go to Nevada workers.
State, Tesla and Brycon officials said the project is meeting and exceeding hiring mandates required by the law.
Union officials, however, complain some Nevada workers are being displaced by lower-paid workers from New Mexico and Arizona. They also argue that Nevadans should be given priority for all jobs, given the hefty tax breaks awarded to Tesla.