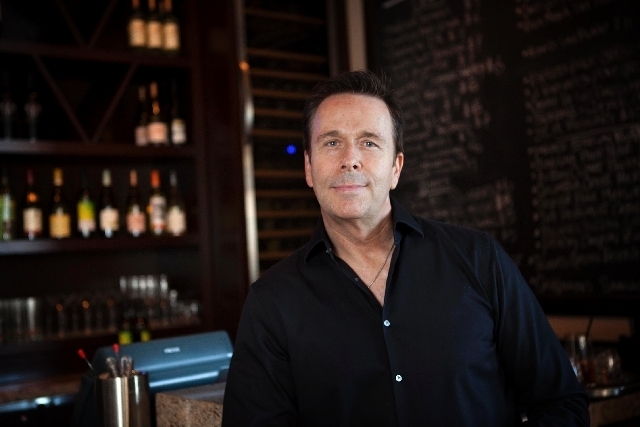 After 16 years at the helm of one of Las Vegas' successful entertainment agencies, Ken Henderson took the leap into food and beverage, and he's not looking back.
As the owner of Best Agency, Henderson creates entertainment concepts for several Strip hotels. His modeling division supplies bodies for editorial shoots, television and film, while his events division produces many of the shindigs around town.
On March 15, he opened Pizza Lounge at Tivoli Village, marking his first foray into the restaurant business.
"People seem to love it," Henderson said.
The executive wanted to open a wine bar somewhere, but knew it wouldn't attract customers with wine alone. When Tivoli started looking for another pizza place after Radio City Pizza closed, Henderson thought that Laguna Beach-based Pizza Lounge could be a fit for the center at 440 S. Rampart Blvd.
While driving to Laguna to talk to owner Gary Decker about opening in Las Vegas, Henderson decided he wanted to be involved. After talking to Decker, the two decided on a partnership.
Once Pizza Lounge was launched, Henderson partnered with Angelo Sosa and his Tivoli eatery, Poppy Den, after the two met while building their respective businesses.
"We had the same ideals and customer service thoughts and creativity and we just became friends that way, prior to any business relationship," Henderson said.
Between the three entities, Henderson has about 225 employees.
"It's a little scary to think about sometimes," he said.
What are the challenges of owning a restaurant in Las Vegas?
When you're in a restaurant in a neighborhood, it's different because you really have to nurture those people if you want to see them back. I don't have the luxury of millions of tourists coming in. Here you have to really get comfortable with people and let them know you're here.
How are you juggling all of your responsibilities?
I think it's just having a great team. If I hadn't had the team I had at Best, I wouldn't have been able to venture into anything else.
Have any skills translated?
I think it's all customer service. That's the biggest thing. It's really just connecting with your customer. That's how I built Best Agency. You have to do the same in a restaurant. It's in life period.
When you need to bounce a business idea off someone, who do you turn to?
I have lots of very smart friends. Robin Leach is a good friend of mine and he's very savvy. I almost look to him like a dad sometimes. He gives great advice that might not be what I want to hear but he'll just throw it at me from a very honest perspective. I have other great friends who are presidents of hotels and I'll ask them, too. Interesting enough, they bounce a lot of things off of me as well.