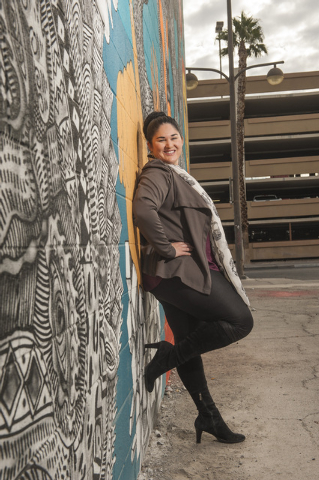 If you spend much time in the East Fremont neighborhood downtown, you probably know Krista Whitley-Castellarin.
Bubbly and energetic, Whitley-Castellarin was born and raised in small-town Washington, launched her first successful business in Canada, and works in public relations, music management, branding and creative consulting as CEO of EGO: Entertainment and Growth Opportunities.
She specializes in helping fast-growth entrepreneurs grow healthily, and knows through experience why it's important to have a strong game plan.
She's been on reality TV shows "Groomer Has It Season 2," "The Fabulous Furballs" and "Dragons Den," a show that matches entrepreneurs with investors.
A mother of two girls, Bella, 5, and Mia, 4, Whitley-Castellarin also runs a women's issues and empowerment blog, called The Mean Girls, which nets 12,000 readers each month.
How did you get your start in business?
I had created the No. 9 fastest-growing company in Canada, a pet boutique and luxury grooming salon. We had grown on a shoestring and we grew really fast, like 981 percent. It was kind of a like a rocket ship. At the time, I didn't realize how important things like corporate culture were. I had taken the tour of Zappos, but I certainly didn't have a company as large as theirs. My company ended up imploding because I had picked all the wrong people and had thrown warm bodies into the seats. It ended up being a terrible experience for my first venture.
How did you end it?
Finally, one of my friends who is far more successful than I'd ever been, said to me, "So get out. Just stop." It had never occurred to me because my own personal identity had been so entwined with my brand identity. It was the end of January and "Dragon's Den" aired. We'd been trying to raise capital to grow, grow, grow because growth is very expensive. The show came on and I'm surrounded by my friends and family and Kevin O'Leary from "Sharks Tank" and "Dragon's Den" said as I was walking off the stage, "She's the real deal." It was like this light bulb went off in my head and I finally understood that I was separate from my company. On Feb. 5 I served all my franchisees notices, I set them free of their franchise contracts.
What are some of your greatest successes?
Moving to a foreign country where I didn't know kilometers and I didn't know Celsius and I didn't even know how to get to the grocery store. That's why the first office I ever looked at that said "for lease," I signed. I didn't even negotiate or look any deeper into location. I think starting a company that ended up taking off so rapidly, that was a tremendous success. A pinnacle moment for me was at Life Is Beautiful when we've got an artist up on stage, and record executives from L.A. that came because I was bold enough and brash enough and I called them to come here. Just helping other people realize their dreams has been tremendously rewarding for me. What I've discovered about being on three reality shows now is that I like being behind the scenes. I think I do all right in front of the camera, but I thrive being behind the scenes and lifting other people up.
What kinds of projects are you working on?
We're working on a couple of reality TV show pilots. A couple of our artists are in the process of recording albums, so we'll be releasing those. My most exciting project is that we are are bringing a record label and recording studio to the Arts District. It's a good friend from Atlanta, Cappriccieo Scates. He sits on the Atlanta Chapter Board of Governors for the National Academy of Recording Arts and Sciences, and the board of the Grammy Foundation. He's been in music for a long time, and this is really a fulfillment of a lifelong dream for him. His vision is to build a music community just like Motown. He wants to have a music lesson night where one night a week, people all all ages can come get voice lessons, they can come get instrument lessons. They can come in, record in the studio and that costs nothing. A great challenge is there's a lot of talent out there that never gets an opportunity.
Why do you live and work in Las Vegas?
I grew up in a small town. I was in a graduating class of 50 kids, and my dad was the high school football coach. The whole town closed for football games. I was born walking fast, talking fast and thinking fast, and no one would ever keep up with me. Las Vegas is the first city I've found that operates at the same fast pace I do.