Raiders' practice facility site in Henderson has rocky history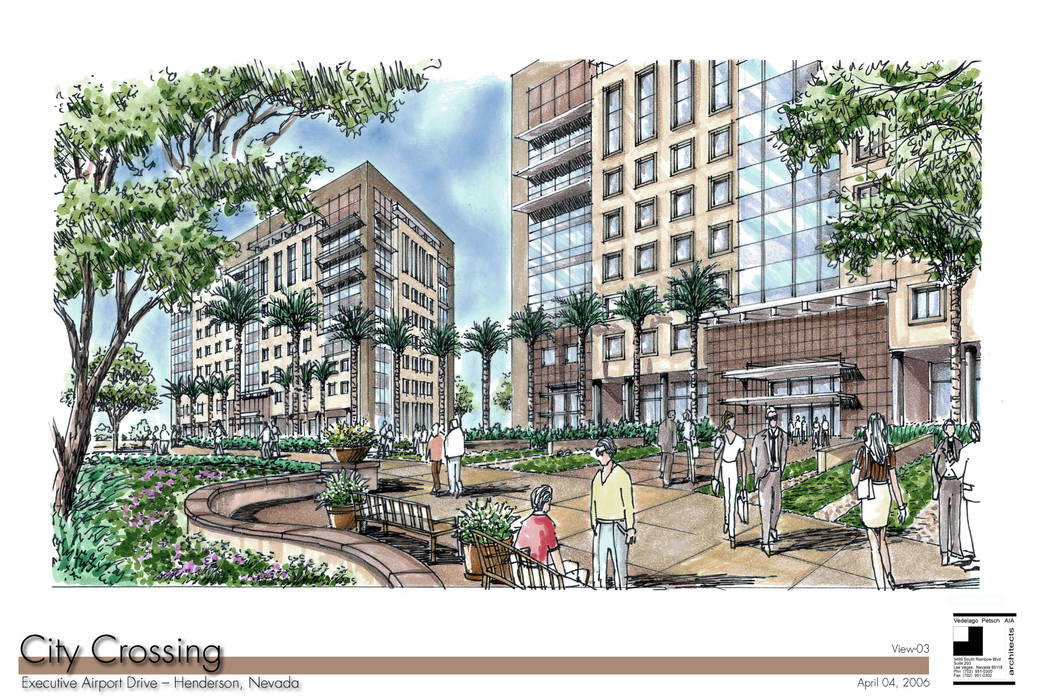 It was supposed to be the masterpiece of an incredibly successful developer — a $2 billion project in Henderson with hotels, luxury homes, retail and high-end offices.
But nothing was built, and both the project and the developer went bankrupt. Now the land is earmarked for the Raiders' practice facility.
City Crossing, by developer Bill Plise, was one of countless megaprojects in the Las Vegas Valley during the bubble years of the mid-2000s. And during the recession, it was one of many that flopped.
There have been plenty of high-fives over the Raiders' arrival, and the city of Henderson sold the NFL team its land for half the appraised value. But locals might not realize that the site was supposed to be buzzing with activity today and that the past project's failure was followed by allegations of a "sham" divorce and $139 million in unaccounted-for funds.
Spacefinders Realty owner Eliot Alper, who sold Plise the land and lent him money for the project, was awarded a $16 million judgment in connection with City Crossing. But, he said, he hasn't collected a penny and doesn't expect to.
Las Vegas was flooded with easy money during the boom years, and City Crossing "probably made sense at the time," Alper said. But ultimately, "a lot of people lost a lot of money."
RCG Economics founder John Restrepo, a City Crossing consultant, said people thought the project had an innovative design. But Plise's name "became prominent as one of the casualties" of the bubble, he said.
"Everybody got caught on the hype of Vegas," he said.
'Neighborhood unlike any other'
Plise, a Las Vegas native, was a custom homebuilder who got into commercial real estate development, news reports said. Restrepo described him as a "low-key guy" who didn't personally appear in his media coverage and "came out of nowhere all of a sudden and became a prominent developer."
Efforts to reach Plise for comment by phone, email and through his bankruptcy lawyer Cecilia Lee were unsuccessful.
Lee said she was "not in a position to respond" to a reporter's inquiries "at this time."
Plise had several projects, but "what may become the company's masterpiece" was City Crossing, Nevada Business Magazine reported in 2006.
The 126-acre, 6 million-square-foot project off St. Rose Parkway near Henderson Executive Airport was slated to feature Class A office space, restaurants, entertainment venues, two boutique hotels and 2,500 luxury residential units.
All told, it would be "a versatile, mixed-use, urban neighborhood unlike any other in Southern Nevada," said Mitchell Stipp, then chief operating officer and general counsel for Plise Development & Construction, in a news release for the project.
The release, issued in November 2007, announced that Plise had broken ground on City Crossing. But the economy was already showing signs of cracks, and Plise pushed the project into Chapter 11 bankruptcy protection in June 2008.
When the project went bankrupt, his legal team claimed in court papers that City Crossing "remains viable." But the economy only got worse, the project went nowhere, and in 2012, Plise filed for personal bankruptcy.
He claimed just $4,738.71 in assets — including clothes, a wedding ring and a 9 mm Glock pistol — and $506.5 million in liabilities, much of that stemming from guarantees on City Crossing loans, court records show.
Along the way, according to reports and court records, his contracting licenses were suspended, project lenders collapsed, Plise got divorced, and questions surfaced about City Crossing's money.
'Nothing wrong with ambition'
Shelley Krohn, the court-appointed trustee for Plise's personal bankruptcy case, alleged in court papers in 2012 that Plise's October 2008 divorce from Tennille Plise "was a sham" and designed to thwart his creditors.
According to Krohn, Plise received about $10.2 million in project funds before filing bankruptcy for City Crossing and transferred "significant assets" to Tennille "during a period in which he claimed that he had no assets."
The divorce called for Tennille to receive $1.85 million in child support, $1 million in alimony, two Cadillac Escalades, motorcycles, and other property.
Meanwhile, Krohn wrote in court papers in 2014 that Plise obtained more than $169 million in construction financing for City Crossing, and when she questioned him about that money, he said around $30 million was spent to prepare the land for development.
"Plise, however, could not account for the remaining $139 million," Krohn alleged.
His bankruptcy case was still open as of Wednesday.
Krohn did not respond to requests for comment. Tennille Plise declined to comment.
The City Crossing site is now split among multiple owners.
The Raiders, who bought about 55 acres there for $6 million, plan to move to Las Vegas from Oakland, California, in 2020.
Matter Real Estate Group also aims to break ground on a 300,000-square-foot industrial project next to the practice site in the fourth quarter.
Matter co-founder Jim Stuart — whose past projects include Town Square Las Vegas — said City Crossing was "ambitious, even during the explosive growth" of the 2000s, and it "would have taken a lot of momentum" to come to fruition.
"Frankly, there's nothing wrong with ambition," Stuart said. "It just was ahead of its time."
Contact Eli Segall at esegall@reviewjournal.com or 702-383-0342. Follow @eli_segall on Twitter.