Raiders stadium looking at alternatives to NV Energy power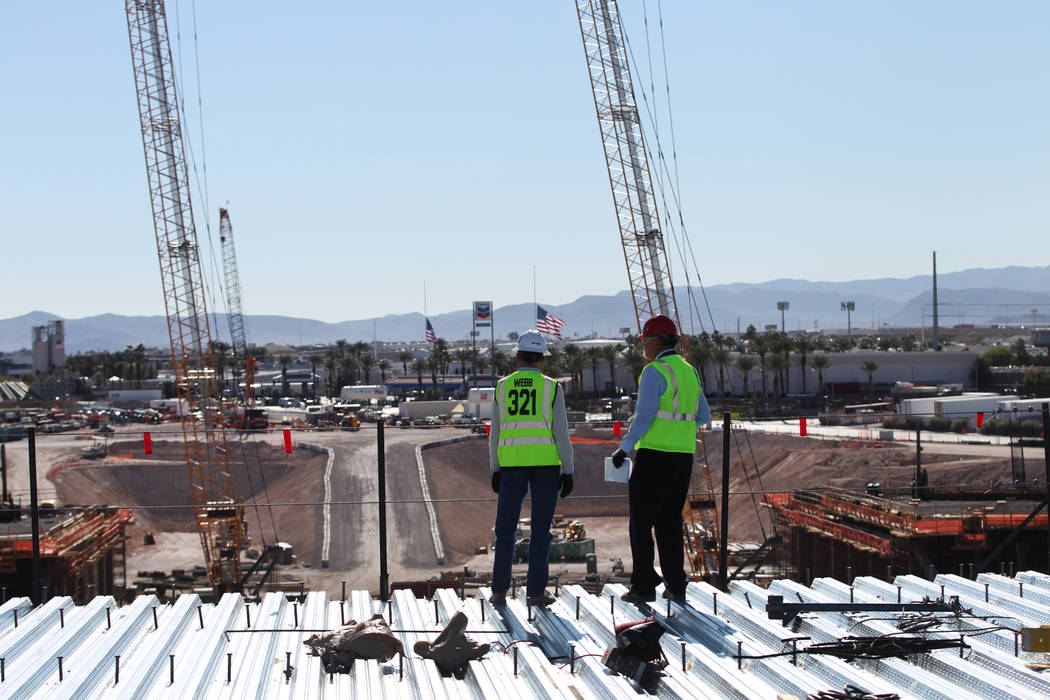 The Las Vegas stadium isn't expected to be complete until the 2020 football season, but those behind it are already considering energy providers other than NV Energy.
LV Stadium Events Co., a subsidiary of the Raiders, filed an application with the Nevada Public Utilities Commission in September to leave NV Energy. The commission will discuss the application Tuesday.
The Raiders believe that the stadium's energy delivery services will begin around April and anticipate the stadium's annual load will reach 50 megawatt-hours per year with a peak load of 18 megawatts, according to documents filed with the PUC.
Don Webb, chief operating officer for the LV Stadium Co., said it is "preserving our option" to choose an energy provider.
"That's not to say it wouldn't be NV Energy," he said. "We're looking at that option as well."
LIVECAM:
Monitor the progress of Las Vegas Stadium in this view looking south toward the construction site.
LV Stadium Events issued a request for proposals from service providers, but it hasn't made a selection. According to a Sept. 7 filing, the selection process is expected to be completed by Dec. 1.
A representative for NV Energy was not available for comment Monday.
The 65,000-seat stadium, located across Interstate 15 from Mandalay Bay and Luxor, is still under construction and has not established a permanent electric service. The power being used in the construction process comes from NV Energy and goes through a contractor.
A growing number of companies have sought PUC approval to exit NV Energy. For example, MGM Resorts International left NV Energy in 2016 after paying $86.9 million in exit fees. Caesars Entertainment Corp. left this year after paying $47.5 million. The exit fee is meant to offset a company's departure and negate unexpected costs for NV Energy's remaining customers.
Michael Schaus, communications director at the Nevada Policy Research Institute, said energy costs are companies' biggest incentive to leave NV Energy.
"The fact that (these companies exited) and were willing to pay a price tells me they think they're being overcharged," Schaus said.
As this domino effect of exiting companies continues, Schaus said, NV Energy might have to re-evaluate its base rate.
"They might look at ways to make it more punitive for someone to leave," he said.
Contact Bailey Schulz at bschulz@reviewjournal.com or 702-383-0233. Follow @bailey_schulz on Twitter.
More Raiders: Follow all of our Raiders coverage online at reviewjournal.com/Raiders and @NFLinVegas on Twitter.