REAL ESTATE: New carpenters' training center a sign of recovery
December 15, 2013 - 1:53 pm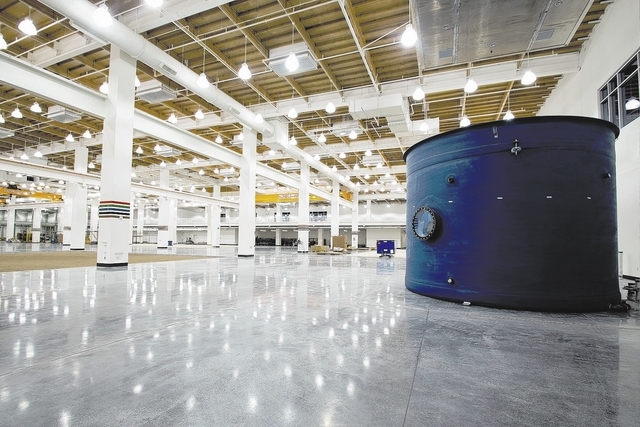 You want stress? Try building a training center for carpenters.
It would be like operating on a surgeon, or arguing a case for a lawyer: You're under constant scrutiny from someone who knows his stuff as well as you do. If you're not on every day, you'll hear about it. Probably for a long time.
That was just one of the challenges that faced PENTA Building Group as it built a $43 million, 220,000-square-foot expansion of the United Brotherhood of Carpenters and Joiners of America International's training center at 6801 Placid St. Throw in some unusually rainy weather and the tight timeline that resulted, as well as heavy traffic on nearby roads and building around existing classroom space while training was in session, and you have a project with more potential hurdles than an Olympics track meet.
But PENTA — which cleared those obstacles on time and within its budget — was happy to do it. The carpenters' union didn't return calls by press time, but PENTA executives said the expansion is a bellwether that signals an improving local construction market.
"It's a good sign. If the carpenters' trade organization needs more training space for their people, it's almost a leading indicator in that they are filling a need for carpenters for new projects," said Matt Woodmansee, PENTA's project executive on the center.
It's not PENTA's first big project coming out of the recession. The company renovated the former Las Vegas City Hall for Zappos.com, a project it finished in September. Because of their size and scope, neither project could probably have happened during the recession, Woodmansee said, so they reflected a bit of a turning point when they were awarded in 2012.
Today, the market keeps getting better. Additions and remodels, such as the Sahara's transformation into the SLS Las Vegas, are more common than new construction, Woodmansee said, although some big planned projects are set to boost the market, too: PENTA joint-ventured with Hunt Construction Group to land the contract to build MGM Resorts International's $350 million, 20,000-seat arena, which the gaming operator plans to build with AEG next to New York-New York.
Woodmansee said he expects local construction to ramp up in 2014, as projects such as SLS Las Vegas and Zappos.com's new headquarters "propagate additional investment" in surrounding areas.
That's good news for local contractors, who still haven't returned to pre-recession form. PENTA, for example, had 185 salaried employees before the downturn, cut that roster about in half during the market's bottom and is back up to about 140 today. That could improve if sales keep ticking up.
"We do definitely see growth opportunities for revenue in 2014," Woodmansee said. "Our backlog is increasing as we go into next year."
■ The Southern Nevada Home Builders Association installed its 2014 officers and board of directors Dec. 5 during a luncheon at the Four Seasons Hotel.
Robert McGibney of KB Home will serve as president of the 290-member trade group. Richmond American Homes' James Gomez will be first vice president, and Larry Simon of Pardee Homes will be second vice president. Darren Wilson of Sierra Air Conditioning will be associate vice president. The Howard Hughes Corp.'s Tom Warden was installed as treasurer, and Complete Association Management Co.'s Ken Williams as secretary.
Simon and Warden will also serve on the 2014 board of directors. Other builder members are: Don Boettcher of Dunhill Homes; Ray Huff of Beazer Homes; David Jennings of DR Horton; Rob Keune of Pardee; Wayne Laska of StoryBook Homes; Brandon Laughter of Pulte Homes; Janet Love of KB; Jeremy Parness of Lennar Homes; and Bradd Robison of KB.
Williams and Wilson will be associate board members. Other associates are: Barbara Baird of B2 Development Services; Claire DeJesus of the Las Vegas Review-Journal and its New Homes Guide; Scott Donnelly of Cooper Roofing and Solar; Sherrie Hermann of Cal Pac Painting of Nevada; Chad Hirschi of Hirschi Masonry; Bill Ickes of Silver State Specialties; and Rebecca Merrihew of Red Rock Insulation.
The group also awarded DeJesus its Associate Member of the Year honor for her promotional efforts. DeJesus launched the association's Promotions Committee and coordinated several industry panels and events, including its first dinner function in a decade. She's also putting together the upcoming Silver Nugget Awards, scheduled for March 29 at the Renaissance Las Vegas. For more information, including how to nominate honorees, visit SilverNuggetAwards.com.
■ Several brokers with Colliers International were involved with October's $10 million sale of the former courthouse at 200 Third St. Josh Smith, Gabe Telles, Mike Mixer and Scott Gragson represented buyer Derek Stevens and his DROCK 3rd Street LLC. Stevens, CEO of downtown's D Las Vegas, told the Review-Journal he plans to tear down the courthouse, but he's still weighing what he'll do with the property.
Colliers brokers helped in several other recent deals.
Dean Willmore, SIOR, represented Coronado Eastern LLC in its $830,000 sale of an 8,300-square-foot office building at 10420 S. Eastern Ave., inside Southpoint Plaza. The property's new owner is Real Capital Corp.
Vince Shettler worked with RMB Real Estate LLC in its sale of five acres of land at Cactus Avenue and El Capitan Way. CACSFF REIT bought the parcel for $800,000.
Chris Connell represented landlord Sahara Rancho Office Center LLC in its 36.5-month lease renewal to Nevada Administration Department's Public Works Division. The 6,554-square-foot space, which houses the Nevada attorney for injured workers office, is at 2200 S. Rancho Drive. The lease is worth $472,478.
Robert Torres and Scott Gragson represented FAE Holdings 418671R LLC in its $465,000 purchase of 2.5 acres of land at the southwest corner of Santa Margarita Street and West Meranto Avenue.
Mike DeLew, SIOR, and Greg Pancirov, SIOR, represented Janes Source Properties LLC in its purchase of 0.98 acres of land inside the Buffalo 215 Business Park, at Buffalo Drive and Post Road. Brian Riffel represented seller Buffalo Post in the $320,166 deal.
Contact reporter Jennifer Robison at jrobison@reviewjournal.com. Follow @J_Robison1 on Twitter.