RedFlint in Las Vegas offers credentialed workforce training
September 20, 2017 - 2:28 pm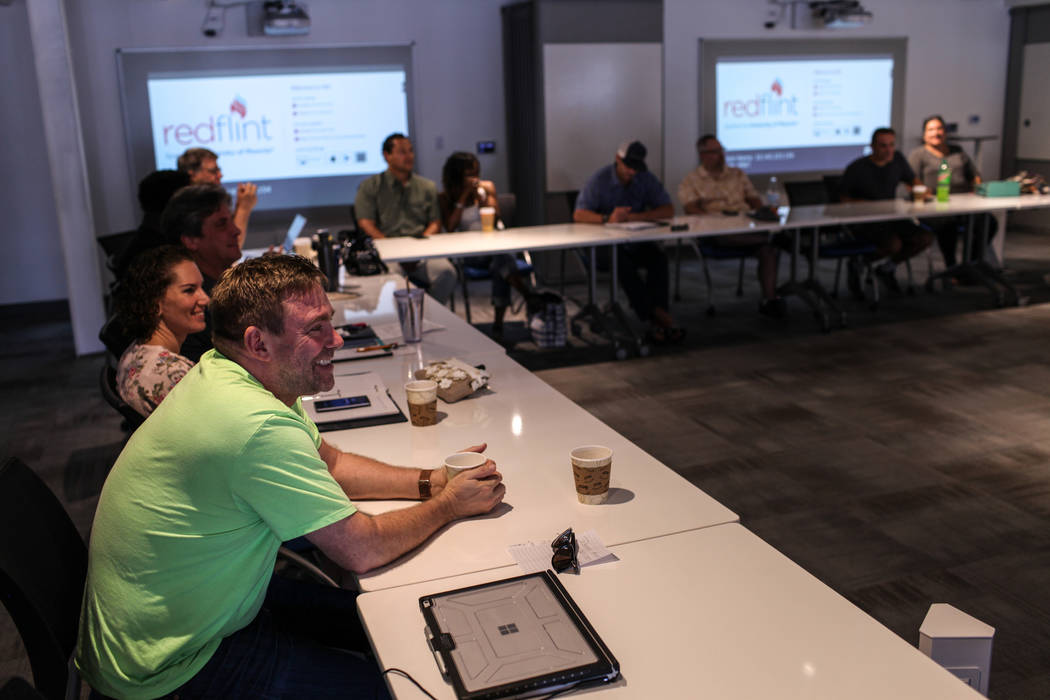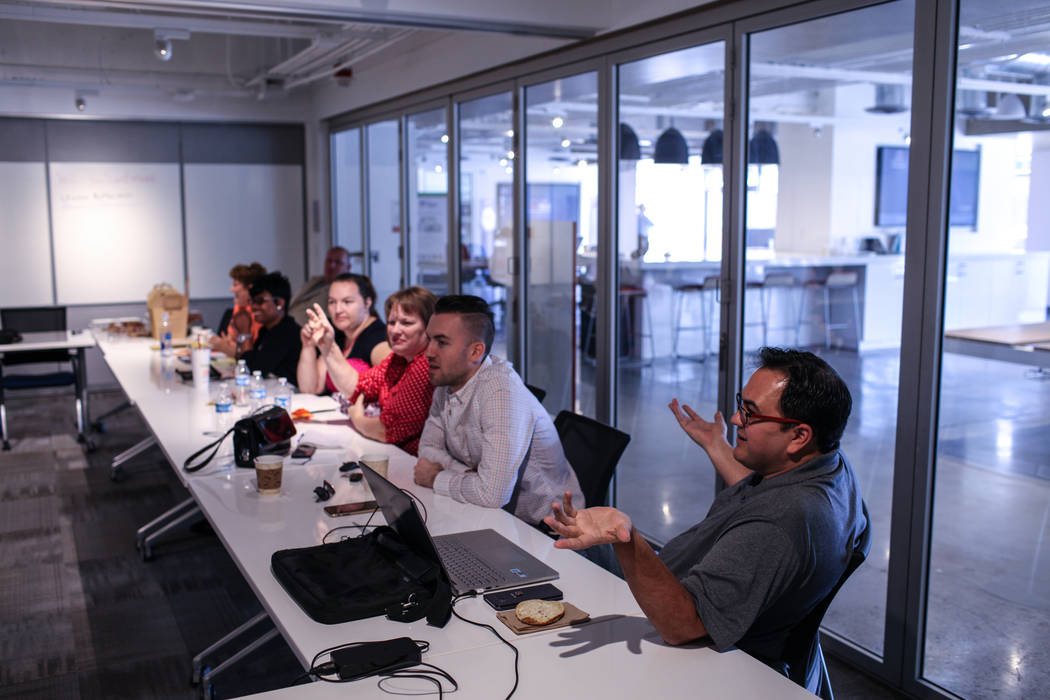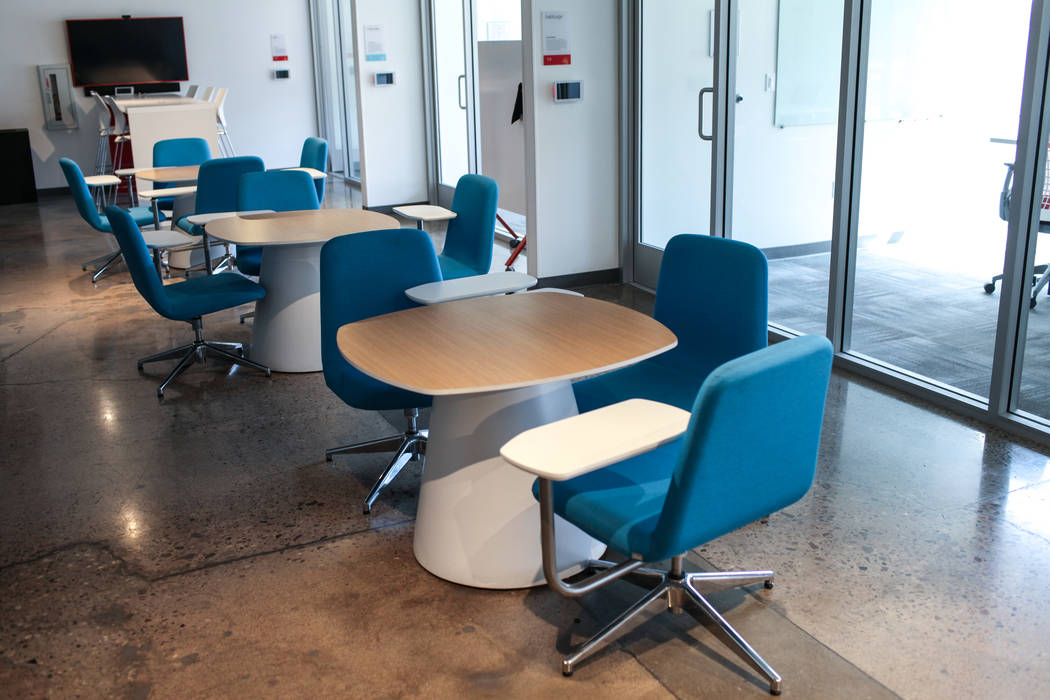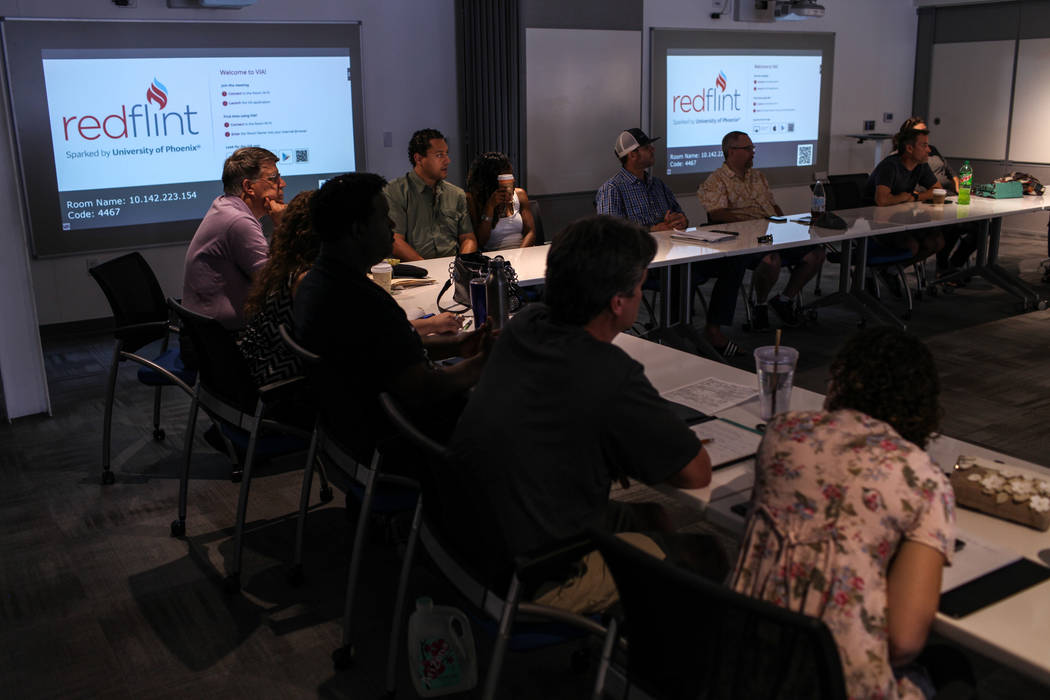 It's been almost a full year of "sticky note explosions," startup business pitch competitions and business training events at RedFlint experience center.
And it's been almost a full year that the center has gone without making any money from the majority of its event offerings.
Though it is difficult to make money when everything is free — as most offerings at RedFlint have been.
Located downtown in the Bank of America Plaza building, RedFlint is a business incubator, a startup accelerator, and a community education center, offering workshops and seminars on all things business.
RedFlint, owned by the University of Phoenix, set up shop in Las Vegas last October.
"Our original plan for break-even was three years, and we're on track for that," said Dennis Bonilla, executive dean of the College of Information Systems and Technology and School of Business at the University of Phoenix.
For-fee 'skill-builders'
Adding for-fee courses will help, which RedFlint will formally begin Monday .
"It took us probably a little longer than we anticipated to start offering the for-fee workshops, or skill-builders,'" Bonilla said.
It took time to build the relationships to be able to offer those workshops, and to find a payment system to use, he said.
RedFlint will host third-party vendor courses that last between one and five days and range between $1,000 and $3,000 from:
— D.C.-based management consulting firm AgileTrailblazers.
— Global training and technology company Baker Communications Inc.
— Software company Salesforce.
— Cybersecurity training certification company EC-Council.
— Bar exam preparation company Barbri.
You won't see the Baker and Salesforce courses immediately offered on RedFlint's online calendar, though; these will be offered based on demand from local organizations and employers.
"You'll be able to put yourself through a road map of how do you go from sales training to Salesforce training, to different cybersecurity trainings, to you can actually climb the corporate lattice," said Shavonnah Tièra Collins, managing director of RedFlint.
Latticing is a strategy that allows employees the ability to pursue skill-builders to earn the necessary competencies and skills to help them chart their own path within their organization, she said. For example, many employees may not want to go into management, but have the skills and competencies to help their organization in another area if given the chance, she said.
Each of the for-fee courses will result in a tangible badge or certificate of some kind "so you can actually have something that is credentialed and matters to the workforce," she said.
"We have a new technical and digital economy that we need to be all within walking distance of," Collins said. "We can't just say, 'I only do this thing.' You have to broaden your skill set if you want to grow."
Looking ahead
In the year ahead, Bonilla said he'd like to double the number of skill-builder tracks to around 12, to include training in the internet of things, cloud computing and expanded cybersecurity, among other areas.
Bonilla said he is also working to secure a permanent gaming innovation hub at RedFlint for the emergence of virtual and augmented reality slot machines as well as the emerging esports industry.
Currently, RedFlint has one 13-week accelerator program offered per year, and Bonilla said he'd like to get two programs per year.
"Our commitment to the community is stronger than ever," he said.
Contact Nicole Raz at nraz@reviewjournal.com or 702-380-4512. Follow @JournalistNikki on Twitter.
Luring Amazon to Las Vegas
The Governor's Office of Economic Development is in the process of compiling a proposal for Amazon to build its second headquarters in Nevada. The tech giant set a due date of Oct. 19.
"You have to have the ability to source and supply highly technical talent to those types of companies to come," said Dennis Bonilla, executive dean of the College of Information Systems and Technology and School of Business at the University of Phoenix, which owns the RedFlint experience center in Las Vegas.
"These kinds of things, like RedFlint, contribute to the ability to show a company like Amazon that Vegas is serious about tech talent and bringing people in," Bonilla said.