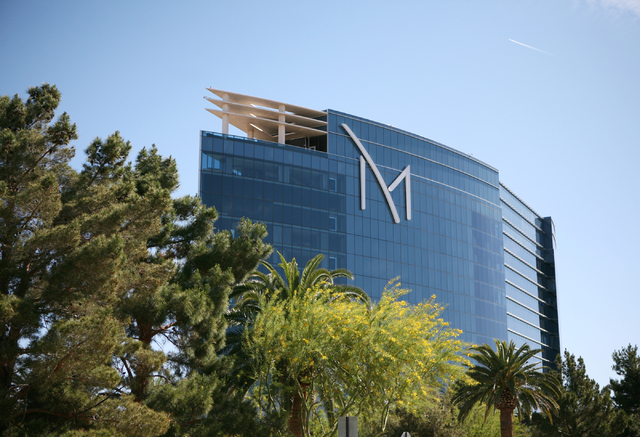 The completion of a real estate investment trust spinoff by Penn National Gaming in November caused the regional casino giant to report an $888.7 million net loss in the fourth quarter. Much of the figure was related to more than $1 billion in noncash impairment charges.
The company, which owns the M Resort in Henderson, said Thursday its results for the quarter ended Dec. 31 were hurt by the company's spinoff of Gaming and Leisure Properties, a publicly traded REIT that owns the real estate associated with 19 Penn casinos, including the M Resort and two under-construction Ohio racetrack casinos.
For the quarter, Penn's loss per share was $11.40. A year ago, the company reported net income of $20.2 million, or 19 cents per share, for the fourth quarter.
Besides the noncash impairment charge of $1.06 billion, Penn National said the company incurred $14.1 million of spin-off related expenses.
Penn said its net revenue in the quarter fell 13.3 percent to $644.7 million. Revenue for the company's east-west region, which includes M Resort, declined 14.5 percent to $258 million.
The company and analysts both cited weakness in regional gaming markets because of weather issues and weak customer spending habits.
Penn National CEO Tim Wilmott said the REIT's spinoff "unlocked significant value for our shareholders." REIT's, by law, don't pay federal income taxes and are required to distribute 90 percent of their taxable earnings to shareholders.
"We believe our development pipeline and recently completed new facility developments and property upgrades also provide Penn with unique growth opportunities amongst our peer group," Wilmott said.
Penn announced last month it was beginning building a $350 million Indian casino near San Diego.
Penn is also bidding on potential casino projects in Massachusetts and Philadelphia.
"Penn's pipeline should offset regional weakness," Macquarie Securities gaming analyst Chad Beynon told investors. "(It) could turn out to be the strongest in the industry."
Contact reporter Howard Stutz at hstutz@reviewjournal.com or 702-477-3871. Follow @howardstutz on Twitter.