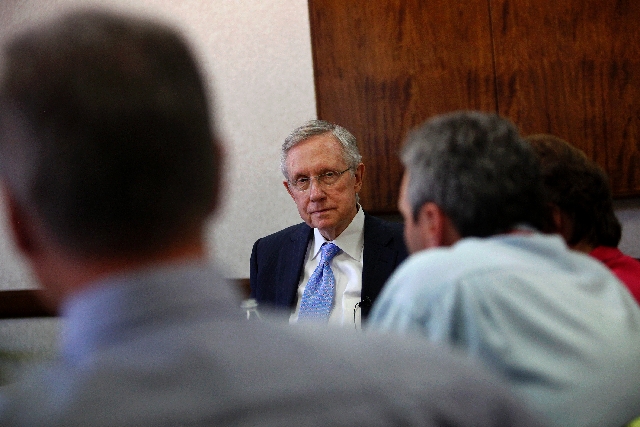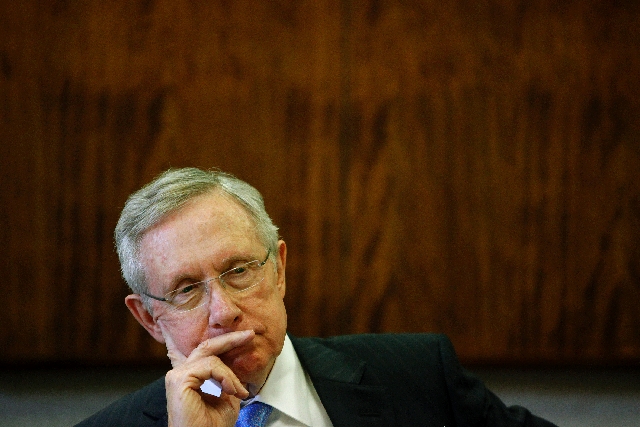 U.S. Sen. Harry Reid tapped his vast treasure trove of political stories — one that involved a drunken former city manager who wetted himself at a local bar more than 40 years ago — to suggest the Henderson City Council failed to conduct background checks of controversial developer Chris Milam.
Reid recalled he was Henderson city attorney in the 1960s when a new city manager was hired by a City Council unaware of the city official's drinking problem.
"He was a wonderful guy for about two weeks until they learned he was an absolute drunk. He would wet himself at the Eldorado Club. What the City Council had not done was do a background check on the guy. Somebody should have checked out this guy," Reid said during a visit Friday to the Las Vegas Review-Journal.
Reid recounted the tale to make a point: the Henderson City Council should have vetted Milam, who approached the city in 2011 with a grandiose plan to build a four-venue sports complex that would include an NBA arena, a Major League Soccer venue, a football stadium for NFL and college football, and a baseball park.
Before coming to Henderson, Milam had failed at two previous attempts to build an arena in the Strip area and in downtown Las Vegas, and was the subject of a seven-figure judgment against him in a Las Vegas condominium project.
More than two years after initiating his lofty sports complex proposal, Milam bailed on the plan in late November — but he still wanted to buy the project's 480-acre BLM site. City officials feared Milam would flip the land to home builders if he gained control of the land, so they sued Milam and four of his consultants for fraud.
The city and Milam settled the lawsuit in March, with Milam banished from doing business in Henderson and his creditors set to close on the BLM site May 13.
Reid described Milam's sports arena plan as a "scam."
The city's lawsuit played out like a soap opera, with Reid having several connections to the legal action. Reid's son, Josh, is the Henderson city attorney who sued Milam. Josh Reid became city attorney after Milam proposed the sports complex in Henderson.
Meanwhile, one of Milam's consultants named as a defendant in the case, former BLM official Mike Ford, is the business partner of former BLM Director Bob Abbey. Sen. Reid was instrumental in getting Abbey named BLM director in 2010.
As part of Henderson's lawsuit against Milam, the city's legal team alleged Abbey used his clout as BLM director to help Milam on the BLM land deal. In an Aug. 2, 2011, email, Ford told Milam that he spoke to his friend Abbey and, "We can expect full support and cooperation at the local, regional and national level."
The federal government is investigating the BLM deal. Abbey denied he helped Milam and Ford make it happen.
Ford stood to receive a 5 percent "success fee" if Milam and the BLM closed on the $10.56 million land deal.
With that in mind, Sen. Reid told the Review-Journal that he was "disappointed" that a former BLM official would receive money for the deal.
Asked if he played a role in triggering the Office of the Inspector General to investigate the Milam land deal in Henderson, Reid said he didn't.
"I tried my best to stay out of it with my boy (City Attorney Josh Reid) there."
The Henderson-Milam imbroglio included yet another Reid connection. Milam hired Key Reid, another son of the senator, to help recruit a Major League Soccer expansion team to Henderson. Key Reid, a lawyer and former soccer player, charged Milam a monthly retainer of $5,000.
Although the Milam arena plan in Henderson turned into a legal maelstrom, Sen. Reid did say Southern Nevada is "ripe for a new arena."
Reid cited MGM's proposed arena on the Strip and UNLV's proposed 60,000-seat domed stadium that university officials have dubbed a "Mega Events Center."
Reid said he has discussed the proposed UNLV stadium project with University of Nevada, Las Vegas pointman Don Snyder. Snyder is lobbying the state Legislature to approve a campus tax district and improvement authority board to help generate money for the $900 million stadium project.
"People said he couldn't get the Smith Center done. People are saying he can't get this done. I have confidence that he might be able to get this done," Reid said.
Contact reporter Alan Snel at asnel@reviewjournal.com or 702-387-5273.