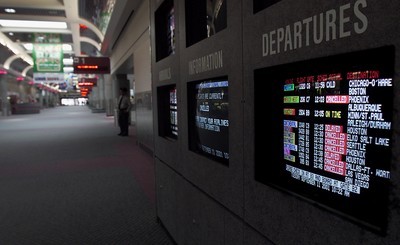 RENO — After 10 years of expanding with flights to new markets, officials at Reno-Tahoe International Airport are warning passengers to prepare for fewer flights to fewer destinations at a higher cost.
"It is a challenging time," said Krys Bart, president and chief executive officer of the local airport authority. She said it's time to "reset expectations."
The International Air Transport Association estimates the airline industry will lose $2.3 billion this year primarily as a result of soaring oil prices. At $125 a barrel, it translates into a 174 percent increase over two years at Reno-Tahoe International.
"My personal feeling is that it is going to get worse before it gets better," Bart told the Reno Gazette-Journal.
"We still have good air service, but we are not going to continue to build air service at the rate we have in the last decade," she said.
"This isn't about the airport doing something different or not doing its job," Bart said. "It is about what is happening all over the country, taking it out of the (Reno) microcosm and putting it into the big picture."
The big picture hasn't been pretty lately:
•United Airlines, second-largest U.S. carrier, last week cut fleet operations and more than 1,000 jobs to compete amid soaring fuel prices and a weakening domestic economy.
•Delta Air Lines lost $290 million in the first quarter of 2008, while American Airlines lost $328 million.
•Aloha Airlines filed for bankruptcy, ended passenger service and pondered up to 1,900 layoffs.
And it could get uglier.
"What you will eventually have will be maybe two legacy airlines in the U.S., which are the big ones, but I have no idea what the names will be on the sides of the airplanes," said Howard Putnam of Reno, the former CEO of Southwest Airlines. "And then you will have three or four Southwest types and somewhere down the road — three to five, maybe 10 years — we will figure out a new way to power an airplane."
Putnam warns airlines should plan for oil to reach $200 per barrel.
The number of passengers at Reno-Tahoe dropped 13 percent in April and 10 percent in March, compared with the same months in 2007.
The number of passengers for April, 354,768, is less than the number of passengers in the first April after the Sept. 11, 2001, terrorist attacks.
Airport revenue per passenger — gambling, parking, food and retail shops — was down 25 percent from January's average of $41.80 per passenger to April's $31.04, Bart said.
By September, Reno-Tahoe will have eight fewer weekly departures than a year ago and 10 percent fewer seats than in May.
The airport has frozen all jobs not related to safety or security and announced the layoffs of 11 part-time passenger aides by September. Three on-call passenger aides have been cut.
"More layoffs are not out of the question," airport spokesman Brian Kulpin said. "Salary freezes are not out of the question.
"We are looking at creative ways to cut back our spending. We have already taken a look at capital projects, capital-spending projects, travel and those types of things."
Parking fees for passengers "are not on the table" although parking fees for airline crews and nonairport authority employees will go up, Kulpin said.
Prices of food and other products sold at the airport also could rise, Kulpin said.
"Those (shops) are private entities that lease those spaces from us, and some of them may see an increase in fees just because of the cost in fuel," Kulpin said. "It costs money to have goods transported to the airport. There is a cost to operate at the airport, so those are decisions they will have to make as individual companies."
Bart said Reno-Tahoe has more daily departures than most airports its size. The airport has 78 daily departures, nearly double that of larger communities, such as Pensa- cola, Fla., or Lexington, Ky.
But Reno-Tahoe officials plan to meet this month with airline officials to avoid losing flights.
Putnam said the loss of flights for Reno-Tahoe will be minimal.
"I would be surprised if they lost more than 10," he said. "The Reno-Tahoe folks have done a good job of keeping their costs down."
"There are a couple of little airlines there that will probably drop some flights. Continental may drop a flight. American may drop a flight, but I don't think any of them will leave Reno."