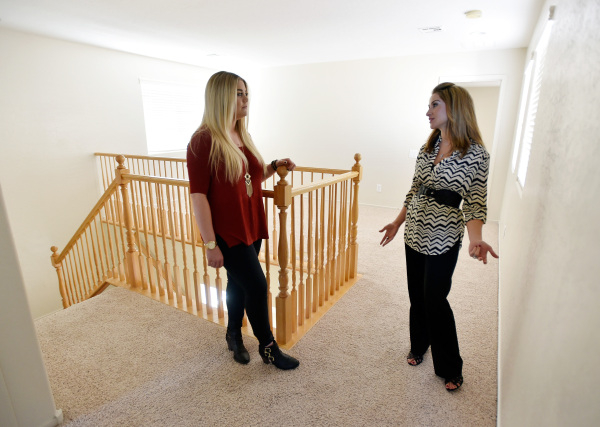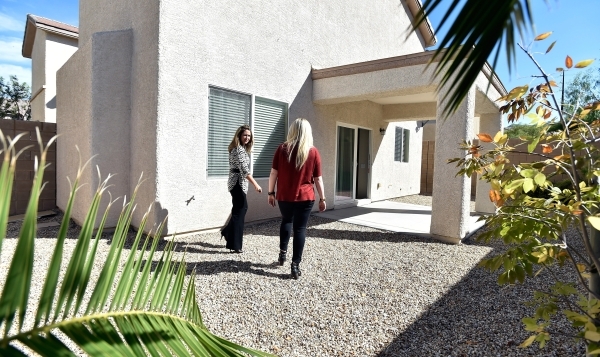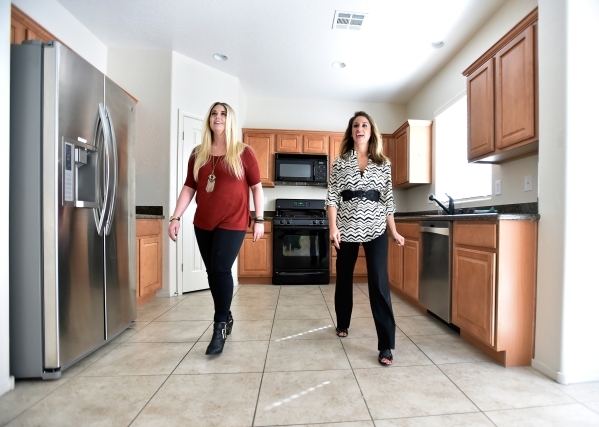 It didn't take Sarah Shugars long to realize a change in the Las Vegas rental market in the three years she left for Los Angeles.
Shugars, 31, and her fiance returned to Las Vegas three months ago from Portland, Ore., and found rents have risen dramatically in both apartments and homes, and that even finding a rental home proved to be a challenge. When she left Las Vegas, Shugars moved out of a one-bedroom unit in the southwest valley for $800 a month. When she returned the couple found that two-bedroom apartments they liked rented for $1,500.
"They were apartment complexes, not even houses that were charging similar to what we were paying in California for a one bedroom," Shugars said. "It's different than it was before. It's on fire. It's crazy."
For renters in Las Vegas, that stats bear out what they've seeing.
Research firm Applied Analysis reported this week that Las Vegas rents averaged $850 a month during the third quarter, up 7.2 percent over the past year. That's the 12th consecutive quarterly increase in rents and up from a market low of $743 a month in the middle of 2011.
That echoes similar findings from the Lied Institute for Real Estate Studies in its third-quarter apartment report. It reported rents are up 12.1 percent over the last year to $850 a month, just $27 or 3 percent below the peak in 2007. The vacancy rate fell 1.3 percentage points in the past year and is at its level since 2007 at 7.9 percent, according to Lied.
"The Las Vegas economy is getting healthier and employment is down and wages and income are rising, albeit kind of slowly, but they're rising," said Lied Institute Director Edward Coulson. "The demand for housing is going up. Property values are going up the last couple of years and that's a cause and consequence of rents going up. It's been a pretty steady upward trend for the last couple of years."
Based on the trend over the last three years, apartment rents, within the next year could reach their Las Vegas high of $890 a month set during the third quarter of 2008, said Brian Gordon, a principal at Applied Analysis.
MORE RESIDENTS
Gordon noted an increase in demand with the addition of 40,000 residents during the last year and an improved economy that changes people's decision-making when it comes to housing. That's reflected in marketwide occupancy rates that stood at 93.8 percent in the third quarter, a half a percentage point gain over the past year.
"Those who have doubled up during the economic downturn either with family or friends may find themselves in a more financially secure position that allows them to spread their wings on their own housing options," Gordon said.
The scenario is playing out in the apartment rental market, which is on a similar course in the home rental market. There was nearly 8,200 homes under lease in the third quarter, said Peter Counts, a data analyst with Lied.
Ashley Hawks, a broker with Black & Cherry, which manages 800 residential properties in Southern Nevada, said it's a change from three years ago when hedge funds bought up distressed homed and flooded the market with rentals, depressing prices.
A low inventory of homes that makes purchasing more difficult increases rental values, Hawks said. There's still plenty of homeowners who've lost homes to foreclosures and short sales who want to live in a home rather than rent an apartment, she said.
"A lot of apartment complexes have even higher rates so why rent a two-bedroom apartment for $1,200 a month when you can be in single-family home in Henderson for $1,200 to $1,300 a month," Hawks said.
The increase in home rents started about 18 months ago, Hawks said. A three-bedroom home in Seven Hills that rented for $900 to $1,000 in 2011 was $1,300 some 18 months ago. That same home rents for $1,500 today, almost where it was prior to the Great Recession, she said. Seven Hills, Summerlin, Green Valley, and Anthem are among the subdivisions that are the most sought after, she said.
"I don't see the inventory changing in the near future so I expect continued increases," Hawks said.
HOME, AT LAST
As for Shugars, who's had a career as a transactions coordinator in the real estate industry, she said she and her fiance had trouble finding a home to rent. Every time they found a home they liked, seven to 10 other people were interested in it as well. The best chance to get a place was to apply the day it become available, she said.
Shugars said she and her fiance are planning their wedding and aren't ready to buy just yet.
The couple found a 1,600 square-foot townhome with an attached garage in a Henderson gated community that rented for $1,200 a month. It's not quite what they were looking for but they signed a one-year lease and will consider their options in 2016.
"When we were here previously, there wasn't such a boom," Shugars said. "When we moved back, there was a lot more competition and the rents have gone up. The rents were insane in California and Los Angeles crazy, and I feel like Nevada is going that way as well. … I'm glad we found a place to settle down with."
Developers have responded to the apartment demand by planning new projects and several are expected to be online in the next 12 to 24 months, Gordon said. These are higher end, higher priced units are planned for the southwest, Henderson and northwest valley. More than 3,000 units alone are planned for the southwest valley, according to Applied Analysis.
Apartment rents rose the most in the northern part of the valley at 11.3 percent over the past year to $869 a month. Its occupancy rate rose nearly 3 percentage points over the past year to 95 percent.
The southwest valley had an 8.4 percent increase to $1,024 a month, the highest in the valley, according to Applied Analysis. The northeast, where occupancy was the lowest in the valley at 89.3 percent, had the lowest rents at $689 a month.