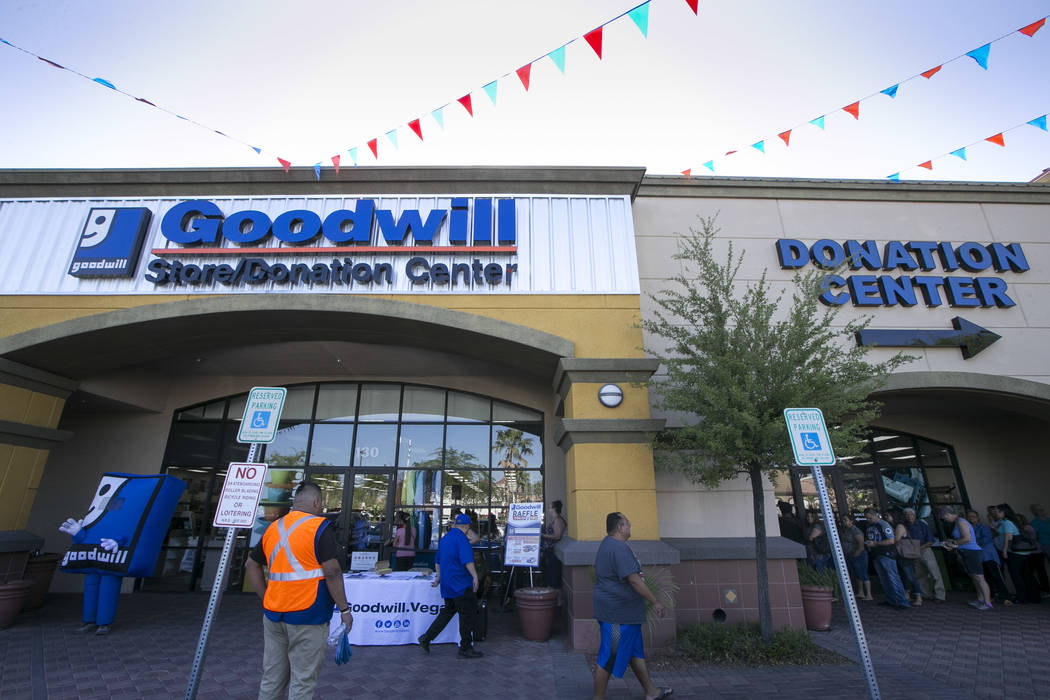 Before Goodwill of Southern Nevada filed for bankruptcy, the CEO of a sister organization slammed the nonprofit for hiring too much labor, taking on too many costs and allowing the company's culture to slip into chaos.
The local Goodwill, also called GSN, needed to cut employees, renegotiate leases and train board members, officers and staffers to run a nonprofit and a retail business.
"Excuses and laying blame on others for poor performance are tolerated at every level of GSN," wrote Jim Martin, head of Goodwill in Alaska and part of Oregon, in the June 30 report.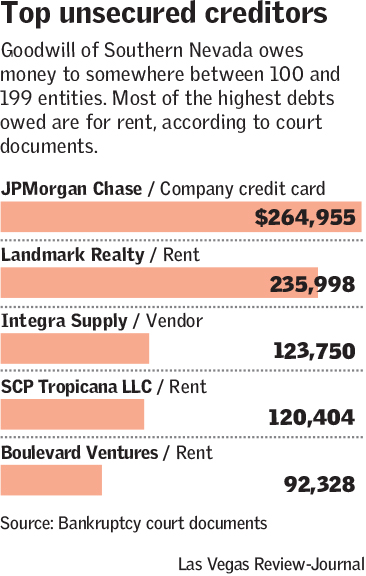 Saturated market
Martin's findings echo U.S. Bankruptcy Court documents filed by the nonprofit, which hopes to clear out of some of the building space that was part of its aggressive expansion.
In bankruptcy court documents filed Aug. 16, interim CEO John Helderman said GSN had grown from eight buildings to 21 in the span of a few years. Several buildings were built to scale, and three of them are owned by GSN.
By January, GSN's leadership realized it could not meet demands for a $22.15 million bond issued in 2015 to help pay for those three buildings:
— $4.3 million on the building at 2575 E. Lake Mead Blvd.
— $8.2 million on the building at 6765 N. Durango Drive
— $5.07 million on the building at 330 E. Silverado Ranch Blvd.
"In retrospect, this expansion appears to have oversaturated the market, with new store revenue being offset by declines at existing stores," Helderman said in a court document.
GSN still owes $20.57 million on the bond and can't make its next payment of $1.39 million on Dec. 1, according to court documents.
"It was a worthwhile risk," Helderman said of the company best known for accepting donated goods and funding its operations through the sales of those goods at retail stores. "But you can't take 10 risks at the same time."
GSN also agreed to pay utilities at many of its properties. That total utility bill averaged $53,000 a month, court documents show.
When GSN filed for Chapter 11 bankruptcy Aug. 11 to restructure its debts, it employed about 800 people, making it one of the largest employers in Southern Nevada, according to the Las Vegas Global Economic Alliance. The total employee count Thursday was 715, a spokesman said.
National downturn
Along with the overhead, a national retail downturn and poor practices at the stores exacerbated the nonprofit's cash shortage, Helderman said in court documents.
The nonprofit shut its store near the intersection of Blue Diamond Road and Decatur Boulevard in July.
On Aug. 22, GSN asked the court to allow it to vacate the following properties:
— A donation center at 4601 E. Sunset Road.
— A Deja Blue Boutique at 10624 S. Eastern Ave.
— A thrift store at 7036 S. Durango Drive.
— A processing operation at 4461 N. Decatur Blvd.
GSN may vacate more buildings if they're deemed too expensive, Helderman said.
In May, Helderman first met with Martin, the other Goodwill CEO, for advice on how to solve its financial problems.
For every hour of labor, GSN made $22 on sales, Martin said in his report. The average Goodwill made about $33. He recommended getting rid of employees.
Martin has agreed to defer payment for his report until GSN is in better financial standing, Helderman said.
Helderman issued a response to the Oregon CEO's report on July 20. Helderman said GSN froze hiring in June.
GSN's rent went beyond 15 percent of retail revenue, Martin said. At the GSN location near the intersection of Cheyenne Avenue and Martin Luther King Jr. Boulevard, it paid $123,000 a month.
Helderman's response said his team negotiated four months of half rent at the Cheyenne location and one other store and got rent deferred at a third location.
GSN has ended its leases at four locations deemed unprofitable or too expensive.
Cleaning house
As for the company culture that troubled Martin, Helderman promised new policies and better education at all levels.
He said the CEO and chief operating officer were gone and that the CFO was fired in December. Former CEO Steve Chartrand and former CFO Sherry Ramsey did not return messages seeking comment.
Helderman did not take every recommendation. In one instance, Helderman declined to eliminate a VIP promotions program that cost $200,000 in the first quarter of this year. The program collected data on shoppers' habits, he said.
"The GSN leadership team views the VIP program to be too valuable to discontinue at this time," Helderman said in the response.
In his letter, Helderman listed other ways GSN would save money:
— $235,000 a year cutting eight informational technology and risk management jobs.
— $95,000 a year cutting three marketing jobs.
— $70,000 a year by changing its paycheck system.
— $30,000 in total from cuts to all GSN departments.
— $5,000 a month by reducing daily armored car service to three times a week
— $5,000 a month from cutting an in-store scent contract
Look back, look ahead
The local Goodwill isn't the first to declare bankruptcy.
In his court document, Helderman referenced the Goodwill in Marquette, Michigan, as successfully restructuring its debt in 2011.
However, he also referenced at least four others in the Goodwill network that have filed Chapter 7 bankruptcy — when property is sold off to pay debts — in the past 20 years.
The interim CEO expressed confidence in his July response that one day GSN can return to scouting former gas stations and convenience stores for new donation centers.
"I want us to get to the promised land," he said. "We've got to get our customers to come back. We need people to have mercy on us."
Contact Wade Tyler Millward at wmillward@reviewjournal.com or 702-383-4602. Follow @wademillward on Twitter.
Bankrupt Goodwills
According to court filings, at least four other Goodwill Industries nonprofit organizations have declared Chapter 7 bankruptcy in the past 20 years, selling off property to pay off debts:
• 2016: Toronto, Eastern, Central and Northern Ontario
• 2009: Amarillo, Texas
• 2003: Merrimack Valley, based in Lowell, Massachusetts
• 2001: Guam
Other Goodwills have filed Chapter 11 bankruptcy, same as GSN, to restructure debts:
• 2010: Northern Wisconsin and Upper Michigan, based in Marquette, Michigan
• 1996: Chicago & Cook County