Report: Proposed cost of UNLV stadium ranges from $490 million to $682 million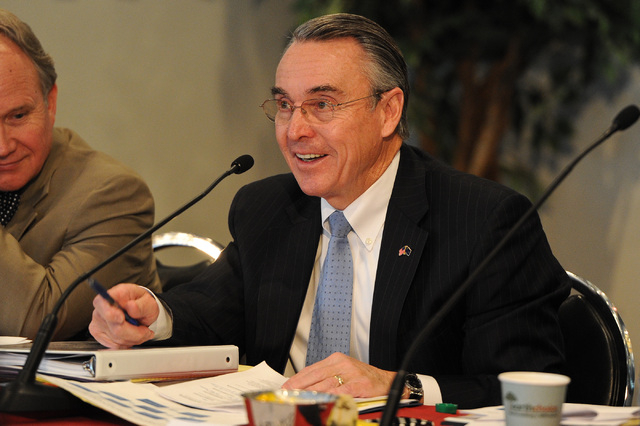 The proposed cost of a new University of Nevada, Las Vegas on-campus 50,000-seat stadium ranges from $490 million for an open-air venue to $632 million for a domed facility and $682 million for a retractable roof stadium, according to a consultant report.
These proposed expenses, however, do not include costly infrastructure support costs such as parking garages, playing field relocations and pedestrian bridges, which could run in the tens if not hundreds of millions of dollars.
At a Thursday UNLV stadium board meeting, member and Regent Michael Wixom raised that infrastructure issue: "How will we get our arms around these (parking, transportation, relocation) costs?"
The cost estimate also includes an open-air stadium with a shading system — $497.4 million for a 40-foot small roof, $504.7 million for a 75-foot medium roof and $514.1 million for a 125-foot large roof.
The proposed cost for the $632 million domed stadium includes $142 million for a fixed fabric roof, while the $682 million retractable roof proposal includes $192 million for a retractable roof, according to the report by stadium consultant CSL.
Before the meeting, UNLV acting President Don Snyder, who serves as stadium board chairman, said the cost estimates appeared reasonable.
"It frames the conversation pretty well," Snyder told the Review-Journal.
PARKING CAN DRIVE UP COST
The university's previous stadium proposal, which UNLV partnered with Majestic Realty, included more than $200 million in parking garages; roadway and pedestrian improvements; and land purchases to provide new space for the displaced athletic fields where a potential new stadium would be built. UNLV cut ties with Majestic in March 2013.
This time around, Snyder said the stadium board "will take a good hard look at parking" and see how the proposed campus stadium could be part of transit and transportation improvements and the Las Vegas Convention and Visitors Authority master plan process.
CSL head Bill Rhoda presented slides showing pictures of three football stadiums in Texas that were toured by three UNLV stadium members, including Snyder.
They explored AT&T Stadium, home of the NFL Dallas Cowboys, and Baylor's new McLane Stadium, which is set to open for the 2014 football season. In Baylor's case, the football team played in an off-campus stadium — just like the UNLV football team, which plays at a venue eight miles from the Las Vegas campus.
Snyder liked the Baylor stadium's shading system, but "it did not go as far" as he expected.
"I was expecting it to cover more seats," agreed stadium board member Cedric Crear, a Regent.
They also toured TCU's Amon G. Carter Stadium.
THIRD-PARTY EVENTS ENVISIONED
Discussion of the Texas tour and stadium shading transitioned to estimated costs for the UNLV stadium, which the university wants to use for Rebels football games and also third-party events such as concerts, international soccer and rugby matches, neutral-site college football games, and MMA/boxing fight shows. Dale Koger, a member of the CSL consulting team, outlined the UNLV stadium cost estimates.
UNLV is partnering with the Las Vegas casino-hotel industry on the stadium project, with five of Las Vegas' six biggest resort companies being represented on the 11-member stadium authority board. The committee is required by law to present a stadium funding, cost and feasibility study to the state Legislature by Sept. 30.
The stadium board meeting also included about 20 Las Vegas promotion agency representatives and event producers, who voiced their support for a new stadium to draw events to a neutral venue near the Strip. About half said the new stadium should be covered.
The consultant said a new UNLV closed-roof stadium could draw 24 annual events (not including any Major League Soccer games) compared to 12 at Sam Boyd Stadium, the university's off-campus venue.
Bob Cayne, president of Live Nation Productions, said location is a key factor for a new stadium in Las Vegas.
"It's horrible getting getting back to the Strip," Cayne said of the Sam Boyd Stadium site.
BIG-EVENT REPUTATION
Todd duBoef, president of Top Rank Boxing, said Las Vegas is a "tent pole town," meaning the city needs to live up to its big event reputation.
"Jerry knows how to do it. AT&T knows how to do it," said duBoef, referring to Cowboys owner Jerry Jones and his AT&T Stadium in North Texas. He said if the UNLV stadium is open-air, he would have to build a costly four-pillar, 50-foot-wide canopy for boxing events.
DuBoef also noted a game-changer in new sports venues is the giant video screens. The previous $900 million UNLV stadium proposal included what would have been the world's biggest video screen.
Snyder said not so fast, noting that not all fans like megascreens. "It's important that we do the right thing," he said.
Next month, the stadium consultant will present stadium revenue numbers. Then in June, the subject will focus on stadium funding methods. "The funding of this will come down to a limited number of resources," board member Rick Arpin of MGM Resorts International said. "We will have to make some serious balancing acts."
Contact reporter Alan Snel at asnel@reviewjournal.com or 702-387-5372. Follow @BicycleManSnel on Twitter.