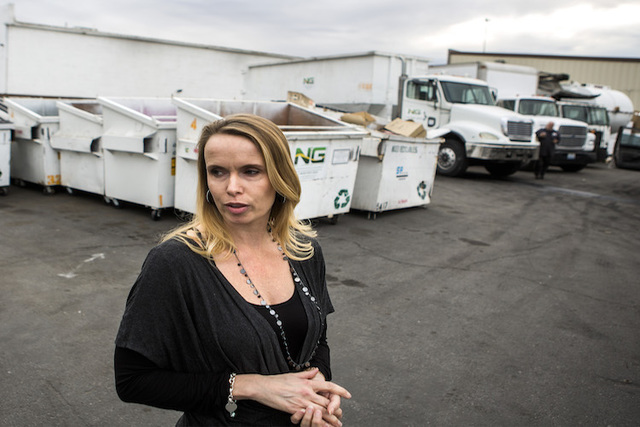 City of Henderson staff will moderate a meeting Thursday between waste-management company Republic Services and recycling-management company Simple Environmental Services Group.
Last November, Simple ESG chief operating officer Danielle Basson filed formal complaints with the cities of Henderson, North Las Vegas, Las Vegas and with Clark County about perceived predatory business practices by Republic.
Basson's complaint alleged that Republic Services unnecessarily and purposely interrupted service to 80 percent of Simple ESG accounts, about 300 properties. Basson claimed that "interference" by Republic Services cost the company an estimated $405,153.96 in annual contracted net revenue over the last 18 to 24 months.
A Republic spokesman said the company has worked with Simple ESG for the last four months trying to find common ground.
"We look forward to the discussions with Simple ESG and city leadership this coming Thursday. Simple ESG still owes Republic Services a substantial amount of money for waste and recycling collection services we have provided on their behalf. We are hopeful this meeting leads towards quick resolution of the outstanding payment matter.Republic has continued to provide service to these customers despite the lack of follow through on payment obligations by Simple ESG," Republic Services' communications manager, Tracy Skenandore, said.
Basson said the purpose of Thursday's meeting goes beyond the immediate payment issues, but larger perceived predatory business practices.
"We are one of Republic's largest commercial users, so we are hopeful that they start seeing us as a customer instead of competition. We are going with a very positive attitude that Republic will do what it needs to do to rectify the damages done by their erroneous decisions and do what is necessary to fix certain practices going forward to avoid these types of situations."
Contact Nicole Raz at nraz@reviewjournal.com or 702-380-4512. Follow @JournalistNikki on Twitter.