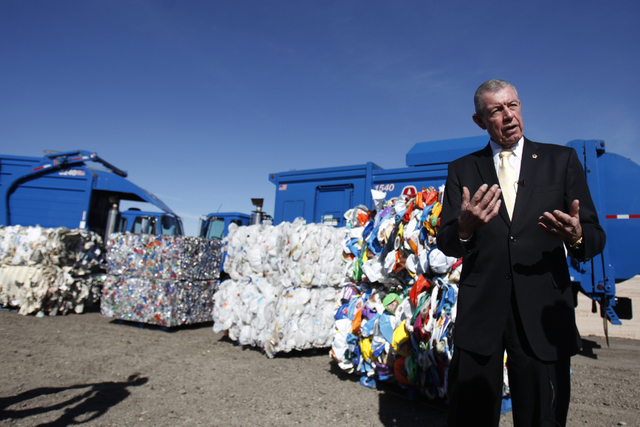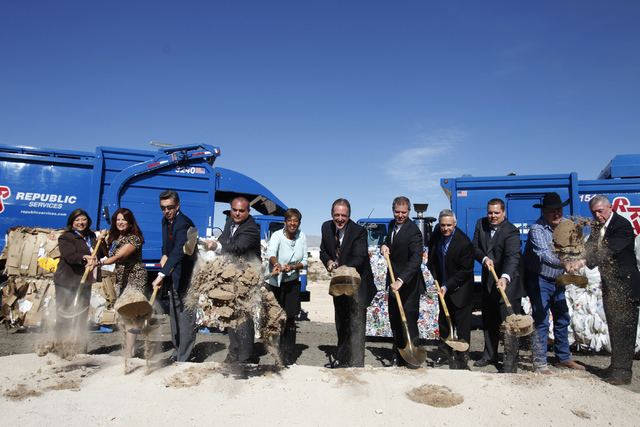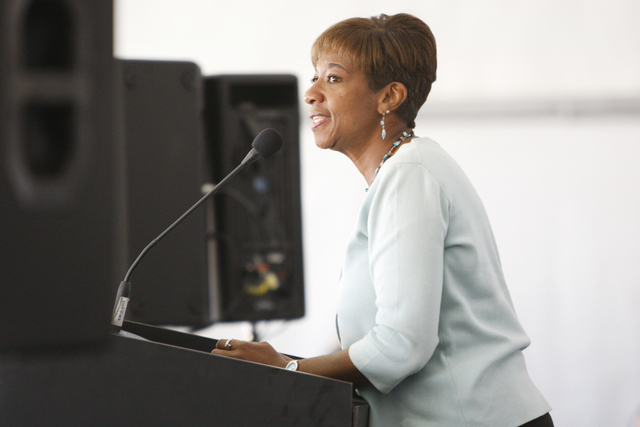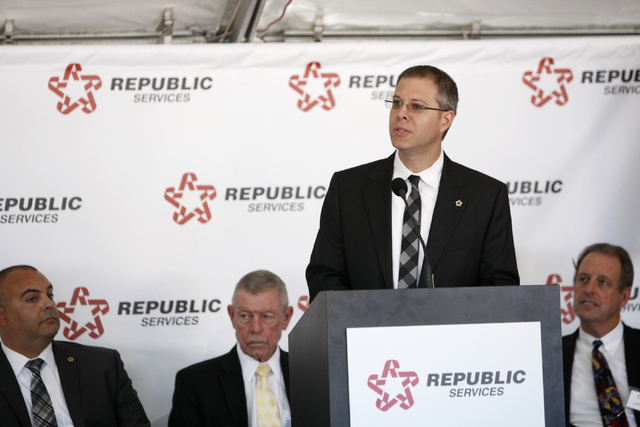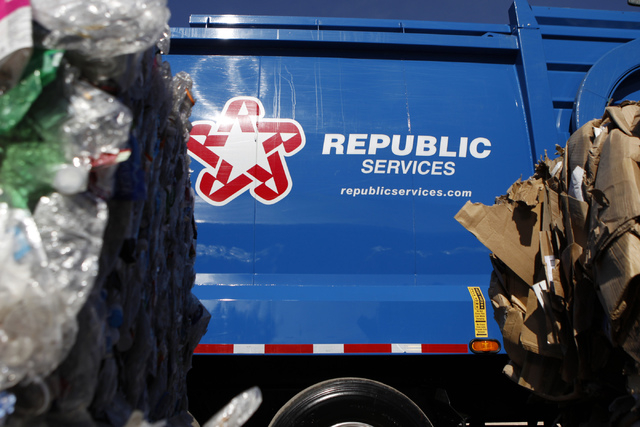 As Phoenix-based waste management company Republic Services expands in the Las Vegas Valley, commercial businesses can take advantage of free waste and recycling assessments and customize a program that is specific to their type of business and the materials being generated in the workplace.
"We encourage local businesses to consider all areas of their business where they can implement an effective recycling program, making it a part of their core culture in the workplace and in their operations," said Tracy Skenandore, area director of public relations and field communications.
Republic Services began offering recycling programs to North Las Vegas residents in 2009, followed by Henderson a year later and Clark County last year. The company broke ground on a 110,000-square-foot recycling center on Nov. 6 at 360 W. Cheyenne Ave. in North Las Vegas.
Since its inception, Republic Services has processed construction and demolition materials. However, the new recycling center will also be able to process all types of plastics, Skenandore said.
She added that the company is also actively seeking opportunities to work with manufacturers that use recyclables to create new products domestically.
"Once the recyclables are processed, they're shipped domestically and internationally to various manufacturers that repurpose and reuse the material to make new products," she said.
The building of Republic Services' recycling center will add approximately 80 construction jobs and 180 people will be employed at the facility when it debuts next fall.
"It's another way for us to give back to the community," said Tim Oudman, area president for Republic Services. "It's a win-win for the general public and for the government as well."
According to Len Christopher, general manager of Republic Services Recycling Division, the company has 150 employees at their current recycling center on West Gowan Road in North Las Vegas.
"When we open we'll start with 150 and over time we'll reach 180 employees," he said. "For the most part, we employ locally because there are a lot of people looking for work. We have a local recruiter who we give a request to and they provide us with plenty of applicants."
North Las Vegas Mayor John Lee said the $34 million recycling center will help diversify the economy.
"It will produce stable, good paying positions," he said. "As this company continues to grow, it will leave a bigger and bigger footprint in this region."
Republic Services was founded in 1998 and serves more than 13 million customers in 39 states and Puerto Rico.
Skenandore said the company invests in recycling infrastructure every year across the country.
"This year, the company has decided to spend a portion of their investment in recycling here in Las Vegas because we have had tremendous success with the automated program and due to that success we now need additional processing capability," she said. "This is no different than any other investment the company makes. We must provide a return for our shareholders."
Additional infrastructure, according to Christopher, is needed as the company's 80,000-square-foot recycling center has reached capacity.
"Once we open this new facility, we can roll out more recycling carts and we'll have plenty of capacity for future business," he said.
The new facility will also allow Republic Services to handle a greater amount of recyclables. Currently, the plant handles 1- and 2-level recyclable plastics. Next year the company can begin processing plastics in levels 3 through 7, which include shower curtains, spray bottles and yogurt containers, as a result of improved technology.
"We'll be able to recycle 265,000 tons on an annual basis," Christopher said. "We'll also have state-of-the-art technology including a tablet that will control the entire system and we'll be able to virtually connect with the engineers who built the system in case there are any issues. It's the latest and greatest as far as recycling technology. This facility is a game changer."
The old facility, according to Skenandore, will be used for processing of construction and demolition materials and house a residential container department to house residential recycling carts.
"It's about economic expansion, investing capital dollars into the economy, creating jobs and offering sustainability programs," Oudman said. "We want to serve the valley's needs for years to come."