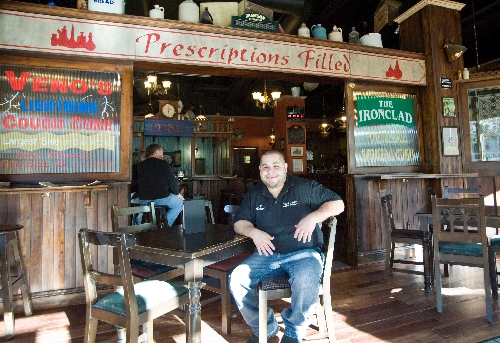 The former Ritz-Carlton at Lake Las Vegas will reopen on Feb. 11 as Ravella.
Dolce Hotels and Resorts, which took over the 349-room nongaming property following its closure last May, took the name from the Southern Italian coastal town of Ravello.
Joseph Serrano, general manager of the Auld Dubliner Irish Pub and Restaurant in Lake Las Vegas' MonteLago Village, didn't really care what name was attached to the hotel.
The reopening means increased midweek business for his restaurant and the 35 shops and eateries at the outdoor retail area at the center of the 3,600-acre community that disappeared when Ritz-Carlton pulled out.
"The fact that the hotel brings back business Monday through Thursday is really a huge driver for all the operators in the village," Serrano said. "We're all really encouraged about what the hotel's reopening will mean to our business."
Dolce is developing a system to give Ravella hotel guests preferred reservations at MonteLago Village's restaurants and let them charge their meals to their rooms. The system will give Ravella, which will open with just a small cafe, the ability to offer guests dining options at one of six restaurants within walking distance of the hotel.
"This allows us to do something for the community," said Steve Bello, Ravella's acting general manager. "If we're able to increase foot traffic through the village, then everybody wins. Our goal is to have a seamless interaction with the village. If we can promote the destination, then everything falls into place."
Serrano said the system means Auld Dubliner and the village's other restaurants will become an extension of Ravella.
"We'll engage with their customers and offer a true resort feel to the village," Serrano said. "Dolce is sending me business, and I can't ask for anything better."
Ravella has begun accepting reservations for its opening weekend. Dolce, an international boutique lodging operator with 27 properties in North America and Europe, leased the former Ritz-Carlton site in September from Village Hospitality LLC. Ravella is hiring 125 workers for the reopening.
Dolce is remodeling Ravella's lobby, which is being viewed as an interactive gathering area for hotel guests, with a cafe, a light snack area and a technology center.
The majority of Dolce's business focuses on corporate customers, meaning Ravella's 39,000 square feet of meeting space will be a focal point of the property.
That's good news to Sue O'Leary, who has owned and operated the Rocky Mountain Chocolate Factory at MonteLago Village for seven years.
For two years Lake Las Vegas has been besieged with bad news. The development filed for bankruptcy in July 2008. Two of the development's three championship 18-hole golf courses have closed and the Casino MonteLago, the community's only gaming establishment, shut down in March.
"If anything, we (the MonteLago Village tenants) have gotten closer and work hard to make this place succeed," O'Leary said.
She credited the center's management with creating a special-events schedule that boosted business on the weekends.
In the meantime, MonteLago Village shop owners have drawn business from the community's 1,700 residences, locals visiting Lake Las Vegas, and guests from the 493-room Loews Lake Las Vegas and condominiums at the Aston MonteLago Village Resort.
Ravella's unveiling is viewed as a new step forward.
"It's a positive in what has been a down year, but it's been a down year everywhere," said Don Saunders, who operates three shops in MonteLago Village, including the Turquoise Door jewelry store. "We're optimistic because Dolce seems interested in working with us and we're interested in working with them."
Bello said Ravella would also have in place a program to give Las Vegas residents a discount on hotel rooms. He said the idea would keep locals from heading to Arizona or Southern California for weekend getaway at a desert-lake resort.
"They would only have to drive 25 minutes," Bello said. "There are a lot of people in the hotel industry on the Strip that are looking for this type of opportunity."
If the ideas bring more customers to Lake Las Vegas and the Auld Dubliner, then Serrano is all in favor.
"The locals have kept us afloat in the tough times," Serrano said. "I'm encouraged they are thinking about them."
Contact reporter Howard Stutz at hstutz@reviewjournal.com or 702-477-3871.