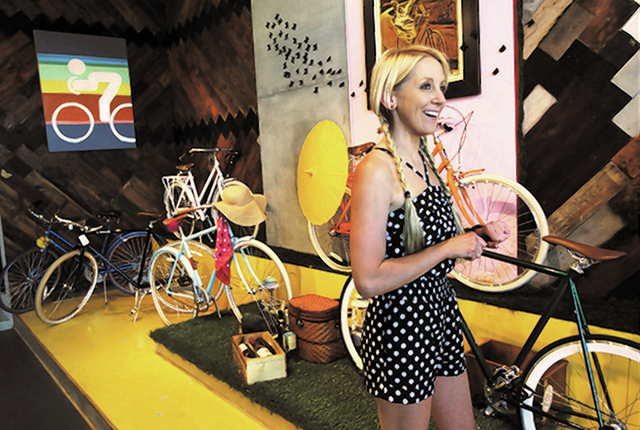 On Tuesday, Amie Pellegrini posted on Facebook that she would have to close her unique downtown Las Vegas bicycle shop, Town Bike.
But on Wednesday, Pellegrini's spirits were up after she sold 10 bicycles in less than 24 hours, generated more than $4,000 in sales and can now pay the $2,000 monthly rent for the retail space and her residence above it at the Juhl Lofts.
Crisis averted. She said she can cover rent for November and December.
"I want to stay open. I don't want to close. I want to revamp," Pellegrini said at her shop around midday Wednesday.
Pellegrini plans to install a repair station in the store to generate income and perhaps partner with someone who likes her urban shop concept, which also sells women's dresses and dog supplies.
Pellegrini opened the bike shop only three months ago with the hope that local residents and tourists would not only buy urban cruisers and vintage bikes but also rent twi-wheelers to pedal around a busier downtown.
The bike shop is unique because Pellegrini also sells nontraditional bike shop items like the frilly dresses and lacks repair services.
To stabilize her financial status, Pellegrini also returned to her medical devices representative job.
She said one of her challenges is that her bike shop is the sole retail business on the street level of Juhl Lofts. Pellegrini was hoping that other retail stores would open in Juhl to attract more customers to the building off East Bonneville Avenue.
Alan Snel can be contacted at asnel@reviewjournal.com or 702-387-5273. Follow @BicycleManSnel on Twitter.