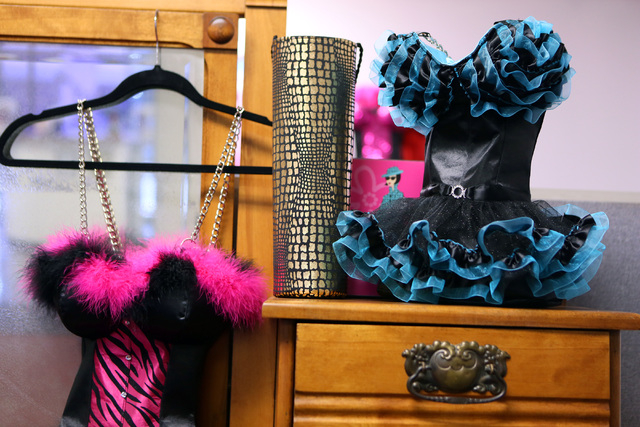 Inside Tipsy Totes, mini satin bustiers line the walls while wine bottle stoppers rest on shelves.
The locally owned shop has been open for about 18 months, and already has expanded once. Six months ago, the mother-and-daughter co-owners moved their enterprise from a cozy 1,200-square-foot spot on Main Street to their new 2,500-square-foot space at 1549 W. Oakey Blvd.
Sonja and Ursula Bettendorf say they're looking forward to the future.
Data suggest workers may, too.
In January, business forecaster Kiplinger noted that Americans' average hourly earnings climbed 1.8 percent in the past year to $24.17 an hour. Over the same time period inflation rose 1.2 percent.
Kiplinger is saying that economic growth will grow on average 2.7 percent this year as a result of growing consumer confidence. In the second half of 2013, the economy grew an average of 3.7 percent.
Meanwhile, the National Retail Federation said that December retail sales increased 0.4 percent seasonally adjusted month to month, and 4.6 percent unadjusted year over year. Total holiday retail sales, which include November and December, increased 3.8 percent to $601.8 billion. Also, nonstore holiday sales grew 9.3 percent to $95.7 billion.
"Solid job growth in the months of October and November led to a more confident consumer and healthy holiday shopping season for many retailers," the federation's chief economist, Jack Kleinhenz, said in December. "While economic and policy uncertainties remain, the economy seems set for steady growth in the New Year."
Retail is the nation's largest private- sector employer, supporting one in four U.S. jobs, or 42 million Americans.
Kiplinger said it expects retail sales to keep strengthening in 2014.
Tipsy Totes' local sales have risen since the business moved into its new space. About half of the women's business is retail and the other half is custom work, such as a piece they're creating for BMX rider Ricardo Laguna and the American Heart Association.
"We have products that start at about $6 and go up to $400, $500," Sonja said. "Smaller things are selling a bit faster, however there are people out there buying the more expensive ones."
Recently, global retail branding and sourcing expert Daymon Worldwide made eight retail trends predictions for 2014 and published them in a report meant to help retailers. The company provides retail branding and sourcing expertise to more than 100 major retailers and 5,900 manufacturers in 49 countries.
"Retailers across the globe are facing a more fascinating, challenging business landscape than ever before," Daymon Worldwide CEO Carla Cooper said. "We understand that decision-makers in our industry are dealing with contradictions that are hard to reconcile."
These contradictions include trying to serve the different needs and preferences of both a large aging population and the tech-enabled Millennial group, while managing online and brick-and-mortar stores.
In 2014, Daymon predicts retailers will focus on the aging population by developing new products and systems to help them maintain their active lifestyles. Think leisure travel, fitness centers and classes for life enrichment and information sharing.
Tipsy Totes seems to fit the trend — average customers are primarily 40 and older, Sonja said. She said she thinks it's because this group has more disposable income for the gifts sold at her shop than younger people have.
With shopping trips being more mission-based and less about stocking up, shops in the grocery segment will see trends emerge in snacks and convenience meals, Daymon's report said.
Also, the idea of "locally sourced" products will change from foods and products sourced in the immediate area of each market to offerings available throughout the broader community, city, state and country. American-made, anyone?
The grocery business, the report suggests, will be more about personal interaction, authentic experiences and interest versus just geography.
The idea of experiential retail also is growing as online retail is forcing brick-and-mortar shops to provide customers with experiences. Daymon cited Lululemon's Experience Lab in Vancouver, British Columbia as one example of this and Anthropologie's coming lifestyle village in Devon, Pa., that will feature retail, hotel and food service as another. For grocery, cooking demonstrations and sampling are crucial.
Tipsy Totes is providing experiences through online videos posted to YouTube that draw people to the business's website, www.tipsytotes.com.
"We've seen a steady growth in traffic because of that," Sonja said.
Daymon Worldwide reported that the retail industry will see a notable shift from supercenters to smaller footprints, including dollar stores and small specialty stores. This is driven by increasing urbanization, a rise in smaller households, and consumers' changing notion of convenience.
"Getting ahead of the trends is vital to successfully responding to evolving consumer behavior to capture business-building opportunities," Daymon Chief Marketing Officer Andres Siefken said.
The women at Tipsy Totes had some advice of their own.
"I think that you also have to be persistent and have to have really great products," Sonja said.
Contact reporter Laura Carroll at lcarroll@reviewjournal.com or 702-380-4588. Follow @lscvegas on Twitter.