Retail group expects growth for holiday shopping season
October 6, 2012 - 1:00 am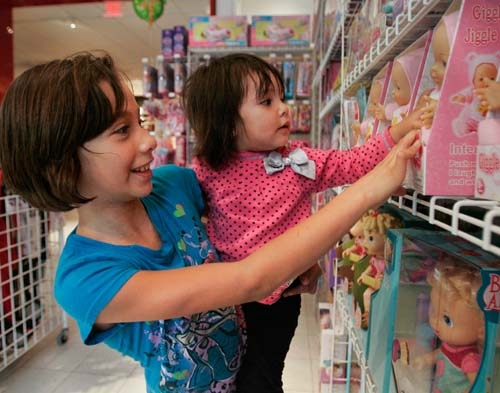 As the holiday shopping season nears, traditional retailers can expect single-digit increases in sales and traffic, with online sales increases jumping into the double digits.
The National Retail Federation is forecasting holiday sales to increase
4.1 percent this year to $586.1 billion, tempered by political and fiscal uncertainties but supported by signs of improvement in consumer confidence. Actual holiday sales in 2011 grew 5.6 percent.
"This is the most optimistic forecast NRF has released since the recession. In spite of the uncertainties that exist in our economy and among consumers, we believe we'll see solid holiday sales growth this year," NRF President and CEO Matthew Shay said.
Online-specific holiday sales for November and December are expected to increase 12 percent over 2011, to as much as $96 billion. The U.S. Department of Commerce estimated total 2011 fourth quarter e-commerce sales increased 15 percent.
"Online retail has been a bright spot for years, and we don't expect that trend to change anytime soon, especially with the growth in mobile," Shay said. "Aside from the convenience, shoppers look to the holiday season to take advantage of retailers' increased digital offerings. In addition to enhancing the site experience, retailers have spent the year investing in optimizing their mobile and social platforms, just what holiday shoppers are looking for."
Many retailers hire outside companies, such as iGoDigital, to provide recommendations on site optimization. iGoDigital works with top online retailers including Amazon, Best Buy, Walmart and Sears.
"With holiday gifts, shoppers are researching more and using comparison tools on mobile devices," said Rachel Johnson, director of marketing at iGoDigital.
Because of this, having a consistent experience across multiple channels – email, brick and mortar, websites – is important, Johnson said. She also said aspects such as online video can help customers see multiple product views and how an item moves, which often translates to sales.
"Shoppers are coming into the stores smarter. They really are more educated buyers," Johnson said.
While most stores hire extra staff for the holiday season, shops sometimes still have trouble keeping up with increased traffic. In-store, Johnson noted that floor kiosks that give product information may help stretch staffing needs during busy season.
According to the National Retail Federation, retailers nationwide are expected to hire between 585,000 and 625,000 seasonal workers this holiday season, which is comparable to the 607,500 seasonal employees they hired last year.
And not all of those employees will be working at permanent locations. With so much on the line this time of year, brands often open temporary stores during the holiday shopping season.
Toys R Us Inc., for instance, opened a Toys R Us Express store near Victoria's Secret and Bath & Body Words at Boulevard Mall. The 8,000-square-foot location opened Sept. 28 and is expected to remain open throughout the season.
On Oct. 26, Microsoft plans to open its temporary location in Fashion Show mall, which is in addition to holiday stores the tech company is opening in 31 other locations, including Aventura, Fla.; Beachwood, Ohio; Denver; Miami; and Portland, Ore.
And the shops are opening none too soon if PriceGrabber's data are correct.
"Our survey data found that shoppers are not only expecting to find great prices and bargains this holiday season, but 59 percent of consumers plan to start shopping even earlier this year to spread out the impact of purchases, compared to 53 percent in 2011," said Rojeh Avanesian, vice president of marketing and analytics of PriceGrabber. "Our data indicates that 17 percent of consumers plan to start their holiday shopping in September, and 31 percent plan to begin in October this year."
Conducted from Aug. 31-Sept. 12, PriceGrabber's holiday shopping survey includes responses from 2,235 U.S. online shopping consumers.
The holidays typically account for one-third of retailers' annual profits and more than 25 percent of annual sales, according to the International Council of Shopping Centers.
Contact reporter Laura Carroll at lcarroll@reviewjournal.com or 702-380-4588.