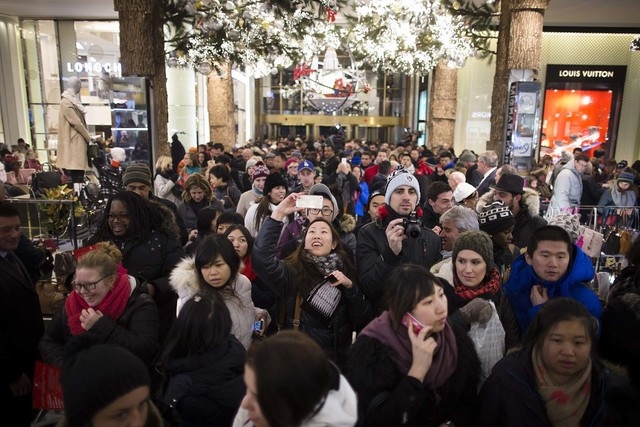 Retail sales should be strong in 2014.
According to the National Retail Federation's forecast released Thursday, retail industry sales will increase 4.1 percent in 2014, up from the preliminary overall 3.7 percent growth seen in 2013. Online sales are expected to grow between 9 percent and 12 percent.
"We're looking forward to an even better this year for retail than we did last year," said federation President and CEO, Matthew Shay.
For November and December 2013, total holiday retail sales increased 3.8 percent to $601.8 billion. Nonstore holiday sales, which is an indicator of online and e-commerce sales, grew 9.3 percent to $95.7 billion.
A number of factors contributed to the federation's 2014 economic forecast, including strong economic growth, which when measured by GDP is expected to be between 2.6 percent and 3 percent.
The federation's chief economist, Jack Kleinhenz, said 2014 still will be challenging but stronger than 2013.
The labor market is expected to continue its modest recovery averaging about 185,000 jobs per month, helping decrease unemployment to near 6.5 percent or lower by the end of 2014.
"More jobs, more income, more spending," Kleinhenz said.
Another factor to the retail recovery is business investment, which has been OK the last few years. Kleinhenz said he expects it to rise even more in 2014. He added that 2014 could be the year the recovery gets some traction, albeit not at warp speed.
"We'll still see some speed bumps," Kleinhenz said.
Shay noted the National Retail Federation is keeping an eye on specific important issues, including online sales tax, which the federation has said levels the playing field for all retailers, online or not.
"Retail is retail and a sale is a sale," Shay said.
He added that healthcare reform, immigration reform and patent law reform are important issues for the retail industry, each having its own effect on sales and retailers' ability to do business.
Contact reporter Laura Carroll at lcarroll@reviewjournal.com or 702-380-4588. Follow @lscvegas on Twitter.