Retailers expect to add 4,100 positions by December
October 20, 2012 - 2:05 am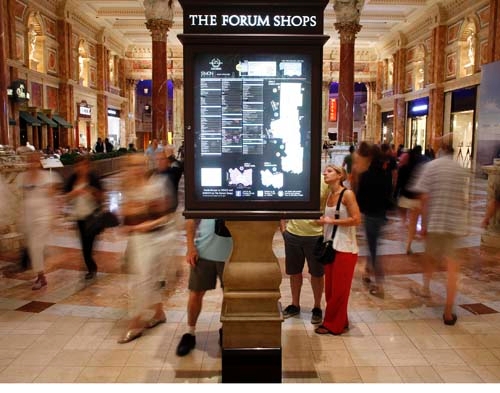 Nevadans looking for holiday work have roughly one month to get it while it's hot.
Retailers are in the midst of shoring up their holiday shopping season staff, and most hires are expected to be complete by Black Friday, which falls on Nov. 23 this year.
Assuming seasonal hiring in 2012 is akin to 2011, Nevada will add 4,100 retail positions from now through December, according to the Retail Association of Nevada. In general, companies' hiring reports have been consistent with 2011, with some retailers reporting positive growth.
Macy's, for instance, will hire 80,000 seasonal associates nationwide, up 2.5 percent from 2011. Statewide, Macy's is expected to hire 900 people. Kohl's plans to hire 52,000 associates nationwide, up 10 percent from last year. Statewide, the retailer is expected to hire 490 employees.
But the Retail Association of Nevada said if historical averages take precedence, Nevada's holiday hirings could edge closer to 5,000. During the past five years, the Nevada retail sector grew by an average of 3.9 percent from September to December of each year.
Based on company announcements thus far, the association said it's "likely that 2012 hiring levels will fall somewhere between the two."
Nationally, retailers are expected to hired between 585,000 and 625,000 seasonal workers, compared to the 607,500 seasonal employees hired last year.
"We're positive and we think it's great that we're anticipating more than 4,000 people getting hired in the season," said Bryan Wachter, director of public and government affairs for the Retail Association of Nevada. "It's a way for people who've been constantly out of work to get some employment."
Wachter said about 15 percent of those hired for seasonal jobs are asked to stay on longer with retailers.
"It's a good estimate," he said.
As of August, retail employment in Nevada was at 128,400, an increase of 100 positions compared to the same month last year.
The state's unemployment rate for August was 12.1 percent, the highest in the nation. There are 164,100 unemployed Nevadans.
Other national stores hiring in Nevada include Target, Walmart, Toys 'R' Us and Best Buy. Respectively, each is expected to hire 900, 500, 250 and 150 people statewide for the holiday season.
Out-of-work Nevadans also can look to a job search engine such as Indeed.com for assistance finding a gig. Companies that ranked high in seasonal job listings according to the site included FedEx, Party City, Enterprise Rent-A-Car, T-Mobile and Tiffany & Co.
Michael Werch, communications manager at Indeed.com offered this advice for job seekers: "When using a job search engine, search for keywords like seasonal, holiday and temporary to find out what positions are available in your area."
He also suggested emphasizing that you have flexible availability, which could increase your chances of landing the job.
"The truth is that the holidays are stressful," Werch said. "Retailers aren't just looking for people that can assist with the seasonal rush, they want people with a positive attitude that will leave their customers with some extra holiday spirit when they walk out of the store."
Contact reporter Laura Carroll at lcarroll@reviewjournal.com or 702-380-4588.