Revenue juggernaut: Las Vegas Sands' figures top Nevada, Atlantic City combined
January 30, 2014 - 8:37 am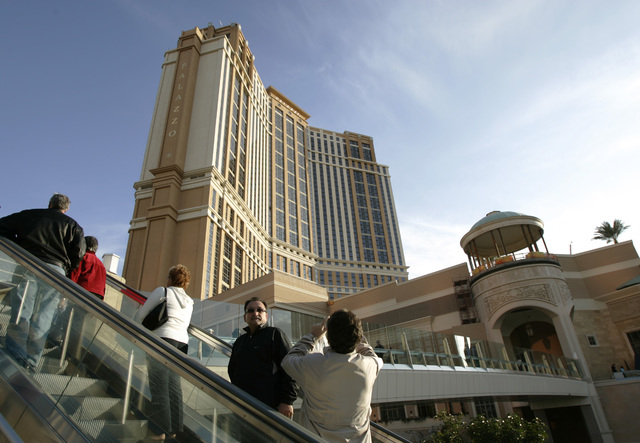 Las Vegas Sands Corp. produced more revenue in 2013 than Nevada and Atlantic City combined.
Buoyed by a 28 percent increase in revenue from its Macau subsidiary during the fourth quarter, the casino operator grew profits by 32.8 percent companywide for the three-month period ended Dec. 31.
"The focused and consistent execution of our global growth strategy, which leverages the power of our convention-based integrated resort business model, is clearly being reflected in our financial results," Las Vegas Sands Chairman Sheldon Adelson said in a statement.
"Continued execution of that strategy will extend our position as the global leader in integrated resort development and operation," Adelson said.
The company, which operates casinos in Las Vegas, Macau, Singapore and Bethlehem, Pa., said its net income for the quarter was $577.5 million, or 70 cents per share. In the same quarter a year ago, the company's profits were $434.8 million, or 53 cents per share.
Analysts polled by FactSet had expected Las Vegas Sands to report earnings of 83 cents per share.
Las Vegas Sands shares fell $1.33, or 1.77 percent, Wednesday to close at $73.93 on the New York Stock Exchange. The company reported fourth-quarter results after the markets closed.
For the quarter, the company said its overall revenue grew 18.8 percent to $3.66 billion. Las Vegas Sands' four business units in Macau totaled $2.53 billion in revenue, or 69.1 percent of the company's total.
For all of 2013, Las Vegas Sands' net revenue was $13.77 billion, a 23.7 percent increase.
Taking into account the full-year results for Nevada in 2012 ($10.86 billion) and Atlantic City in 2013 ($2.86 billion), the company topped the totals of the two most well-known American gaming markets.
Las Vegas Sands' portfolio in Macau drove the company's results.
Adelson told investors the company's properties drew more than 17 million visitors during the fourth quarter, which was reflected in the quarterly net revenue increase, and a 40.4 percent increase in net income to $655.6 million.
For all of 2013, revenue for the company's Macau casinos increased 37 percent to $8.96 billion; they had net income of $2.21 billion, a 79.7 percent increase from a year earlier.
Las Vegas Sands is spending $2.7 billion to build a 3,000-room Paris-themed resort on Macau's Cotai Strip, which will compete with new Cotai properties being developed by MGM Resorts International and Wynn Resorts Ltd.
"The new supply can be absorbed in the market," Adelson said on a conference call with analysts. "The infrastructure improvements are overwhelming. The whole idea for Cotai was ours, mine."
The Venetian Macau alone, which anchors the Cotai Strip, contributed net revenue of $1.149 billion in the fourth quarter and full-year revenue of $3.851 billion.
Las Vegas Sands President of Global Gaming Operations Rob Goldstein said he expects The Venetian Macau to become the first casino in the world to produce $2 billion a quarter in revenue.
On the Strip, at The Venetian and Palazzo, net revenue grew 25.1 percent in the fourth quarter to $385.7 million. For the year, its Strip resorts increased revenue 37 percent to $1.518 billion.
Earlier this month, Las Vegas Sands said it was no longer pursuing a massive resort development in Spain. However, the company is showing interest in other markets, including Japan and South Korea.