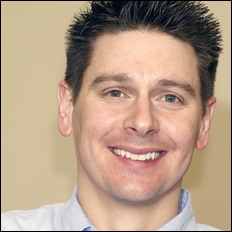 Graydon Johns, news director for ksl.com in Salt Lake City for the past five years, has been named online director for the Las Vegas Review-Journal, the newspaper announced on Friday.
As online director, Johns, 36, will help lead the daily online newsroom strategy and content selection for the newspaper's website, reviewjournal.com, said Michael Hengel, editor of the Review-Journal.
"Graydon is very aggressive and innovative in his approach to online news and feature coverage," Hengel said. "With his expertise and experience helping lead a combined newsroom of print, broadcast and digital journalists, he will be instrumental in helping us improve reviewjournal.com"
In his role as news director at ksl.com, Johns has helped propel the site into the top tier of local news websites nationwide. Year-over-year, ksl.com posted dramatic increases in monthly page views from an average of 32 million to more than 50 million.
The Review-Journal averages more than 10.1 million pages views a month.
"I'm really pleased with the new energy and direction we're going to have online," said Bob Brown, publisher of the R-J.
Johns said that in January, ksl.com registered 60 million page views.
"The strategy is to find what resonates with your readers,'' Johns said. "If you can do that, they'll come take a look at your site and they'll come back regularly."
As news director, Johns developed and ran a network of online contributors, focused on creating a richer user experience with through images and video, and coordinated efforts on stories and project reports with KSL-TV, KSL Newsradio and the Deseret News.
Johns is known for placing a heavy emphasis on breaking news.
Brett Atkinson, general manager of ksl.com, attributed Johns' success to understanding that digital is its own platform, instead of just an extension of a television station or newspaper.
"He has an unbelievable knack for finding a story and telling it in a way that's interesting to a large audience," Atkinson said. "He is by far the most talented person I've worked with. He really understands who his audience is."
Atkinson said Johns knows what information is valuable to the reader and makes them want to keep coming back.
"Joining the Review-Journal is an exciting opportunity for him," Atkinson said.
Johns will join the R-J on April 8.
Johns has worked for KSL for the past 15 years, including 10 years for KSL-TV and the past five years as news director for ksl.com.
"Graydon had a lot to do with ksl.com becoming a destination website by balancing news, features, local and national topics," Hengel said.
Johns replaces Greg Haas as online director. Haas will continue at the Review-Journal in the online division.
Johns, a native of the San Francisco Bay Area, graduated from the University of Utah in Salt Lake City with a degree in broadcast journalism. He and his wife, Jana, have four children.
Contact reporter Chris Sieroty at
csieroty@reviewjournal.com
or 702-477-3893.
Follow @sierotyfeatures on Twitter.