Review-Journal owner GateHouse Media taps new publisher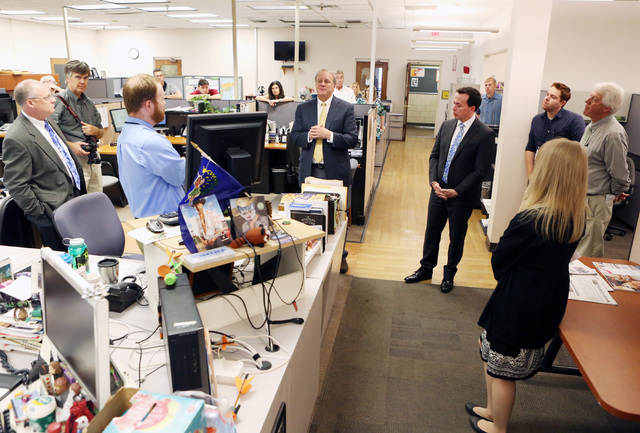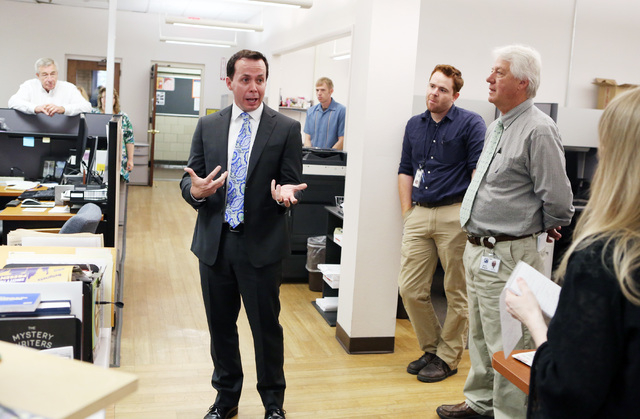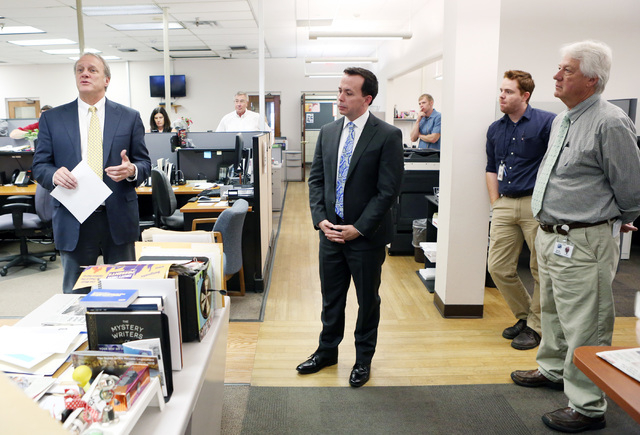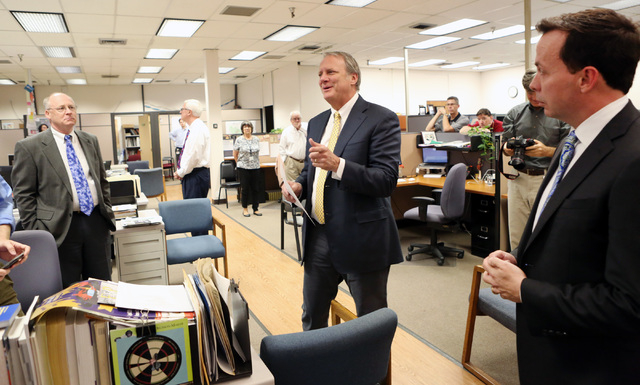 An accomplished newspaper executive will take the helm of the Review-Journal on July 6.
Review-Journal owner GateHouse Media announced Thursday that it has named Jason Taylor, a long-time executive with nationwide newspaper publisher Gannett Co., the president and publisher of Nevada's largest media outlet.
Taylor will also serve as president of GateHouse's Western U.S. Publishing Operations, as well as president of a new company division called GateHouse Media Live and Virtual Events. The division will develop locally hosted and sponsored expos and other events for communities nationwide.
Taylor takes over as Review-Journal publisher for James Hopson, who has served as interim publisher since April.
GateHouse Media CEO Kirk Davis said the company chose Taylor because he "cares deeply about excelling in local journalism, and he has an extraordinary track record of being involved in the communities he's served."
"Jason has a record of both achievement and giving back, and that balances the things that matter when you have the privilege of running a newspaper," Davis said.
In a Thursday meeting with the Review-Journal's newsroom staff, Taylor, who attended the University of Evansville in Indiana, said he has a "passion for true local journalism."
He's also a prankster: He told Davis Wednesday that he'd changed his mind about the job just to see Davis' reaction. He's interested in engaging with the community, offering up his new email address,jtaylor@reviewjournal.com, to the public to gather feedback on the Review-Journal's direction. He urged Review-Journal staffers to reach out to past employees for insight into his management style.
Despite the minor heart attack Taylor gave him Wednesday, Davis said he was eager to announce the hire.
"I put my heart and soul into this process. I didn't job it out. I didn't use a recruiting firm," Davis said. "I committed myself to looking for the absolute, most talented leader I could find. It is one of the most exciting days of my career to make this appointment. I deeply believe we got it right."
Taylor comes to the Review-Journal from Jackson, Miss., as president and publisher of the Clarion-Ledger, and as Gannett's U.S. Community Publishing East Group regional president overseeing the Hattiesburg (Miss.) American and Montgomery (Ala.) Advertiser.
Taylor has held executive positions for the Chattanooga (Tenn.) Times Free Press and the Honolulu Advertiser, and is the former general manager of The Times in Gainesville, Ga. He began his career at The Daily News Journal, a Gannett paper in Murfreesboro, Tenn., in sales and marketing.
Taylor, 40, has won industry awards and honors at nearly every stop.
From 2008 to 2012, Taylor led the Chattanooga Times Free Press to a Top 10 ranking from the Alliance for Audited Media for year-over-year circulation performance. Under his leadership, Taylor's newspapers have earned industry recognition through more than 300 advertising awards and 200 editorial awards, including Pulitzer finalists. The 96-newspaper Gannett chain named him its 2006 executive of the year, and the American Advertising Federation gave him its Silver Medal Award for lifetime achievement in 2010.
Taylor said it's too early to discuss how the Review-Journal's newspaper or website design and content might change under his direction.
"Overall, there's a great group of leaders already in-house," he said. "It's just a matter of aligning a strategic vision and moving forward as a whole."
He said he had "no immediate plans for any change in staffing — and not even on the long horizon."
Nor did he foresee changes right now in the paper's libertarian-leaning editorial page.
"I rely on people who know this market the best to make those decisions. I trust that this newsroom is skilled and talented, and they know what's best," he said.
New initiatives that locals can expect include a harder push to improve circulation, and a big focus on community events.
On circulation, Taylor said the Review-Journal, which has a circulation of about 95,000 on weekdays and 184,000 on Sundays, needs to "be aggressive about obtaining" new readers.
"A lot of times, the industry relies on telemarketing, but a lot of my success has come from knocking on doors and asking people again (to subscribe). Sometimes, it seems we've forgotten about the personal side of the transaction as an industry. A very valuable part of the transaction is, 'Here's why you need this newspaper.' That one-on-one interaction is especially important in a transient market where people don't have a long-term affinity for the community."
Taylor said he's also excited about leading the new GateHouse Media Live and Virtual Events division. It's a business model Taylor has experimented with in other markets. Examples include a women's expo with more than 200 exhibitors and plus appearances from lifestyle maven Martha Stewart and cast members of ABC's "Dancing with the Stars," and a sports award program for 1,500 high school athletes across Mississippi.
"It's such an emerging opportunity for business," Taylor said.
Despite the opportunities here, Taylor said, the decision to move wasn't easy: Taylor is uprooting his wife and three children ages 11 to 15.
"I was very happy where I was, but the more I thought about it, the more I thought, 'What a unique market for testing things that could work all over the country, and to experiment with content that's never been done.'"
Taylor's appointment comes three months after GateHouse's $102.5 million purchase of former Review-Journal parent Stephens Media. The acquisition gave GateHouse an additional eight daily newspapers and 65 weekly publications in seven states.
GateHouse parent New Media now has 126 daily newspapers — about 9 percent of the nation's 1,380 dailies — and more than 500 community and niche publications in more than 415 markets nationwide.
The Review-Journal, Nevada's largest media outlet, is the company's largest newspaper, though New Media announced on June 3 that it also plans to buy the publishing operations and assets of the Columbus (Ohio) Dispatch, which has a Sunday circulation of 235,000. The deal is expected to close later this year.
Shares in GateHouse parent New Media Investment Group were down 11 cents, or 0.58 percent, to close at $18.70 Thursday on the New York Stock Exchange.
RELATED
Sale of Review-Journal to New Media closes
Las Vegas Review-Journal parent company to buy Columbus Dispatch