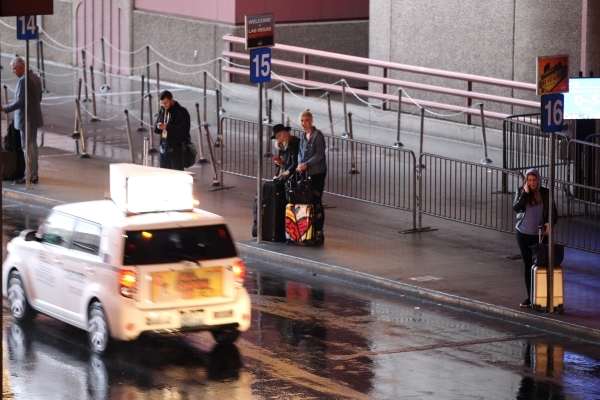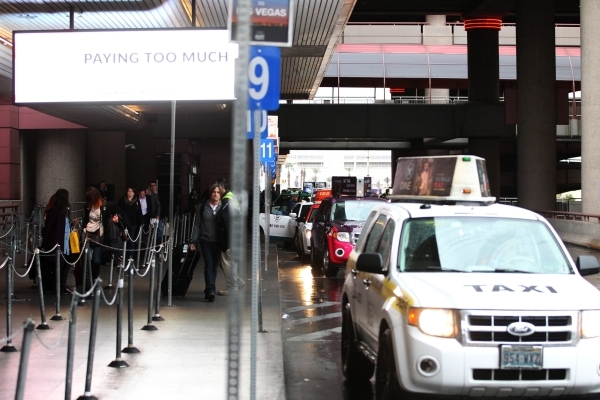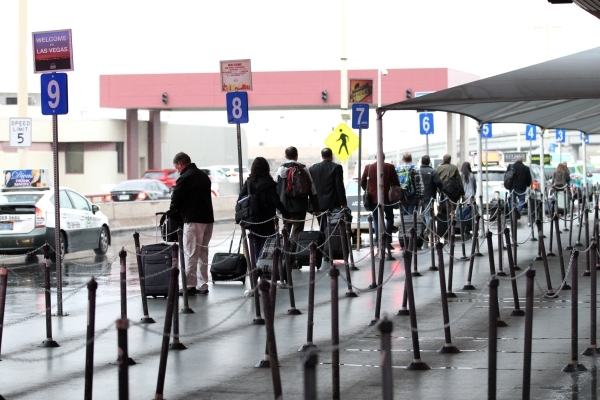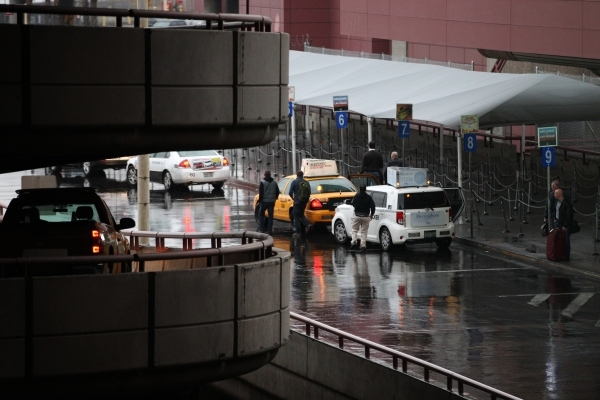 Ride-hailing companies took a big bite out of ground transportation revenue in the days leading up to the opening of CES this year.
Officials at McCarran International Airport reported Thursday that 53,461 people took taxis or ride-hailing rides from the airport on Monday and Tuesday, the two days leading up to the convention, and Wednesday, the opening day of the four-day consumer electronics trade show.
That's 13.7 percent more rides than were provided by just the taxi industry in the comparable days last year.
Statistics gathered by McCarran include so many unusual variables that it could take days to fully analyze the data.
The biggest difference in transit from last year to this year is the presence of Uber and Lyft, transportation network companies that were legalized by the state during the last legislative session.
CES organizers lobbied for the legalization of ride-hailing companies and encouraged people attending the four-day trade show to use those services.
Uber and Lyft combined to give 8,246 of the 53,461 rides provided from the airport, a 15.4 percent market share.
Uber and Lyft positioned themselves competitively against the taxi industry by reducing fares to well below cab rates in December, much to the chagrin of the companies' contracted drivers, who won't take home as much pay under the reduced rates.
But Uber and Lyft also spurred interest for customers with special discounts on rides to and from the airport. The taxi industry is prohibited from deviating from its metered rates.
There are other variables airport officials are considering when comparing last year — which saw record taxi loads at the airport during CES — with this year.
Because of a shift in the opening of the show, many attendees began arriving on a Monday this year with the trade-show floor opening on Wednesday. In 2015, the show opened on Tuesday and many people began arriving on Sunday.
Weather also was a consideration.
On Monday and Tuesday, when delegates first began arriving in town, dozens of flights arrived late, which may have resulted in modified travel plans. Rain and fog in Las Vegas delayed some arrivals Tuesday, but bad weather across the country resulted in even more delays and some flight cancellations.
Another variable: More international flights than ever brought CES delegates to Las Vegas.
"This year, Delta (Air Lines) brought in three charters from Asia specifically for CES and they were big planes, Airbus A330s and Boeing 747s," said Chris Jones, McCarran's public affairs and marketing manager. "Customs said the west side (McCarran's westside terminal) this week also handled 22 CES-driven general aviation arrivals from overseas."
Jones said it is hard to account for how many ground transportation trips, whether by taxi, ride-hailing vehicle, charter bus or limousine, came from the westside terminals.
McCarran had little trouble keeping up with taxi demand on Tuesday afternoon, the day before the show started. The airport has been the target of complaints about long taxi lines in the past but on Tuesday, taxis were being filled with riders as quickly as they arrived in line.
The airport has 53 marked taxi loading positions with 19 south of the center baggage claim exit, 12 north of the exit and 15 on Terminal 3's domestic side and seven on Terminal 3's international side. This year, 34 of those loading positions were in use.
Airport officials also are testing a dynamic sign system that lists the approximate wait time for taxi customers in the queue line.
Ride-hailing customers pick up their rides in a different location. On Level 2M of the parking garage, near valet parking, Uber and Lyft drivers met their customers Tuesday afternoon.
Ride-hailing drivers drive into a queueing area at Terminal 3 to await ride requests before driving to the pickup point.
Contact reporter Richard N. Velotta at rvelotta@reviewjournal.com or 702-477-3893. Find @RickVelotta on Twitter.