Rising tide lifts all homes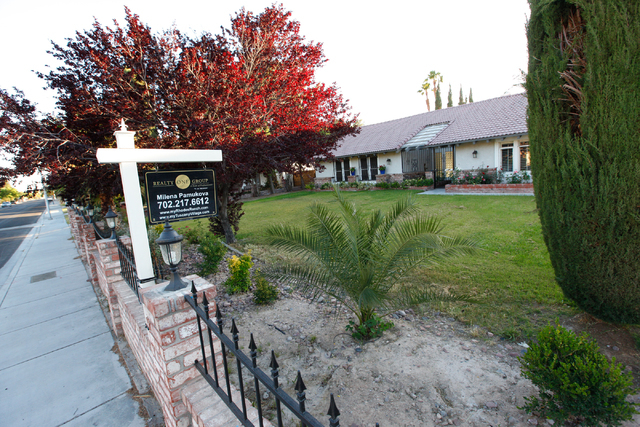 Everybody has joined this party.
From Centennial Hills to Southern Highlands, and from Summerlin to Sunrise Mountain, home values in every local ZIP code soared in 2013.
That's according to a new housing appreciation map from real estate research company SalesTraq, which shows double-digit percentage gains in all but one area ZIP code.
It's important to note that the numbers are averages, and your specific house value may have risen more or less depending on everything from the number of foreclosures on your block to how tricked out your home interior is.
But in general, widespread appreciation offers broad economic benefits to the Las Vegas Valley.
To understand how broad, look first at how much home values in each corner of the valley improved.
WHAT HAPPENED
Every ZIP code enjoyed a 2013 boost, ranging from a low of 6.9 percent in Boulder City's 89005 to a high of 53.2 percent in 89107, around Decatur Boulevard and U.S. Highway 95.
Improvement was "quite broad," said Heidi Kasama, president of the Greater Las Vegas Association of Realtors.
"It's a very healthy appreciation map," she said.
The ZIP code map also tracks what association numbers show the market has been doing, with average annual gains of 20 percent to 30 percent in the past year.
"Appreciation helps stabilize homeowners' personal balance sheets," said Brian Gordon, a SalesTraq principal. "It moves a significant number of borrowers from the red into the black in terms of home equity. The financial profile of local homeowners has improved dramatically as a number of folks finally have their head above water. From a psychological standpoint, it has consumers feeling better about the economy and their personal financial situation."
You can see the economic effects in other indicators, Gordon said. Take taxable sales, which have seen healthy growth for more than two years, driven largely by increased consumer spending on furniture, cars and meals out.
Before you get too excited, remember that values are up a lot only because they fell so much during the recession.
The median price of a local existing home peaked at $290,000 in June 2006, and plunged to a low of $100,000 in January 2012, SalesTraq data show. In 2008 and 2009, every ZIP code saw double-digit percentage pricing declines.
The median recovered to $158,000 by February, up 21.5 percent from $130,000 in February 2013. That, in turn, was up 28.7 percent from $101,000 in February 2012.
So even though the percentages look strong, market values are nowhere near their apex.
The market's appreciation is also a function of collapsing bank-owned inventory, said local real estate agent Tim Kelly Kiernan, broker-owner of Kelly Realty Group at Re/Max Extreme. Nevada's Homeowners Bill of Rights took effect Oct. 1, making it harder to foreclose on delinquent loans. Combine that slumping supply with relatively strong investor demand, and an appreciation spike was inevitable, he said.
But not everyone equally felt 2013's upward bump.
ZIP-BY-ZIP
Some ZIP codes are considerably closer than others to pre-recession pricing, despite smaller 2013 percentage gains.
In Summerlin's 89138, appreciation clocked in at 21.1 percent — about half of the rate of some city center ZIPs. Yet, 89138 posted Southern Nevada's highest median price, at nearly $285,000.
The story was similar in 89135, also in Summerlin. There, appreciation was 15.8 percent, even as the median reached $282,000. In Anthem's 89052, prices jumped 15.9 percent, to a median of $269,000.
Meanwhile, the opposite happened in the urban core, where percentage gains were white-hot even as median prices languished well below pre-recession levels.
In downtown's 89101 ZIP, prices spiked 49.7 percent, to a median of $69,000. Around Sahara Avenue and Valley View Boulevard, homes in 89102 appreciated 41.2 percent, to $120,000. In 89107, where prices soared 53.2 percent, the median was still just $95,000.
The city's center may have had better percentage gains than the suburbs in 2013, but that's because the core is still trying to catch up to the outskirts, where values have been improving for three years.
"It's a shift from what we saw in 2012, when more mature ZIP codes in the central and eastern parts of the valley struggled to maintain values," Gordon said. "It's a function of timing. Those areas are lagging some of the earlier gains we saw in areas that stabilized much more quickly. So in 2013, areas that were harder-hit started to see greater gains in percentage terms. Suburban areas have less catching up to do."
Homeowners in the urban center and suburban areas shouldn't expect the party to last through 2014.
And that's not a bad thing.
MODERATION IS GOOD
Remember 2004 and 2005? Gordon does, and he said it wasn't pretty — or sustainable.
"We were witnessing double-digit appreciation on top of double-digit appreciation, and prices during that time frame escalated well beyond the buying power of consumers. Incomes were not aligned with values at that time, and that, combined with the economic downturn, made conditions throughout the valley shift the other way. We went from the country's fastest-appreciating market to its fastest-depreciating market."
Yet, even if the latest numbers mirror appreciation rates in 2004, that doesn't mean the market is vulnerable to another bubble, Gordon said.
"Absolute price points have adjusted, and have aligned much more with where incomes are today, and the buyer profile is starting to adjust. The amount of speculation and investor acquisitions in the market are starting to subside, and investors are divesting themselves of some assets. Distress is leaving the market."
The mix of properties on the market is also changing. Two-thirds of local properties sold today are equity or nondistressed sales — a reversal of trends three years ago. Also, three out of 10 local homeowners are underwater, down from more than six in 10 in 2012.
"All of that suggests a much more stable environment," Gordon said. "The supply-and-demand dynamics in the Las Vegas housing market are much more stable than they've been probably at any time in the last decade."
Given that stability, don't expect 2014's appreciation map to keep up with 2013's version.
Because the market has worked through a big chunk of its inexpensive, distressed homes, investor interest is starting to wane, Gordon said. Sales will be driven more by people who are buying a place to live in.
"As availability creeps north, and the demand side of the equation becomes more sustainable, overall price appreciation is likely to slow," he said.
Kasama noted that appreciation has already slowed noticeably in the past seven months, with the median single-family home price hovering at $185,000 to $195,000 since September, according to the Realtors' association.
"We might see small, steady increases, but I don't think you can have the type of appreciation we had in 2013 again in 2014," she said.
Still, while no ZIP code will see a surge of 20 percent to 40 percent this year, some codes should fare better than average.
Expect stable prices in the suburbs, and perhaps a little more ground gained in the city's center, as the urban core's "absolute price position" attracts investors and owner-occupiers alike, Gordon said.
But Kiernan forecasts flat to "minimal" appreciation rates across the board.
For-sale inventory has more than doubled, from 4,200 units in April 2013 to 9,000 today. Another 48,000 homes remain in some stage of foreclosure, he said.
"I think we're still going to have to take another hit of some kind, hopefully not one as bad as we took in the last recession," Kiernan said. "If those 48,000 homes go through foreclosure or short sale, common sense says we'll have to take a value hit. We could see the roller-coaster, peak-and-valley thing get going again.
"We'll be back to normal when those homes flush through the system, but how long that takes is anyone's guess."
Contact reporter Jennifer Robison at jrobison@reviewjournal.com or 702-380-4512. Follow @J_Robison1 on Twitter.