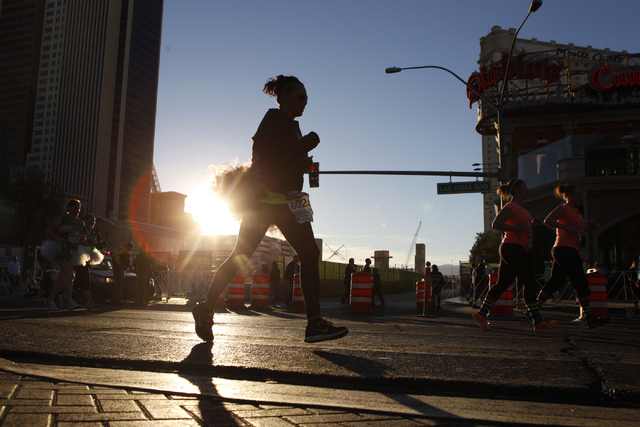 The popular Rock 'n' Roll Las Vegas Marathon is adding a day to its expo schedule at this year's mid-November event and experienced explosive growth in its half marathon race in 2014.
The 2014 event drew 61,416 visitors, including 34,745 runners for four races of various distances. The visitors stayed for 104,449 room nights, according to a marathon spending impact summary Wednesday.
What distinguishes the Las Vegas running event from other major races nationwide is that 89 percent of the visitors were out-of-towners spending money on items such as lodging and food.
"That's one of the most notable aspects of the race. Las Vegas is such a destination. It's good for the city. You want outsiders coming in and injecting money into the economy," said Scott Minto, director of the sports business program at San Diego State University, who conducted the economic impact study on the Las Vegas marathon.
"The numbers are pretty substantial because people spend money when they go there."
The 2014 marathon event claimed an overall economic impact of $212.7 million. But when the highly controversial multiplier or "indirect/induced" impact, along with gambling and taxes/fee numbers, are stripped away, the event had direct spending of $84.5 million.
That's more in line with an event such as the 10-day 2014 National Finals Rodeo, which had an economic spending impact of $74.5 million, according to the Las Vegas Convention and Visitors Authority.
The authority does not track the marathon economic spending numbers and generates event spending numbers by not including gambling and multipliers.
The marathon expo drew more than 60,000 visitors over two days in 2014, so race organizers have added an extra expo day to the schedule for this year's event. The expo is set for Nov. 12-14 at the Las Vegas Convention Center, with the marathon, half-marathon and "half-of-half-marathon" races scheduled for Nov. 15.
At the expo, runners pick up their race packets, check out running products, sample free health items, meet celebrities and attend clinics hosted by Olympic runners.
Overall, the event is growing robustly. The number of total race registrations increased from 27,779 in 2013 to 43,100 last year, with unique race number pickups increasing from 23,618 to 34,745.
Participation in the half marathon also increased, going from 20,566 finishers in 2013 to 25,168 last year.
It's now the third biggest half-marathon in the country, trailing only 13.1-mile races in Brooklyn, N.Y., and Indianapolis, race spokesman Dan Cruz said.
The marathon also has an international flavor with nearly 6,000 foreign runners from 66 nations. Race demographics also showed that 61 percent of the runners were female and 23 percent were running their first marathon or half-marathon.
Registration for the 2015 Las Vegas event was launched Wednesday, with the marathon and half marathon each costing $125.
San Diego-based Competitor Group Inc. owns 30 Rock 'n' Roll branded running race events, with Las Vegas being the largest in the portfolio. It bought the Las Vegas marathon event and rebranded it as a Rock 'n' Roll property in 2008.
Contact reporter Alan Snel at asnel@reviewjournal.com or 702-387-5273. Find him on twitter: @bicyclemansnel