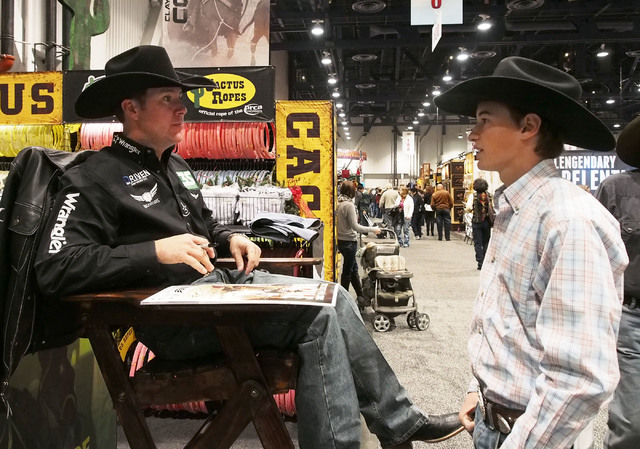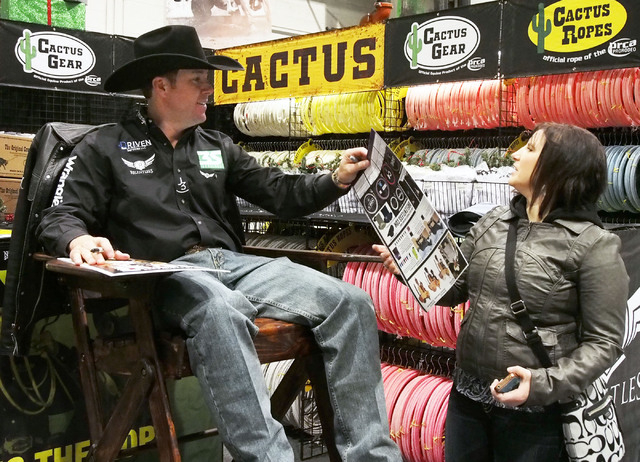 Trevor Brazile is in Las Vegas to win an unprecedented 11th all-around National Finals Rodeo title during the 10-day run of the Super Bowl of rodeos. But the cowboy from Decatur, Texas, has other business to attend to in Sin City.
Like selling his line of ropes, saddles, shirts and horse leg protection products under his brand, Relentless, which Brazile launched in 2009.
So, after speaking at the NFR FanFest kickoff Thursday morning and signing some autographs at the Las Vegas Convention Center, Brazile strolled through the Cowboy Christmas exhibitor show in the convention hall and reached the Cactus vendor booth where Relentless products are being sold.
Cactus, Brazile said, was his first licensee. And he was there to autograph memorabilia and witness some Relentless product sales.
"You never know when you're going to meet your next customer," Brazile said of conducting nonrodeo competition business during the NFR. "It's all about relationships. The NFR is my target market. This is where the deals happen."
Brazile was not the only businessman happy to see opening day of NFR and FanFest.
Scott Sibella, president and chief executive of MGM Grand hotel-casino, showed up to the FanFest opening in jeans and a blue plaid shirt and relished that his hotel has 17,000 room nights being filled by the NFR crowd during the 10 days.
Sibella said the NFR's timing is pivotal. "It's at a time that's extremely slow" for the Las Vegas resort industry.
The NFR and Las Vegas Events, the nonprofit organization promoting and marketing the rodeo, said attendance at Thomas &Mack is expected to be 175,000 during the 10 days. But Pat Christenson said the number of visitors in Las Vegas for the NFR is two to three times that number because they are in Sin City for watch parties and NFR-related activities outside of the arena on the UNLV campus.
Las Vegas Events spokesman Michael Mack, relying on data from the Las Vegas Convention and Visitors Authority, said the nongaming economic impact of NFR in 2012 was $92 million.
Many Las Vegas hotels have gone cowboy over the NFR, with some 40 resorts playing host to NFR fans, including 15 sponsor facilities from South Point, Mandalay Bay and Circus Circus to MGM Grand, Aria and The Orleans.
While Thomas &Mack will be packed nightly, a lot of NFR business activity is unfolding around Las Vegas. Broadcasting the non-arena NFR action is Omaha, Neb.-based RFD-TV, an NFR sponsor that is investing $1 million to cover 66 hours of coverage, said Randy Bernard, RFD-TV president and chief executive.
RFD-TV will broadcast six hours of content daily during 11 days on NFR-related activities, from the World Series of Team Roping at South Point, to the Miss Rodeo America event, to after-parties at MGM Grand and The Mirage, Bernard said. The content is available to more than 60 million U.S. homes.
"I want to do what ESPN does at the Super Bowl," Bernard said. "We'll be covering everything in the city."
Bernard is an old hand at cowboy sports. As former chief executive of Professional Bull Riding, he wants to use his RFD-TV to promote and market cowboy personalities.
RFD-TV has a studio at FanFest, which is in its second year. Next to FanFest is Cowboy Christmas, where several hundred vendors peddle everything from boots, hats and jewelry to horse coverings, trailers and saddles.
One of the biggest vendors is Irvine, Calif.-based Boot Barn, a boot and Western clothes retailer that mobilized 50 company workers to work the retail spaces for NFR, said Matt Dinubilo, a district manager.
Why the investment?
"It's the event of the year," he said.
Alan Snel can be contacted at asnel@reviewjournal.com or 702-387-5273. Follow @BicycleManSnel on Twitter.