Romance brews, then couple launches Las Vegas coffee business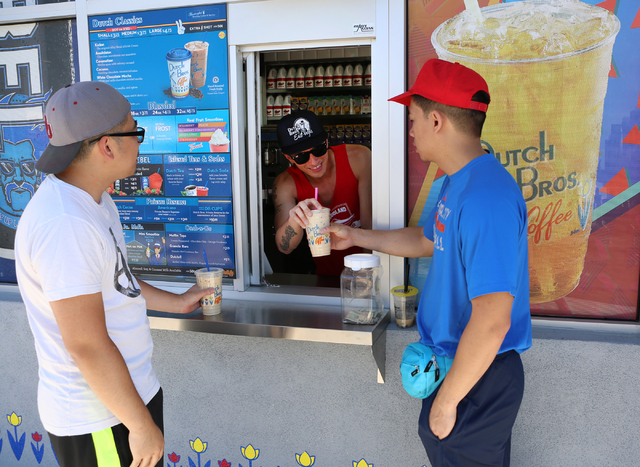 Cory Nimmer and Kelli Gillespie hiked nearly 5 miles to Chicken Point peak in Sedona, Ariz., with four friends to marry in a private ceremony three years to the date from meeting at a Dutch Bros. Coffee shop in Arizona.
Carrying only backpacks, which contained their formal wedding clothes and water, the couple read their vows to each other and said "I do" before their closest friends, one of whom presided over the wedding.
Less than a month later, the couple learned that they would be the new owners of the Dutch Bros. East Vegas store in Las Vegas. Now the couple is looking to open at least six additional shops in the valley after their first store opens today at 2820 E. Tropicana Ave.
"We hope to splash soon in the next five years," Cory Nimmer said. "We'll have sites from Sunset up to Nellis on the east side."
Although their wedding may have been private, the grand opening of their first 24-hour drive-thru coffee store will be a huge celebration that will include funky music and free drinks for patrons.
The East Tropicana coffee shop is part of Dutch Bros. Coffee's expansion into Las Vegas, which will bring up to 35 new Dutch Bros. Coffee locations with 30 to 40 employees each. That means that Dutch Bros. Coffee could potentially hire up to 1,400 employees in Las Vegas, according to a Dutch Bros. Coffee representative.
Raj Tumber, a certified business expert at SCORE, said Las Vegas is structured in a way that attracts retail business.
"It's definitely doable," Tumber said. "If you look at Las Vegas and if you compare the number of chains we have here, it's a lot more than other cities in the nation. Any chain can move here and open a boatload of locations. The history shows, there are consumers, there are customers."
MORE 'PODS' PLANNED
Four additional "pods," which are clusters of Dutch Bros. sites within a specific part of town run by franchisees, will open around Las Vegas.
"Each pod has the capacity for up to seven stores and the aim would be that each franchisee would max out with seven stores," field operations director Lance Risser said.
Dutch Bros. has more than 240 locations and more than 4,000 employees across seven states, including California, Oregon and Washington. The Dutch Bros. East Vegas location will be the first site in Las Vegas and the second site in Nevada.
Even though the other franchisees haven't been selected yet, Gillespie is excited about the expansion of not only her stores but for all of Dutch Bros. stores in Las Vegas.
"They're going to go everywhere," Gillespie said. "We want neighbors."
Risser said Dutch Bros. recently launched a new franchising program and Nimmer and Gillespie are the first franchisees. Risser said the Nimmers were two of seven applicants for the Dutch Bros. East Vegas site, and they were selected because they "fit the culture."
Cory and Kelli met at a Dutch Bros. Coffee shop in Arizona Feb. 22, 2012, when Kelli came in to interview for a job. Cory hired her on the spot.
One year later, the two began dating while managing separate stores. Their marriage on Feb. 22, 2015, at the Sedona, Ariz., peak, was a "secret wedding."
IT'S ALL ABOUT FAMILY
This past March, the duo learned that its application for the Dutch Bros. East Vegas store had been approved. Four days later, the couple tied the knot for the second time in front of their friends and family — celebrating not only their partnership in marriage, but their new partnership as co-owners of the Dutch Bros. East Vegas site.
"It's not a scary thing for us, it's more of an exciting thing," Gillespie said. Dutch Bros. East Vegas will have 36 employees when it opens, including several veterans from Phoenix-area sites where Kelli and Cory first met.
The owners, who share the same taste in coffee — iced coffee with white chocolate and creme de menthe — said they encourage their employees to put family first and pursue their passions because they want them to be happy.
"We do whatever it takes to help our employees,"Gillespie said. "We give people a lot of time and patience. We help them financially in any way possible. We tell them that we're a family and family comes first, so just take care of yourself."
Las Vegas is home to many 24-hour coffee shops around town beyond Starbucks, including Madhouse Coffee, The Lodge Coffee House &Tavern.
Madhouse Coffee owner Marco Prestia, 49, said he he's not too worried about another coffee chain moving into the city because he "doesn't sell just coffee, he sells cool."
"We're different," he said. "We have a very precise identity in this city. I welcome competition. It'll make us better."
But the duo said they aren't looking for competition and consider Dutch Bros. East Vegas an entirely different experience from other coffeehouses in town with its own niche and customer base.
"We love Starbucks," Gillespie said. "(Dutch Bros. Coffee) is more than coffee, it's about the experience. We're never afraid to make someone's day."
Her husband agreed.
"I always say that (Dutch Bros.) is a people business that just happens to serves coffee."
Contact Review-Journal writer Michelle Iracheta at 702-387-5205. Find her on Twitter at @cephira.