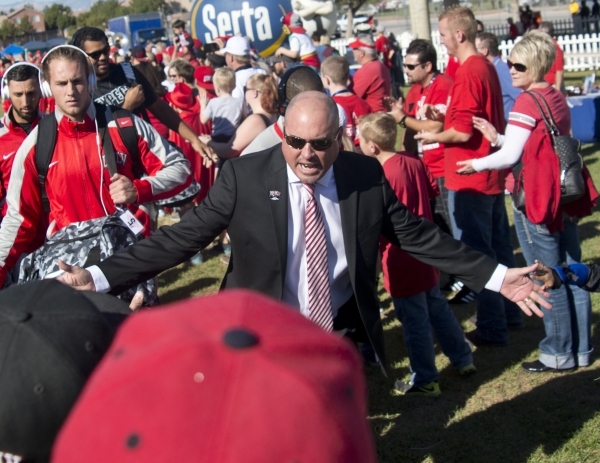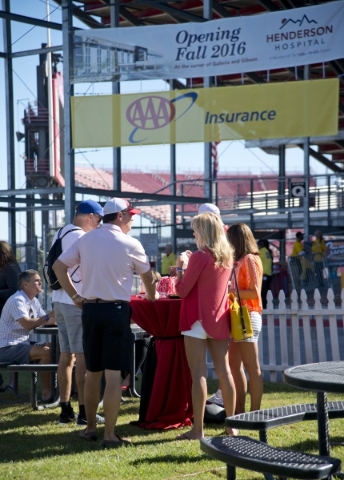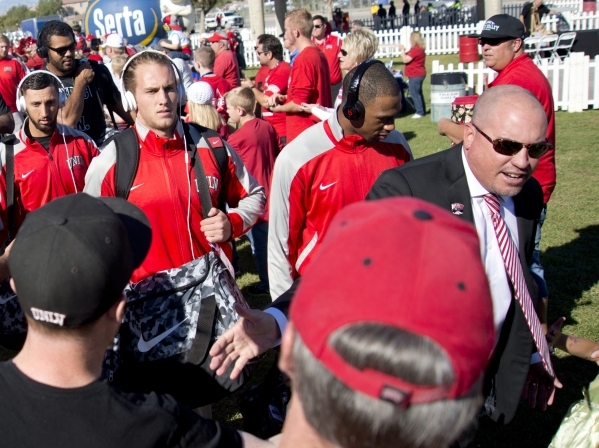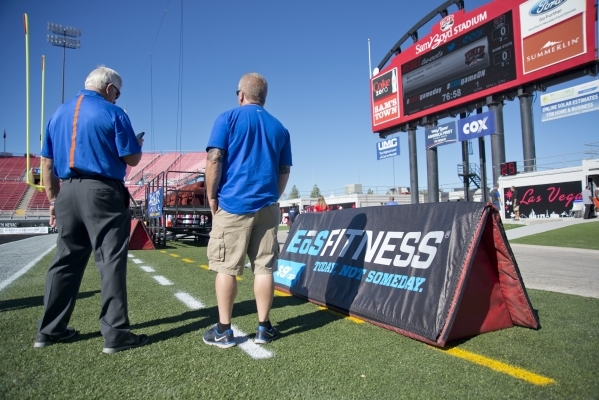 Tony Sanchez has done more than just create a buzz around the UNLV football team this fall.
The rookie coach at the University of Nevada, Las Vegas is generating more sponsor revenue and more ticket sales.
At least five new UNLV football team sponsors, plus one sponsoring organization that has doubled its spending, have helped increase football sponsor revenues by 8 percent to 10 percent this season, said Eric Kovac, general manager for UNLV IMG Sports and Entertainment Properties, which handles sports sponsorships for the university.
New football sponsors are Air Force Reserves, Renewable Energy Electric, UMC, EOS Fitness and Del Taco, Kovac said.
AAA has doubled its sponsorship spending in its second year, Kovac said. Workers at Sam Boyd Stadium also drove a golf cart decorated with the AAA logo around the grounds during UNLV football games.
Asked about Sanchez's impact on football sponsors, UNLV athletic director Tina Kunzer-Murphy said, "Tony has done a fantastic job of engaging the entire community. He's made Rebel football matter to Las Vegas."
Case in point: Attendance at Sam Boyd Stadium is also up. In 2014, the average attendance for six home games was 15,674. This season, average attendance after five home games is 20,298.
While Sanchez's football team sported a 3-6 record as of Friday, the sponsoring businesses sense that the football team is on the upswing because it is more competitive and because Sanchez's unbridled enthusiasm has resonated with local residents. Sanchez never misses a chance to appear at a sponsor's event.
'A great marketer'
"The buzz around the community about Tony is that he is the guy who can turn around this football program, and the businesses want to be in on the ground floor," Kovac said. "This year, Tony is such a great marketer. He's getting out in front of partners."
While the football team's 3-6 record might not sound impressive, UNLV beat its northern state arch-rival, University of Nevada, Reno. And the team nearly beat San Jose State and Fresno State, which would have left the team with a 5-4 record and competing for a berth in a minor bowl game.
"He's not just a sayer, but he's a doer," Kovac said. "People are more excited about UNLV football, and they want to be part of it."
On the scoreboard at the Sam Boyd Stadium, UNLV's home stadium seven miles from campus, signs for new sponsors Renewable Energy Electric and UMC are displayed. The UNLV football and basketball teams have a combined 135 sponsors.
Blake Douglas, UNLV alumni senior director for events and programs, said Sanchez's energy has pumped up alums to get more involved.
"The energy level he brings is off the charts. I've been here 18 years and I've never seen anything like him," Douglas said at the alumni block party area before a recent UNLV game. "When I hear him speak, I want to play football."
Strategist and motivator
Finding a head football coach at the university level who can be both a great gridiron strategist and player motivator, while also bowling over local businesses as an inspiring marketer, is a daunting challenge, said Harry Hutt, a Tampa, Fla.-based veteran sports sponsorship analyst who worked for the NBA's Detroit Pistons and NHL's Tampa Bay Lightning on sponsorship deals.
"In the year 2015, colleges need to have a marketing buzz. It's so crucial to fill up stadiums," Hutt said.
"Whenever athletic directors are trying to decide on the new head coach at ABC university, they want get a great football coach who knows how turn a program around and also want to get a new coach who's into marketing," Hutt said. "With Sanchez, they have a guy who definitely knows how to get to a 10-2 record and at the same time get the people involved in the community by selling tickets, getting sponsorships and getting people involved."
To hop on the Sanchez bandwagon and the team's new buzz, IMG has created a Rebel block party atmosphere outside the stadium where the sponsors set up tables in a hospitality zone and talk to fans in a fanfestlike experience, Kovac said. Rebel Athletic Fund supporters, alumni and corporate sponsors all join in, he said.
Andrea Bates, a representative of Renewable Energy Electric, said the company CEO and president, Jason Vita, was born and raised in Las Vegas valley and attended UNLV. Vita is a UNLV fan who admired Sanchez for his work at Bishop Gorman, a powerhouse high school football team coached by Sanchez.
The business value of buying a football sponsorship is that it provides "more local community awareness and nationally televised education about solar energy," Bates said.
— Contact reporter Alan Snel at asnel@reviewjournal.com Find him on Twitter: @BicycleManSnel