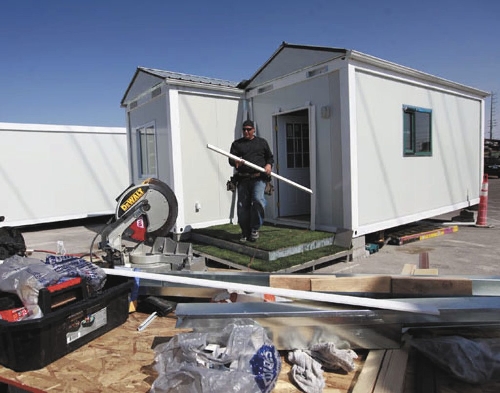 There are housing crises, and then there are housing crises.
Sure, Las Vegas has headline-making, nation-leading foreclosure rates and valuation drops.
But things could be much worse: Consider Haiti, where a 2010 earthquake left much of the housing stock in rubble and 1 million people homeless.
Now, a Las Vegas business led by developers and contractors wants to help. The company, called Sancta Homes, is building rapidly deployable modular homes for global use in natural disasters, on military bases and in poverty-stricken urban areas that need affordable housing. Sancta's homes could even have local applications, its executives say.
For now, though, the company's focus is on Haiti.
Sancta, whose name comes from the Latin word for sanctuary, is scheduled to ship its first home to Haiti today. Company officials are finishing plans to build a prototype village of homes in the Caribbean island country of 10 million. Six-month-old Sancta has already earned a spot as one of 50 finalists, out of more than 500 applicants, in Haiti's Building Back Better Communities Housing Expo, a competition sponsored by the Haitian government and the Clinton Foundation to find housing options ideal for Haiti's climate and citizenry.
"We're working with Haitian labor, Haitian businesses and Haitian organizations in a very different approach that involves real, holistic development," said Arnold Stalk, a member of Sancta and a principal of Las Vegas development advisory firm Arnold Stalk Consulting. "We want to leave a mark there that's positive. I believe there's a great opportunity for a company based out of the U.S. to make a positive contribution to an area that's been devastated."
Sancta is more than a charitable effort: Helping communities rebuild will require profits, said Dan Stewart, a Sancta principal and the former president and chief executive officer of Henderson developer The LandWell Co. Stewart said it's tough to say how much it will cost to build a Sancta home, because designs and finishing materials could vary for each model. But Sancta's prices will begin at around $8,000 for a basic unit. Homes will range from 160 to 640 square feet to start, though clients can order larger units with upgrades.
The homes use lightweight, earthquake-resistant, insulated steel panels that two installers can put up in six hours. Sancta's plant, at 1200 Commerce St., is right on the Union Pacific rail line, and the homes' panels can ship quickly via bulk rail, military jumbo air cargo, helicopter, truck or ship. Homes can be assembled on site in disaster zones, or here in Las Vegas and then shipped nationwide. Sancta has about six local employees who put together the homes or prepare them for transport.
The company's goal is to sell about 500 homes in 2011, Stewart said, and perhaps thousands of homes a year sometime in the next five years.
Sancta doesn't plan to stick with Haiti alone. Company officials also plan to sell homes for use on military installations, at energy-drilling sites and even in inner-city America, where there's a need for affordable, stable housing. Stalk said Las Vegas "certainly has its share of poverty," and is home to communities that could benefit from Sancta's affordable housing. Sancta also expects to build multihousing units and offices, schools, day care centers and hospitals.
But Sancta's business plan calls for entering some crowded markets, and profitability could be tough to achieve, one building analyst said.
"There are a lot of panel providers. It's a very competitive industry," said Grant Smereczynsky, chief executive officer of Atlanta-based Building Systems Network, a modular-building clearinghouse for manufacturers, developers and consumers. "I think the biggest obstacle is the cost variable. We've had some requests for buildings going to Third World countries, and you just can't produce the product stateside, package it, ship it and sell it to poor countries and make it cost-effective."
Profit margins can be thin. An established developer that owned its supply chains asked his group to price a two-phase project with nearly 6,000 homes in North Africa. The project's profit would have run roughly $200 per home, Smereczynsky said. Most existing operators typically sell about 500 to 600 panelized or modular homes a year.
And as long as the U.S. housing market continues to hurt, there could be less demand for Sancta's homes in urban cores, because homes remain affordable in general, and lenders remain skittish about lending to marginal borrowers, Smereczynsky said.
But Sancta's plans to move into military installations and energy-drilling sites are an "excellent idea," Smereczynsky added. The company's desire to serve regions suffering from natural disasters could also prove fruitful if it sticks with disaster zones in wealthier, industrialized countries, he said.
Sancta's foundation was laid several years ago, after Stalk learned tens of thousands of big, empty shipping containers sat unused in ports around the world. He presented the containers as a design project to architecture students in California, asking them how to transform the boxes into homes. Stalk made a prototype of a container home shortly after Hurricane Katrina, but it would be several more years before he found a business model that made sense, plus "the right group of entrepreneurs and risk-takers."
The workable business model came when Stalk realized he could order custom-made panels based on the shipping containers' design from a factory in China. Mass-producing the building panels would make construction more affordable, and they'd also require less shipping space .
In addition to Stewart, Sancta's principals include Rory Reid, the former Clark County Commission chair and Lionel Sawyer & Collins attorney who's connected Sancta to key contacts in the United States and Haiti. Other members include Alan Ginsburg and Dan Donovan, both executives with Olympus Construction and Olympus Realty Services, and Jim Barton, managing member and president of contracting company Big Town Mechanical. Jim Krahenbuhl, owner of American Comfort Systems, and attorney Mark Bawden round out Sancta's group of principals.
Stewart has visited Haiti twice in the last six weeks while doing business on behalf of Sancta, and Stalk will head to the country in the next few weeks.
"There's devastation everywhere, but after a few days down there, I felt a really good spirit in the people," Stewart said. "They're not wallowing in their grief or their dire circumstances. They want to make things happen. They want to rebuild their country."
Contact reporter Jennifer Robison at jrobison@reviewjournal.com or 702-380-4512.