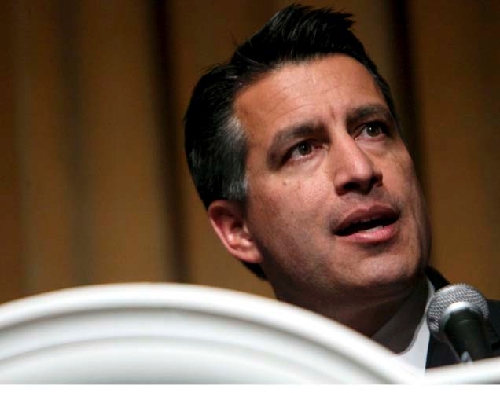 Don't count out Nevada just yet.
That was the message Gov. Brian Sandoval delivered Thursday at Bellagio, where he gave his first major local speech since his Monday unveiling of an economic-diversification plan for the Silver State.
Sandoval, addressing about 1,000 members of the Nevada Development Authority at the group's annual luncheon, exhorted the crowd to get involved in the effort. He also talked of how the state's past proves it can flourish in the future despite tough times.
"Nevada's history is filled with stories of hard work and patience that paid off, of opportunities sought and realized," Sandoval said. "There have been ups and downs, and peaks and valleys, but Nevadans always, always fought their way back from the brink."
Righting this recession-battered ship will require a "course correction" in several areas of public policy, though, Sandoval said. The state budget, education reform and responsive government are all priority areas for the governor, but economic diversification took up the biggest chunk of his speech.
The governor talked about how Assembly Bill 449, which he signed into law in June, provides a new framework for Nevada's economic-development infrastructure.
The law created the Governor's Office of Economic Development — "a cabinet-level agency with a private-sector mentality," Sandoval said — and it boosted funding for the state's economic-development efforts. Marketing budgets for diversification rose from $5 million a year to $7.5 million, and a $10 million "catalyst fund" will help pay for businesses to relocate.
Sandoval drew applause when he noted the Office of Economic Development has moved from Carson City to Las Vegas, where roughly 70 percent of the state's population lives.
The office's strategies will come from a report Sandoval presented Monday with Lt. Gov. Brian Krolicki and Secretary of State Ross Miller. The 178-page report, from the Brookings Metropolitan Policy Program, Brookings Mountain West and SRI International, provides a blueprint for expanding existing industries and attracting new business.
Sandoval said the plan recommends a strategy that works through local government and regional collaboration, rather than starting and ending in the state diversification office.
"The idea should be to aid and abet Nevada's regions as they develop sector- and region-specific strategies to promote growth," he said.
The report also advises building on Nevada's strengths, looking for new opportunities in existing industries including gaming, tourism and mining. But the plan also highlights several areas in which Nevada could "launch into international fame," Sandoval said. Those sectors are clean energy, health and medicine, information technology, logistics and operations and aerospace and defense.
Sandoval encouraged the public to look at the report, available at www.diversifynevada.com. Go to the "News in Nevada" section on the bottom right of the page and click on "Unify, Regionalize, Diversify: An Economic Development Agenda for Nevada."
"You have to ask yourself after you read that report, 'What can I do to help move Nevada's economic recovery ahead?" Sandoval said.
"This is a team effort," he added. "We really are in this together."
Sandoval said a "pragmatic, measurable plan of action" will follow in the first quarter. Nevadans will be able to comment on the plan, which state officials will update and amend as diversification initiatives unfold.
"Economic development is a journey, not a destination, and our plan is a traveler's guide with new entries posted as we share successes and learn from our mistakes."
Sandoval also talked about initiatives to rein in the state's budget, reform education and increase responsiveness, and how important those areas are to economic development.
A school curriculum that focuses on science, technology, engineering and mathematics will help Nevada's labor force compete in a global economy. And a smaller state government — Nevada's budget shrank from biennium to biennium in 2011 for the first time in modern memory — will also boost economic development, Sandoval said.
"A low-tax climate remains at the top of the list of assets that are critical to ongoing efforts to attract and grow new business," he said. "Every study we have says this, including the SRI-Brookings report. Low and stable taxes are good for business, period."
Contact reporter Jennifer Robison at jrobison@reviewjournal.com or 702-380-4512.