Sands suspends construction in LV, Macau
November 11, 2008 - 10:00 pm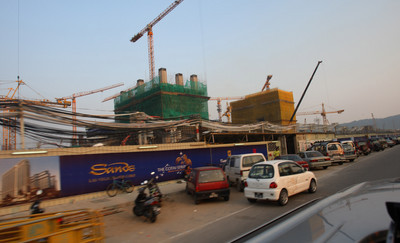 Las Vegas Sands Corp. told investors Monday it's stopping construction on its $600 million Strip condominium tower and shelving some of its development plans in China.
Company President Bill Weidner said the changes could reduce Las Vegas Sands' capital expenses by $1.8 billion.
"We are going to right size our development pipeline," Weidner said.
Also, Las Vegas Sands announced plans for a $2.14 billion capital raising program with Wall Street investment firm Goldman Sachs. The family of Las Vegas Sands Chairman Sheldon Adelson will participate in the capital raising project. Details of the capital infusion will be available in a prospectus to be filed later, he said.
Also, Rob Goldstein, the president of the company's Venetian and Palazzo properties on the Strip, said the company will undergo cost-cutting measures in Las Vegas to save about $100 million.
The moves are being undertaken to right the ship of the listing casino operator.
Last week, Las Vegas Sands told investors it was in danger of defaulting on some of its loans, raising the possibility the company could be forced into bankruptcy.
Las Vegas Sands announced its plans during a scheduled conference call with analysts and investors to discuss quarterly earnings for the period that ended Sept. 30. The call was delayed by about 40 minutes because "several things were still coming together," Weidner said. The company was also attempting to file its quarterly statement with the Securities and Exchange Commission.
In the quarter, Las Vegas Sands said its loss narrowed to $32.2 million, or 9 cents a share, compared with a loss of $48.5 million, or 14 cents a share, a year earlier.
Analysts polled by Thomson Reuters expected Las Vegas Sands to earn 11 cents per share.
Las Vegas Sands said revenues rose companywide to $1.11 billion compared with $694.3 million last year.
In Las Vegas, operating income at The Venetian and Palazzo was $6.1 million, compared with $29.6 million a year ago. Casino revenues on the Strip were $113.2 million for the quarter, an increase of 36.2 percent compared with $83.1 million a year ago. Hotel revenues were $130.5 million, a 57.2 percent increase compared with $83 million in the same quarter a year ago.
The increases were attributed to the Palazzo, which opened in January.
"Our third-quarter results reflect solid operating performance, with both revenues and adjusted property (cash flow) increasing substantially in both Las Vegas and Macau, despite challenging operating environments in each market," Weidner said.
Before announcing earnings, Las Vegas Sands said it was suspending indefinitely construction of its St. Regis condominium tower on the Strip. Weidner said the podium deck would be completed in order to collect rent on some of the prospective tenants, but the tower would be delayed.
In Bethlehem, Pa., the company will develop the casino portion of the $675 million Sands Bethlehem, which will include a 3,000-slot machine casino, restaurants and a 3,500-space parking garage. Other areas, such as retail portions and other entertainment attractions, will be delayed. The casino is expected to open by the end of June.
Meanwhile, several of the company's planned Cotai Strip development sites will be shelved until market conditions allow for additional expansion opportunities.
"Given the current conditions in the global credit environment, we have elected to significantly slow the pace of our development activities on the Cotai Strip, including a suspension of our development on sites five and six of the Cotai Strip," Weidner said.
Weidner said the company will continue to pursue financing to complete construction of the first phase of the Cotai Strip, including a Shangri-La/Traders hotel, an 1,800-room Sheraton hotel and three casinos.
"Our temporary suspension program will enable us to re-commence development in an efficient fashion, should sufficient capital to complete phase one of our development plans become available on reasonable terms," Weidner said.
Las Vegas Sands said it was moving forward with plans to build the $4 billion Marina Bay Sands in Singapore. The company said the capital raising program would help fund the Singapore development.
The capital raising program may also help the company meet some of its debt obligations.
In a filing with the SEC last week, the company told investors it was in danger of not meeting obligations to its lenders on a $3.8 billion portion of its debt unless it can raise capital, cut spending on developments or lift its Las Vegas earnings by the end of the year.
In its filing, Las Vegas Sands said it was in jeopardy of missing certain financial covenant requirements and needs to raise more capital.
The company disclosed a letter from its auditor, PricewaterhouseCoopers, in which the accounting firm wrote that a default would raise "substantial doubt about the company's ability to continue as a going concern."
Las Vegas Sands announced earnings after trading closed Monday. Shares of the company closed up 97 cents, or 13.8 percent, to finish at $8 on the New York Stock Exchange. A year ago, the company was trading at $122.96 a share.
Contact reporter Howard Stutz at hstutz@reviewjournal.com or 702-477-3871.