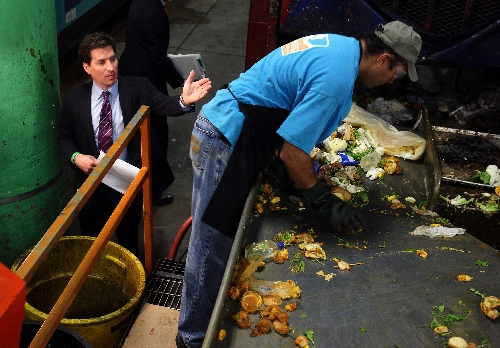 Las Vegas Sands Corp. unveiled a companywide sustainable business program Wednesday but the casino operator said the practices involve more than just turning the entire 17.9 million-square-foot Venetian, Palazzo and Sands Expo complex into the world's largest single green building.
The commitment takes into account all areas of environmental conservation, such as recycling and operational practices. The efforts, company executives said, will be unnoticeable to a customer.
"It's a commitment that doesn't interfere with guest service," Las Vegas Sands President Michael Leven said.
The program, dubbed Sands Eco 360°, includes green purchasing, refuse recycling, and water and energy conservation. Las Vegas Sands Vice President of Corporate Development Nicholas Rumanes, who oversees the effort, said the program isn't so much physical changes in the buildings but new operational and policy procedures.
"It's what you're doing to work in a more energy efficient and cleaner environment," Rumanes said.
On Wednesday, Las Vegas Sands displayed several back-of-the-house programs. The company has 14 full-time employees sorting through refuse, resulting in a 50 percent increase in recycling products in the past four months. Also, 75 percent of the discarded food waste is now shipped to RC Pig Farms in North Las Vegas, where it is used as animal feed or compost.
Water conservation efforts at its Las Vegas resorts save nearly 100 million gallons a year while energy consumption has been reduced by a figure that would power 6,500 households annually.
"Changing the lights is just a small part of the process," Leven said. "It's operational, and that's the major difference."
One of the program's selling points for Las Vegas Sands executives was the cost savings associated with sustainable development. Leven said the company saves $4 for every $1 spent on the effort. Las Vegas Sands also receives state and federal tax breaks by having a green building.
"This is a particular situation where the government provides an incentive as opposed to just doling out money," Leven said. "The tax system works for the betterment of society."
Leven said Republic Services is building a $10 million facility to handle recycling efforts not just from Las Vegas Sands' properties, but other Strip resorts.
"(Republic is) creating jobs, that's why you can't put a cost on this type of investment," Leven said.
The Sands Eco 360° effort is also being implemented at the company's casinos in Asia. The Venetian Macau has implemented an energy, environment and conservation awareness program to educate employees. The $5.5 billion Marina Bay Sands in Singapore, which opens next month, is being built to achieve that country's version of the Leadership in Energy and Environmental Design platinum certification, the highest designation that can be awarded by the U.S. Green Building Council.
A $25 million building management system is being implemented to control all lighting, heating and water supply functions. The resort's rooftop will have a green designation and include 250 trees and plants. Rainwater will be collected and recycled in the resort's washroom flushing system.
The centerpiece Wednesday was the designation of The Venetian, Palazzo and Sands Expo as a LEED certified building by the U.S. Green Building Council.
The Palazzo, which opened in 2008, had been previously been awarded LEED silver certification for new construction, the first Strip resort to ever achieve that designation. The Sands Expo, which opened in 1990, and The Venetian, which opened in 1999, were given gold certifications for existing buildings.
Tim Cole, chairman of the U.S. Green Building Council, said it has become more important for the organization to designate older buildings as LEED certified because it shows an effort to change practices .
Contact reporter Howard Stutz at hstutz@reviewjournal.com or 702-477-3871.
Sands Corporation honored for green building initiative