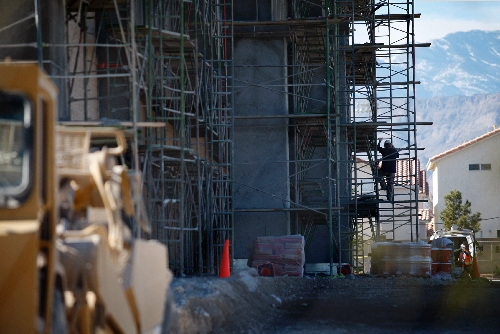 You may not be able to gain employment there anymore, but you might be able to save a buck or two when WinCo opens its two discount grocery stores in March.
At this point the company has stopped hiring for its Las Vegas and Henderson stores, according to WinCo's website.
Mike Read, vice president of public and legal affairs for WinCo Foods, wasn't immediately aware of the halt in hiring, but said, "If it says it on the website, then it's probably true."
WinCo usually opens its stores with 200 employees per location.
The Southern Nevada sites are based at Stephanie Street and Wigwam Parkway; and at the Las Vegas Beltway and Decatur Boulevard. Read said both stores will occupy about 94,000 square feet when they're finished.
"We're excited to open in the market soon," Read said.
WinCo Foods chooses it store locations based on market research that includes measures of area economic surveys, sales projections, traffic flow and population studies.
"It's a very sophisticated process," Read said.
The company wouldn't disclose how much it's costing to open the stores, but Read said, "It's quite a significant investment."
The company employs about 14,000 people in its 82 stores that are spread throughout Washington, Idaho, Nevada, California, Oregon and Utah. WinCo isn't new to Nevada as a whole, just Southern Nevada. The company has operated two Reno-based stores since 1994 and 1999.
Read said the 2012 expansion into Las Vegas and Henderson comes when the company has other nearby locations in Southern California and Utah, so it made sense to look at the Southern Nevada market.
The company's business model most closely compares with Walmart's, which Read said pricewise, is WinCo's largest competition.
"It's just a very large discount supermarket," Read explained. "But anyone that sells groceries is a competitor."
WinCo requires neither memberships nor store rewards cards. Customers just come in and shop.
"We're very competitive," Read said.
David Livingston, supermarket research analyst based in Waukesha, Wis., said WinCo shouldn't have any trouble in Southern Nevada.
"Times are good for them," he said. "WinCo is strong."
Traditionally, its stores do a high volume of sales and because it is an employee-owned company, Livingston said morale tends to be higher than in more traditional grocery retailers.
"Employees will be a lot more engaged with the shoppers," Livingston theorized.
And, because of the economic downturn, he predicts customers will respond to the low-price business model.
"Their format is going to be more appealing compared to Albertsons, Fresh & Easy or Smiths," Livingston said.
With Albertsons and Fresh & Easy closing stores in other markets, Livingston said WinCo's entry into Southern Nevada just makes another dent in both brands.
WinCo Foods, which bills itself as the supermarket low price leader, was founded in 1967 in Boise, Idaho, as a discount grocery warehouse under the name Waremart Food Centers and Cub Foods. In 1999, the name was changed to WinCo Foods, short for Winning Company.
WinCo Foods was listed at No. 66 on Forbes magazine's 500 largest privately held companies in 2011. Annual revenues were up in 2011 for the company 2.3 percent to $4.73 billion from 2010's $4.63 billion.
Contact reporter Laura Carroll at lcarroll@reviewjournal.com or 702-380-4588.