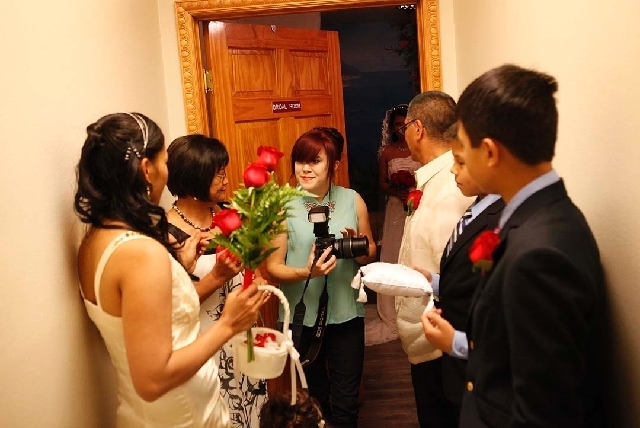 Maybe someday people will come to Las Vegas not to get married, but to visit local wedding chapels as a sort of "matrimonial tourism."
They're already coming to not really get married in them, why not take it a step further?
In Clark County, wedding license applications are on the decline, dropping 4.3 percent in 2012 from the previous year to 70,370. The decline last year is a continuing trend: In 2011 there were 73,546 licenses issued compared with 76,265 in 2010.
"I think it's a social trend," County Clerk Diana Alba said. "The world is changing. Marriage comes in and out of fashion."
That doesn't mean local chapels are hurting.
Inside Mon Bel Ami, wedding coordinator Carrie Gaudioso takes one phone call after another.
On one she tells a groom-to-be to send her the deposit for his wedding next week. On the next she talks limo logistics with a bride getting married later in the day.
Most of the chapel's money is made through photo packages sold after the deed is done. Gaudioso said a $200 ceremony easily can turn into $600 once newlyweds walk into the chapel's photo viewing room, a place where all customers are taken before exiting the premises.
Wedding frequency at the chapel changes with the day, but every Saturday Mon Bel Ami is sold out at 13 ceremonies. During the week it changes, from one to four or more.
And they're not all legally binding ceremonies.
Gaudioso books vow renewals, same-sex unions and has seen a plural ceremony performed once. Others, mostly tourists, want to get married just for fun with no paperwork involved.
"We don't make any less money," Gaudioso said.
That seems to be a central idea at Vegas Weddings, where marketing director Ann Parsons is lauding the idea of "matrimonial tourism."
The local chapel has plans to open up its venue to business meetings that want a taste of the Vegas wedding experience as a backdrop.
"People are using all kinds of things as venues. … There's no reason why we can't be a whole venue," Parsons said.
Or an entire fulfillment center.
The chapel also added a tux and gown shop recently, to aid Las Vegas visitors who decide to get married on the fly. Their building is directly across from the marriage license bureau.
Mon Bel Ami added limo service and a reception area because its closest competitors were offering those extras. The effort has been worth it. Gaudioso said the company also has increased its focus on its website and online customer reviews.
"It's all about where you are on Google that day," she said. "Every time someone has a really good experience, we beg them to write a review because it really makes a difference."
Some chapels also will pay a commission — maybe $20 — to a taxi driver who drops off impromptu customers. Mon Bel Ami doesn't have the staff to support that practice.
Californians apply for licenses more frequently than do Nevadans in Clark County, at 17,071 compared with 14,000 in 2012. Texas and Arizona residents round out the top four the past three years, with the fifth spot rotating between Florida in 2010 and Washington in 2011 and 2012.
Alba said that for California, being so close and populous, it makes sense that so many residents come to Las Vegas. But there's another reason: In Nevada a minor can get married at 16 or 17 with parental consent. In California it takes a court order. "We do see a fair number from California who are 16 or 17 with a parent," Alba said.
Contact reporter Laura Carroll at lcarroll@reviewjournal.com or 702-380-4588. Follow @lscvegas on Twitter.