Seat capacity at McCarran grows by 1.4M; more gates planned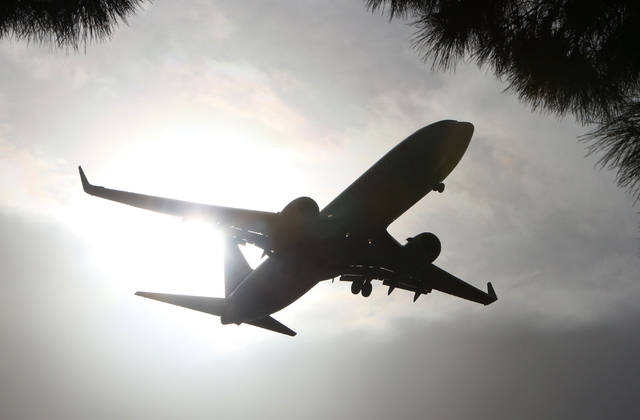 The number of seats that airlines fly into McCarran International Airport grew by 1.4 million in the recently ended 2016 fiscal year — sixth best among peer U.S. markets.
In a report to the Las Vegas Convention and Visitors Authority board of directors this week, representatives of McCarran, the LVCVA and the agency's aviation consultant, Ailevon Pacific Airline Consulting, said an average of 73,320 seats arrive and depart the Las Vegas market each day, a 0.5 percent increase over the previous year, but 6.3 percent below the 78,267 recorded in 2007, the airport's best year.
The team of airline recruiters is continuing to attract more international service in a bid to return McCarran to its peak capacity registered in 2007.
McCarran is seeing the most growth in the ultralow-discount carrier market, with airlines like Denver-based Frontier, Spirit, of Miramar, Florida, and Las Vegas-based Allegiant Air supplying most new flights.
In the past year, Frontier and Allegiant added flights to nine destinations while Spirit added two new cities and one each by Southwest, Delta and Virgin America.
For the coming year, the aviation recruitment partners already have scored some big service wins, particularly on the international side.
Thomas Cook Airlines in September will add one weekly round trip to Glasgow, Scotland, and Manchester, England, while Virgin Atlantic will add a weekly flight to and from London's Gatwick International Airport in September.
Norwegian Air will add twice-weekly Gatwick service Oct. 31, and once a week to and from Oslo, Norway, on Nov. 1.
Virgin Atlantic will add one flight a week to Manchester on March 2 while Condor, a subsidiary of Thomas Cook, will fly twice a week to and from Munich, Germany.
On the domestic side, Frontier will add flights to and from Tampa, Florida, and Nashville, Tennessee, beginning Sept. 6, and Allegiant will add Destin, Florida, on Oct. 7. Delta will begin service to and from San Diego starting Dec. 17.
Jonathon Nield, a senior consultant for Ailevon, said the growth in flights from overseas destinations is significant because the airlines use wide-bodied jets with high capacities. Most of the new service is coming from carriers that fly Boeing 747s and 787s and Airbus A330 jets which have capacities of more than 300 passengers.
McCarran also is gearing for the arrival of more international flights on big airplanes.
Chris Jones, chief marketing officer at McCarran, said the airport is on track to double its international gates to 14 with construction of a pedestrian tunnel that will connect the D gates to Terminal 3 and the U.S. Customs and Border Protection processing area. The $51 million project is expected to be completed by spring.
One of the gates would be able to accommodate an Airbus A380 jumbo jet which has a double-deck passenger cabin.
While there aren't any airlines flying the A380 to Las Vegas, Korean Air and British Airways have them in their fleets and the recruitment team is always talking with carriers that have them. Nield said one of the team's goals is to attract a Middle Eastern carrier to McCarran and three major airlines based there, Emirates, Qatar and Etihad, have them.
One of the recruiting team's selling points to foreign carriers is that McCarran has had the lowest Customs and Border Protection wait times during peak hours at 54 minutes. In off-peak times, McCarran ranks a respectable fifth with 17-minute waits, trailing airports in Atlanta, Washington D.C., Seattle and Dallas.
Another lure to attract new international flights is a three-year air service incentive program that will run through June 2019. Under the program, carriers offering new or expanded international service can apply to have some airport fees abated for between six and 24 months.
Jones explained the program is designed as a competitive edge against other airports offering incentives and that it isn't a subsidy or revenue guarantee program.
McCarran, the world's largest nonhub airport and the ninth busiest in the nation by passenger volume, served 45.4 million travelers last year. McCarran trailed only Los Angeles, San Francisco, New York's John F. Kennedy, Orlando and Fort Lauderdale international airports in seat capacity growth last year.
Contact Richard N. Velotta at rvelotta@reviewjournal.com or 702-477-3893. Find him on Twitter: @RickVelotta