Segway Las Vegas seeks return to Strip sidewalks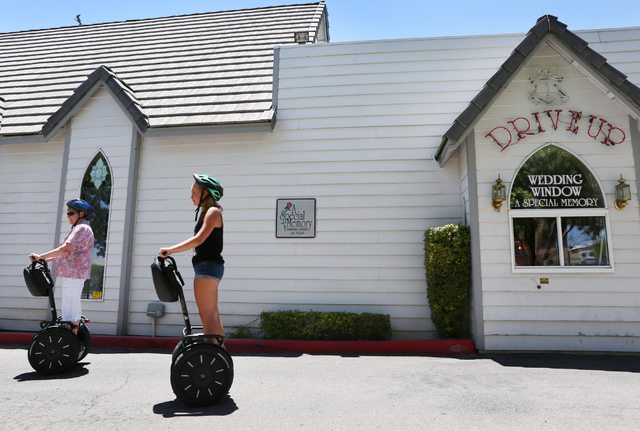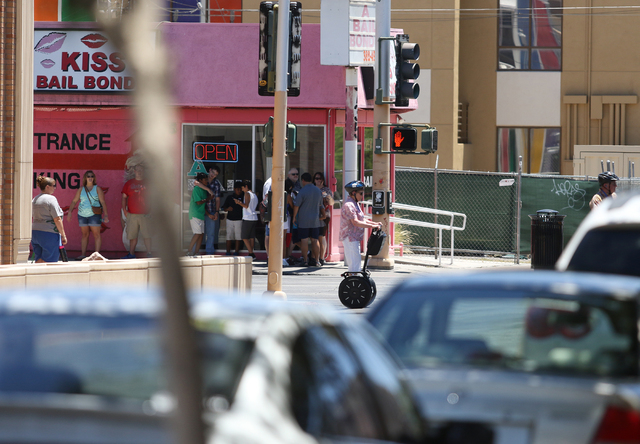 Segway Las Vegas wants to again use its electric two-wheel devices in the region's holy land — the Strip. Or more specifically, the Strip's sidewalks.
But it looks like a difficult challenge.
A January 2006 Clark County ordinance booted Segways off the Strip, lumping them in the same category as rickshaws and pedicabs and arguing they were too dangerous for the Strip's crowded concrete walkways. Officially speaking, the county law describes the Segways as "electric personal assistive mobility devices."
But Segway Las Vegas is not giving up even after a previous Segway operator last year unsuccessfully requested a special-use permit to have a sales, rental and tour business at the Hawaiian Marketplace shopping mall on Las Vegas Boulevard. Last year, Mobile Adventures Las Vegas Corp. requested the County Commission for the special-use permit for a Segway equipment rental, sales and tour guide service business on the Strip, said Dan Kulin, a county spokesman.
But commissioners denied the permit request.
Now Segway Las Vegas is collecting petition signatures and trying to build community goodwill as part of its attempt at reversing the county ordinance banning Segways from the Strip or perhaps winning a special-use permit to use the Strip for tours, said Dani Hill, Segway Las Vegas general manager.
"Public support is really helpful," she said this week. Hill said her company bought the previous Fabulous Segways business and re-branded it into Segway Las Vegas in February 2014.
Hill plans to take her case to the County Commission in late summer in hopes the commissioners will allow Segways on the Strip. She noted the previous Segway operator used the Strip's sidewalk in places such as in front of Bellagio but apparently was not caught. Police can cite Segway users on the Strip for violating the ordinance.
Hill argued Segway Las Vegas would use the Strip's sidewalks only in the morning when the world-famous boulevard is generally more quiet.
"We'd be off the Strip by midday. We don't want to be there during the crowded times," Hill said.
She said the Segway presence is that of a pedestrian. But County Commission Chairman Steve Sisolak said the Segways are too dangerous for the Strip.
"It's a safety issue. You can't put them on sidewalks because they're way too crowded," Sisolak said.
Hill said 98 percent of her 300 to 500 monthly customers are staying on the Strip.
Her business is a franchise of Bedford, N.H.-based Segway Inc.
Segway Las Vegas, based at 2960 Westwood Drive in Las Vegas with 35 Segways, sells one- and two-hour tours in downtown Las Vegas, and four-hour tours on the Red Rock Canyon National Conservation Area scenic drive and in Boulder City. Tour guides lead the trips and provide local cultural and historical tidbits.
They do not use the Segways for practical transportation, Hill said. Nor are Segways used under the Fremont Street Experience's canopy because of the congested pedestrian area.
"We're not transporting people from one point to another. We're doing guided tours," she said. "We're not a cab service."
Contact reporter Alan Snel at asnel@reviewjournal.com or 702-387-5273. Find him on Twitter: @BicycleManSnel