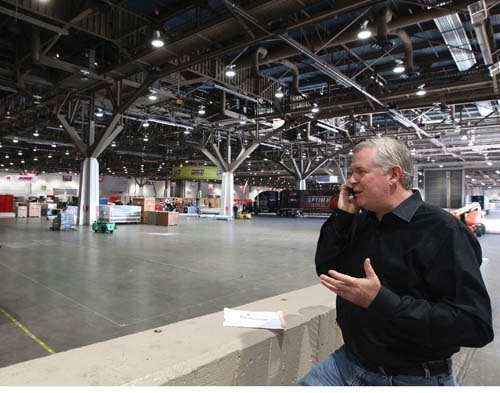 Amidst the beeping of scissor lifts hanging signs and forklifts carrying crates around the floor of the Las Vegas Convention Center, Peter MacGillivray's job is to stay out of the way as some 2,000 workers set up the SEMA Show that starts Tuesday.
About 130,000 people have already registered for the automotive aftermarket industry's largest trade show and another 10,000 to 15,000 will buy tickets at the show, said MacGillivray, vice president of communications and events for SEMA.
The Specialty Equipment Market Association makes a 2.5 million-square-foot footprint at the convention center, including parking lots used for ride-and-drive demonstrations and the Global Rally Cross racing competition to be held Tuesday night in the "gold" lot on Convention Center Drive.
Although SEMA is not open to the general public, local residents are invited to the Global Rally Cross and SEMA Cruise, a parade of show cars leaving the convention center after the show. That's scheduled for 4 p.m. Nov. 2. A grandstand is set up for viewing.
"We've got the greatest show production support in the world," MacGillivray said Thursday as he watched carpet being laid for an exhibit booth. "ConvExx and Freeman … they're bascially building the show. We work on it year around, and all of the parts and pieces and signage and special features are coming together."
Automotive aftermarket products make up a $30 billion annual industry, including $5 billion in the sport compact market, MacGillivray said.
The SEMA Show is divided into 12 sections: business services; collision repair and refinish; global tire expo; Hot Rod Alley; mobile electronics and technology; powersports and utility vehicles; racing and performance; restoration marketplace; restyling and car care accessories; tools and equipment; trucks, SUVs and off-road; and wheels and accessories.
Aside from the 11 automobile manufacturers and some of the larger performance parts companies, most of the 2,200-plus exhibitors at SEMA are mom-and-pop businesses, MacGillivray said. He wants to make sure they get the exhibit they were sold, he said.
"Something could get lost in the translation. We want to set it up and see it," he said. "If they're not getting the return on investment, we've got to work to turn that around. We've done exhibition training to help them get maximum value at the show, and also show them how to attract buyers to their booth to do business."
With 3,000 credentialed media members coming from around the world, MacGillivray said he needs to know what the news is before they arrive on site. He tours exhibit booths looking for hot products and listening for the buzz on the floor.
The 2012 SEMA Award recognizes the industry's hottest vehicle models as determined by show exhibitors, based on models that they choose to trick out, modify and display most often at their booths.
"Each year, automakers come out with new and amazing models," said Chris Kersting, SEMA president and chief executive officer. "SEMA Show exhibitors invest significant resources and time in developing products for the most promising new models."
Chuck Schwartz, chairman of ConvExx exhibition and events organizers, was a buyer at the first SEMA Show held at Dodger Stadium in Los Angeles in 1967.
"They were all small booths and the setup was pretty much what you brought out of your garage," he said. "There were card tables and folding chairs. The interesting thing is some people were in suits and others were in racing T-shirts and there was nothing in between."
SEMA moved to Anaheim, Calif., for the next nine years and came to Las Vegas is 1977, making it the longest-running trade show at the Las Vegas Convention Center. SEMA recently signed an extension to be in Las Vegas through 2017, and is expected to generate a nongaming economic impact of $827 million over that period.
MacGillivray said there was a lot of reluctance when Leo Kagen, the show's 96-year-old founder, decided to move SEMA to Las Vegas.
"Everyone said he was crazy," MacGillivray said. "There was all this angst and debate about what a crazy move it would be, that it was short-sighted."
Contact reporter Hubble Smith at hsmith@review journal.com or 702-383-0491.