Senior engineering students at UNLV vie for design honors
December 9, 2013 - 7:52 pm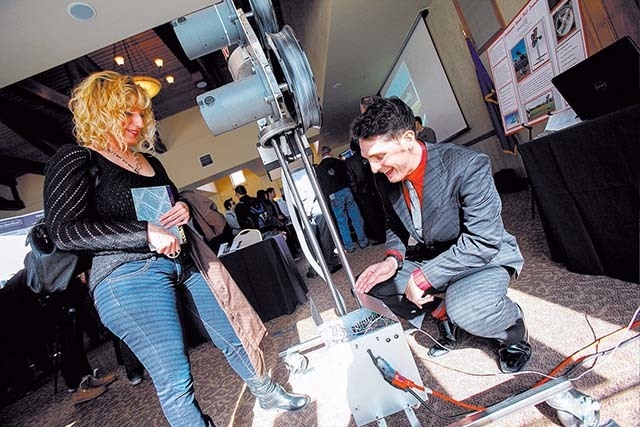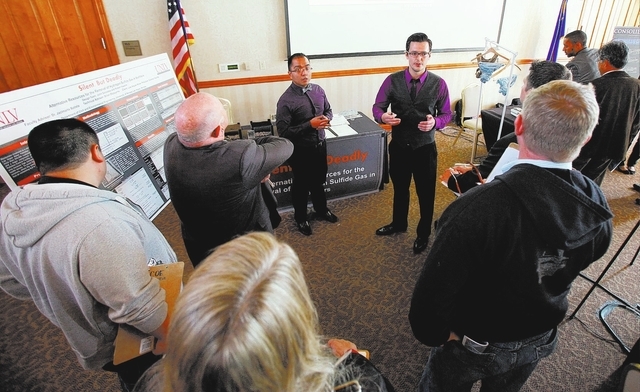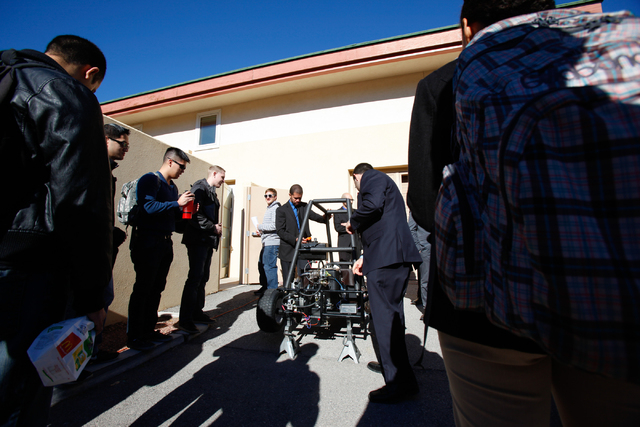 In case you didn't know, robots are kind of stupid.
"They don't know where they are unless you tell them where they are," said University of Nevada, Las Vegas student Jameson Lee as he talked about plans to give his rover image-based control, or sight, in the future.
From a drone to a 3-D-printed electric toothbrush to a robot the National Rifle Association would love, senior engineering students displayed their best ideas Thursday at the Senior Design Competition. Twenty-three projects were shown.
In their final semester of undergraduate classes, engineering students plan, design and prototype a product to be judged by local professionals. The grand prize is $4,000.
Though most students don't pursue their projects after graduation, the teams are can partner with Master of Business Administration students to create business plans. A UNLV engineering alumnus will also help students file provisional patents for free.
Winners of the spring 2013 competition created Maji to Tuleeni, a water pipeline design for African villagers in Moshi, Tanzania. The system was designed to save villagers a three-mile walk every day to fetch nearly 50 pounds of water.
Winners of the fall 2013 competition will be announced Thursday.
Lee and classmate Jared Peterson created the Autonomous Brass Collecting Rover, a wheeled robot capable of picking up ammunition shells for recycling or reloading.
"Brass can't be picked up by magnet," Peterson explained. "It has to be mechanically sorted."
Casings are typically picked up by hand, a process that takes hours of labor at shooting ranges. The rover uses a brush to sweep casings and other debris into a pan and then sorts them.
The project cost $2,000, but that includes the cost of trial-and-error, Lee said.
The rover itself would probably cost about $1,000 in parts. Students are reimbursed for their materials to level the playing field.
At a cost of $300, another team of seniors created a personal dome-shaped unmanned aerial vehicle they imagine will be used by military and civilians alike.
The prototype was built with Styrofoam, but the team could make a working model in carbon-fiber and retail it for $100 or less.
The remotely piloted aircraft was able to lift off at the presentation, though its developers were still refining its steering capability.
Also on display was a turbocharger that collects wasted energy and uses it to power a secondary battery. A go-cart was outfitted with the Electric Generation Turbo, which uses exhaust gas to spin a wheel, produce an electric signal and power an LED light box.
Long term, the team hopes to sell the turbo to as an after-market item for hybrid vehicles.
Other inventions included a running water and sewage system design for the Navajo Nation in Coppermine, Ariz.; eco-friendly concrete made from smelt metal; a baseball-pitching machine that can throw to any position on a field; various digital photo processing tools; a bidet attachment for a camping toilet; a land ferry for transporting trucks by railroad; a bathtub shutoff system that keeps tubs from overflowing; a clothing iron modeled after a hair straightener; a hiking trail that circumnavigates Las Vegas; a sanitation system; and a quick-change gambling table top.
Contact reporter Kristy Totten at ktotten@reviewjournal.com or 702-477-3809. Follow @kristy_tea on Twitter.