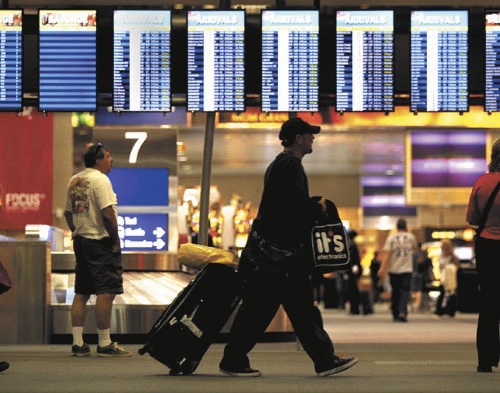 Discount carrier Spirit Airlines is often criticized for charging passengers extra for a wide range of services, but its no-frills approach has fueled competition and driven a surge in traffic at McCarran International Airport.
In September, 3.55 million travelers passed through the airport, an 8.7 percent increase over the same month last year and the highest jump since May 2005, according to airport records.
McCarran's passenger counts, a key factor in prosperity on the Strip, began to fall sharply four years ago and did not rebound consistently until this year.
The recession caused Spirit to slash its schedule in 2010 to 35 flights a week to two cities. But after adding several destinations in recent months, including flights to Chicago, Dallas-Fort Worth, Portland and San Diego, Spirit's Las Vegas schedule has jumped to 122 flights a week.
Its entry into routes such as Los Angeles International Airport has helped push some rivals to add seats and cut fares. Several airlines have dropped their one-way fare to LAX to $32 after Spirit started the route in the spring. Southwest Airlines announced a nationwide sale Monday of $35 one way for flights shorter than 450 miles.
Because of its renewed interest in Las Vegas, Spirit's passenger counts rose by 81,000 in September compared with one year ago, more than one-fourth of the 285,000 gain in McCarran passenger traffic.
The other airlines presented a mixed bag. Market leader Southwest rose 3.6 percent, and American gained 12.7 percent, partly as a reaction to Spirit's service to American hubs in Chicago and Dallas-Fort Worth. But Delta dropped 3.4 percent, and United was off 17.3 percent as it trimmed its schedule as part of its merger with Continental.
In something of a last gasp, US Airways went up 19.6 percent, 35,000 passengers. In the next few weeks, however, US Airways will discontinue close to half of its Las Vegas flights.
Higher passenger counts came as good news to Las Vegas resorts because visitors who fly in generally stay longer and spend more than do those who come by car. But more passengers are needed to ensure a solid economic recovery.
Don Voss, vice president of sales and marketing at Treasure Island, said he thinks much of the air passenger gain comes from airlines filling a higher percent of seats, particularly because of resurgent convention attendance.
"My bigger concern has been replacing those flights that have been cut over the past few years by some of the larger airlines, like US Airways," he wrote in an email. "However, it appears the other airlines (e.g. Allegiant, Spirit, WestJet, etc.) have been more than willing to add enough flights in 2011 to overcome the losses. This is a very encouraging trend, and we are cautiously optimistic it will continue."
Randall Fine, managing director of the casino consulting company Fine Point Group, termed the recent McCarran numbers as a partial recovery.
"There's no question we are moving in the right direction, but the year-to-date pace doesn't get us anywhere near the peak," Fine said.
Passenger totals for the first nine months of this year were up 4.5 percent compared with 2010. At that pace, the annual total will hit 41.5 million, well short of the record 46.2 million in 2007.
"Even reaching the peak is not good enough; we have to get past the peak," Fine said, noting Las Vegas resorts added 16,500 new guest rooms since then.
International passenger counts in September rose by a third, to 225,000, as a range of carriers including Mexico's Volaris, AeroMexico, Canada's WestJet, Virgin Atlantic and British Airways all increased passenger numbers by more than 20 percent.
Contact reporter Tim O'Reiley at toreiley@reviewjournal.com or 702-387-5290.