SG Bar takes Las Vegas neighborhood tavern concept to next level in former Sedona restaurant location — PHOTOS
October 27, 2016 - 5:00 am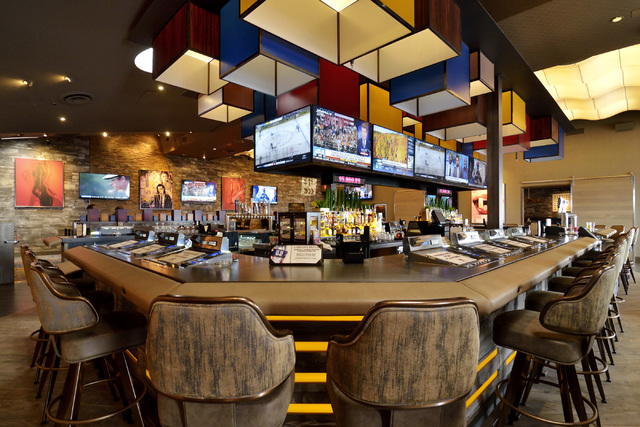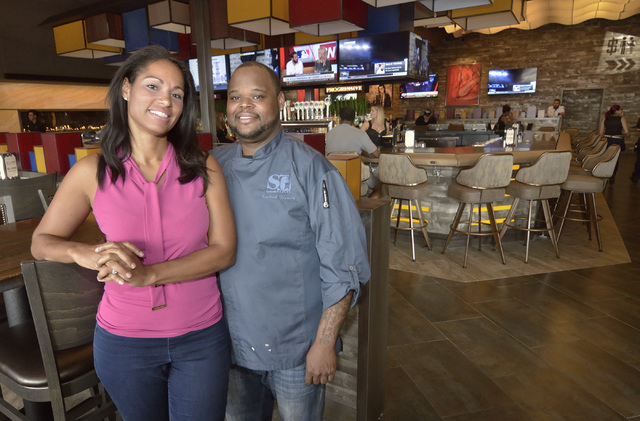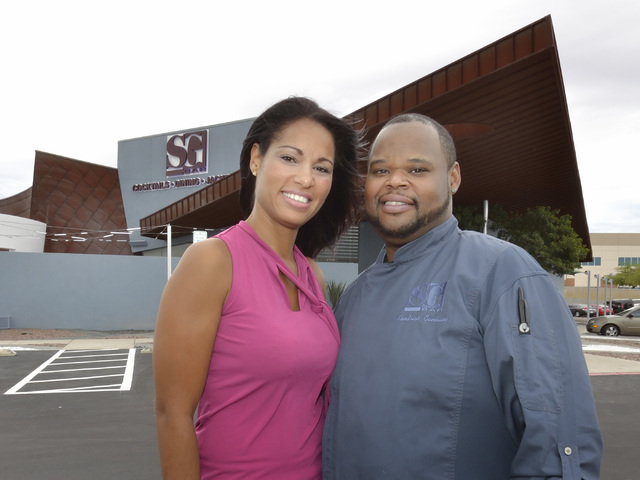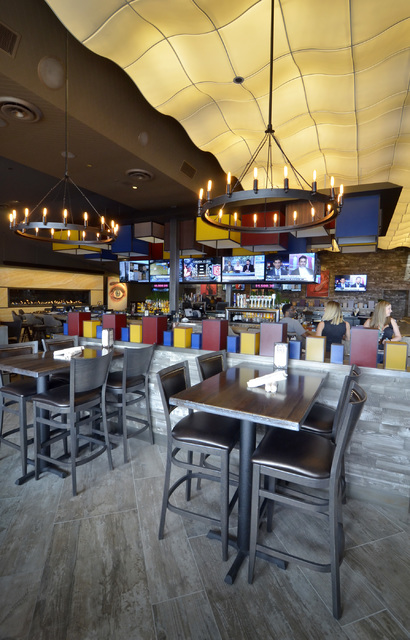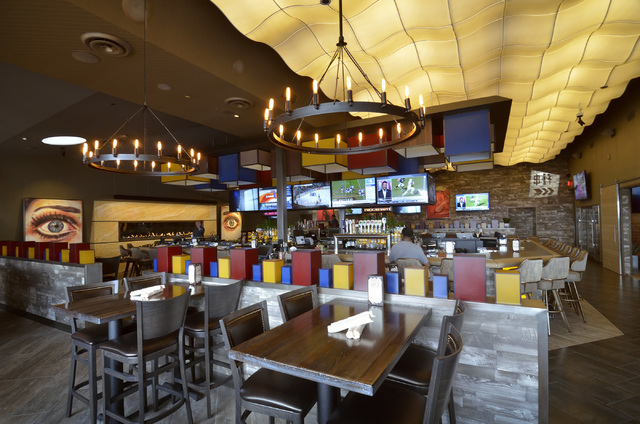 There's a new tavern in town, but its location might look familiar. SG Bar recently opened in the former Sedona location at 9580 W. Flamingo Road, spearheading a high-end brand for Golden Entertainment.
SG Bar is the company's 50th tavern in Las Vegas. Its already-established neighborhood offerings are PT's Pub, PT's Gold, PT's Ranch, PT's Brewing Co., Sean Patrick's and Sierra Gold.
SG Bar opened in late September at the 215 Beltway and Flamingo Road, where Sedona was for 15 years. To say the interior was dated when Golden Entertainment took over in December would be an understatement.
"This was a private dining room with velvet curtains," said Brent Edlund, regional manager for PT's Entertainment Group.
Getting the interior elevated to the point where it looks now took a lot of work. It was gutted down to the studs, and a 10-foot hole was jackhammered where the center bar now sits, all to make way for wiring, plumbing and upgrades. The exterior also was revamped.
Now, the 7,500-square-foot property starts things off with clean lines and an industrial feel to its entrance. The 60-seat patio has private fire pits within the tables and all-weather big-screen TVs affixed to the walls.
Inside, there's a modern vibe, with the bar holding center court and surrounded by banks of TV screens and gaming options.
But it's the 50-strong workforce that makes one feel welcome. At the helm is general manager Tami Kwity, whose commitment to out-of-the-box thinking was cited as one of the reasons she was selected. When she managed a Sierra Gold property on Jones Boulevard near the Beltway, a guest was looking for something not on the menu. Learning he liked fish, she arranged for a worker to run to the store and pick up halibut, which the chef then cooked.
Kwity said overseeing a new brand wasn't scary but rather "something exciting. For years, Blake's (CEO Blake Sartini) wanted to do something new, and this is his chance to show what he can do," she said. "We wanted to take it a step above the regular brand of bars."
Kendrick Ganaway, executive chef, said he was told to elevate the menu by rethinking tavern food.
"You can get wings or chicken fingers at any bar in town," said Ganaway, "but we wanted to go to the next level … and have some really nice options that fit well with the beverage side."
A look at the menu selection revealed some surprises. There are burgers and sandwiches, but how many pubs offer filet mignon or cioppino and have a wine cooler full of choices to complement that food? The waitstaff underwent three-week training to recite the specialty drinks and every wine offered and to list ingredients in the dishes and which wines paired best.
Other upgrades include polished silverware, linen napkins, red and white wine glasses, and a hostess to welcome and seat patrons.
"Those are things we weren't doing prior," said Edlund, who oversees the SG Bar location. "It's nothing in your face, but things that you would expect, that you'd notice if they weren't there."
The dining room — now without a hint of velvet — can be closed off with sliding barn doors. The tables are crafted from single slabs of tree trunks, and reclaimed barn wood lines the accent walls.
Art — thought to start conversation — hangs throughout and includes a close-up of a woman's eye, a hanging noose and a posed nude is from Janet Van Arsdale.
The new venue offers other niceties. If the battery is low on your cellphone, you can plug it into the bar or at your table. If you want to hear the show playing on one of the flat-screen TVs, there's an app for that. Using Tunity technology, guests can scan a muted live television broadcast such as a football game and stream the audio directly to their phone.
"We had to think about service and what the guest would want," Kwity said. "We want them to feel like VIPS, that's the most important thing."
Call 702-320-4700 or visit pteglv.com/eat/sg-bar.
To reach Summerlin Area View reporter Jan Hogan, email jhogan@viewnews.com or call 702-387-2949.
SG Bar
Address: 9580 W. Flamingo Road
Hours: 24 hours daily
Information: Call 702-320-4700 or visit pteglv.com/eat/sg-bar.