Shelby was racer, automaker, heart transplant recipient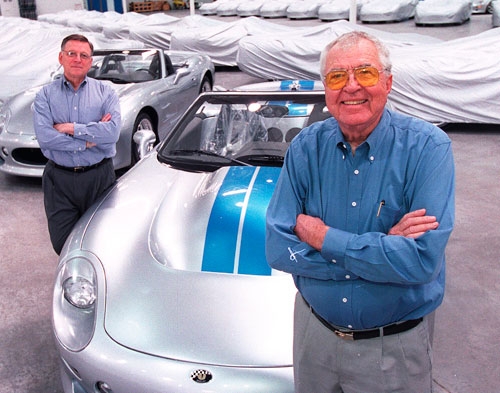 Carroll Shelby, legendary designer of the fabled Shelby Cobra sports car, died Thursday at a hospital in Dallas, company officials for Carroll Shelby International said Friday. He was 89.
He was one of the nation's longest-living heart transplant recipients, having received a heart on June 7, 1990, from a 34-year-old man who died of an aneurism. Shelby also received a kidney transplant in 1996 from his son, Michael.
The one-time chicken farmer had more than a half-dozen successful careers during his life. Among them: champion race driver, racing team owner, automobile manufacturer, automotive consultant, safari tour operator, chili entrepreneur and philanthropist.
In 1999, Shelby founded Shelby American Motorsports, opening a 130,000-square-foot assembly plant at Las Vegas Motor Speedway, Nevada's first manufacturer of production automobiles.
It has since ceased production of the Shelby Series 1, a high-performance muscle car that sold for $135,000, but continues to manufacture replicas of the famous Shelby Cobra and produces aftermarket performance packages for the Mustang GT350 and Shelby Supersnake.
"I have to see that this company goes forward after Forest Lawn gets me," Shelby, then 77, told the Las Vegas Review-Journal during an interview at the plant in 2000.
Shelby said he considered himself an innovator, not a designer.
"A car is special if you create a car that there is a demand for," he said, "And I always like to produce one less car than I can sell."
Shelby had the following of a rock star and was swarmed by fans and admirers when he came to the Specialty Equipment Marketing Association trade show in Las Vegas. They stopped him in the aisles for pictures and autographs.
"He's an icon in the medical world and an icon in the automotive world," his longtime friend, Dick Messer, executive director of Los Angeles' Petersen Automotive Museum, once said of Shelby.
Shelby first made his name behind the wheel, winning France's grueling 24 Hours of Le Mans sports car race with teammate Ray Salvadori in 1959. He already had serious heart problems and ran the race "with nitroglycerin pills under his tongue," Messer once noted.
He turned to racing in the 1950s after his chicken ranch failed. He won dozens of races in various classes throughout the 1950s and was twice named Sports Illustrated's Driver of the Year.
Soon after his win at Le Mans, turned his attention to designing "muscle cars" that eventually became the Shelby Cobra and the Mustang Shelby GT500. The Cobra, a British sports car chassis with a Ford engine, was the fastest production model made when it was displayed at the 1962 New York Auto Show.
A year later, Cobras were winning races over Corvettes, and in 1964 the Rip Chords had a Top 5 hit on the Billboard pop chart with "Hey, Little Cobra." ("Spring, little Cobra, getting ready to strike, spring, little Cobra, with all of your might. Hey, little Cobra, don't you know you're gonna shut 'em down?")
In 2007, an 800-horsepower model of the Cobra made in 1966, once Shelby's personal car, sold for $5.5 million at auction, a record for an American car.
"It's a special car. It would do just over three seconds to 60 (mph), 40 years ago," Shelby told the crowd.
Lee Iacocca, then head of Ford Motor Co., assigned Shelby to designing a fastback Mustang to compete against the Corvette for young male buyers. That car and the Shelby Cobra made him a household name.
In a 2005 interview with the Review-Journal, Shelby said the biggest regret of his career was the breakup with Ford.
"I should've gone back to Ford years ago," he said. "We've got a lot of projects. I built 135 models of cars, which I didn't realize. We're gradually going into our own model business of Shelby collectibles."
Many are displayed at the Shelby Museum at the speedway plant, which is free and open to the public.
"All of us at Las Vegas Motor Speedway are saddened by the passing of Carroll Shelby," speedway general manager Chris Powell said Friday. "He leaves a lasting legacy and will be missed by all who knew him."
Carroll Hall Shelby was born Jan. 11, 1923, in Leesburg, Texas. The 1992 inductee into the Automotive Hall of Fame had homes in Los Angeles and Texas. He is survived by his wife, Cleo Shelby; three children, Patrick, Michael and Sharon; a sister, Anne Shelby Ellison; six grandchildren and four great-grandchildren.
He created the Carroll Shelby Children's Foundation in 1991 to provide assistance for children and young people needing acute coronary and kidney care.
The Associated Press contributed to this report.