Shipping company bankruptcy sours plans for Reno's Kimmie Candy
September 14, 2016 - 1:03 pm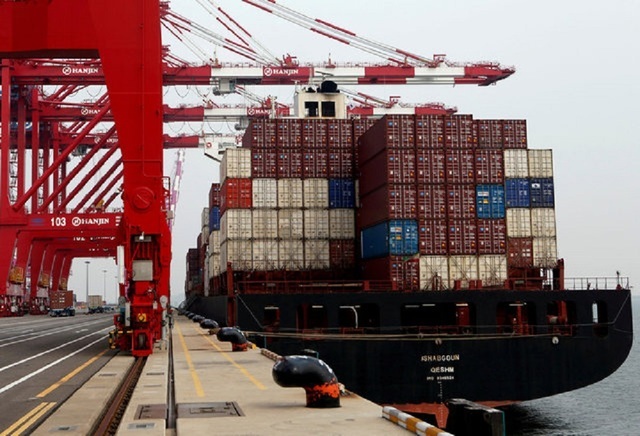 The Hanjin Shipping Co. bankruptcy has made things sticky for Kimmie Candy, Nevada's largest candy maker.
The Reno-based company was supposed to get a $85,000 humidifier this week, but the humidifier is instead stuck in a shipping container in Busan, South Korea.
"It was on a boat that was set to sail," said Kimmie Candy owner Joe Dutra, "But when Hanjin Shipping filed bankruptcy it locked everything up."
The bankruptcy of Hanjin Shipping Co. has upended countless international shipments — a delay that will end up costing Dutra thousands of dollars.
"At this point, I really don't care because the equipment is critical to us in the move to the new candy factory," he said.
The humidifier is for Kimmie Candy's new location, 405 Edison Way, which it targets for operations by Nov. 1
The humidifier was slated to be installed into the new building early, so there would be some overlap in production and Kimmie Candy wouldn't have to lose any production time assembling and reassembling equipment.
"Every day we lose of production is about $20,000, $30,000 dollars in what we're making per day," Dutra said.
Dutra said he is hoping to get the humidifier by the first week of October, and has hired somebody in South Korea to help expedite the process.
"We're trying to find another ship to take it, but there are about 30,000 containers sitting and waiting for new ships. It's kind of a mess."
Dutra has also been impacted on the exporting side of things. His other business, Westech Inc, based out of Imperial, Calif. was supposed to have $1 million worth of alfalfa and other seeds arrive in Dammam, Saudi Arabia Oct. 13.
"They just got rolled (back) and now they won't arrive until Nov 16," he said, which could be problematic since the original arrival date was timed with planting times.
Randi Thompson, the state director for the National Federation of Independent Business, said she is sure that Dutra is not the only Nevada business impacted.
"How many millions of pounds of Christmas gifts are stuck on a boat somewhere that Walmart's not going to get?" Thompson said. "What's going to happen in the next couple of months if that shipping doesn't get fixed?"
Small businesses rely on expectations, and this was a major disruptor she said.
"It's one of those obscure things that you don't think about that has a huge impact," Thompson said.
Contact Nicole Raz at nraz@reviewjournal.com or 702-380-4512. Follow @JournalistNikki on Twitter.