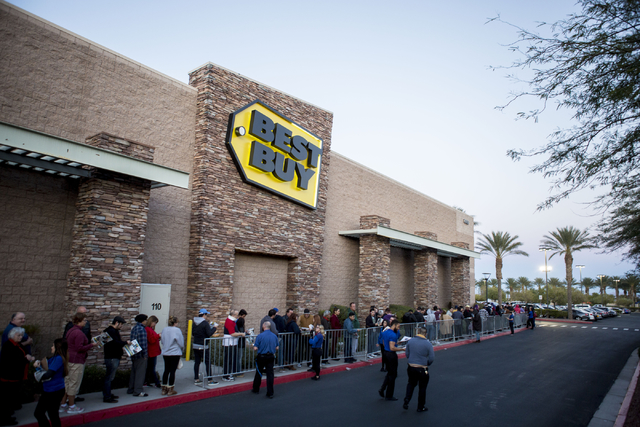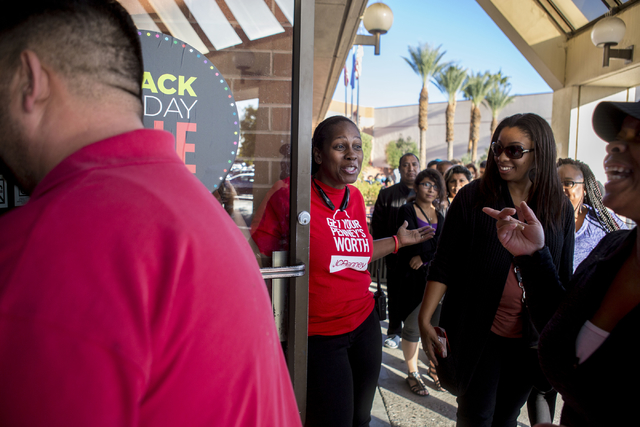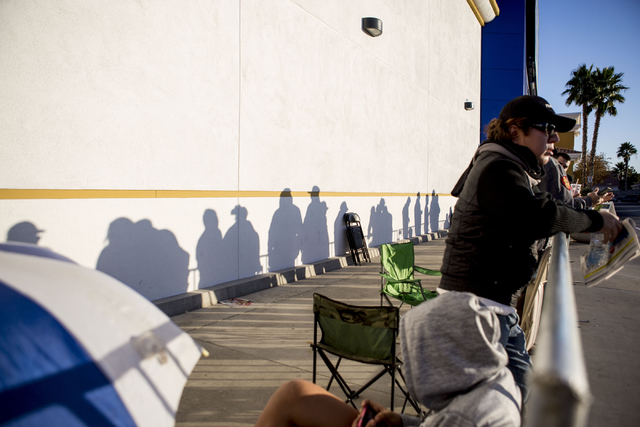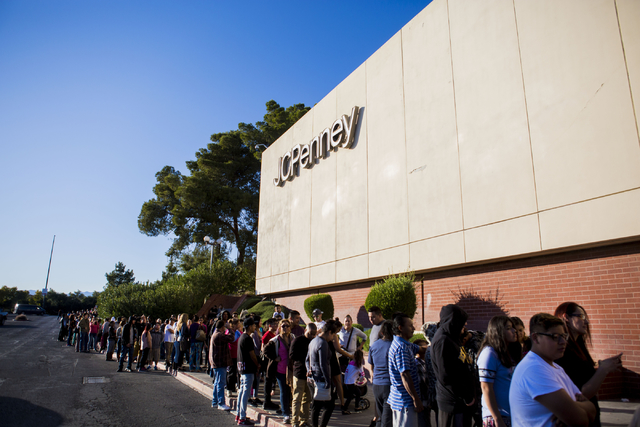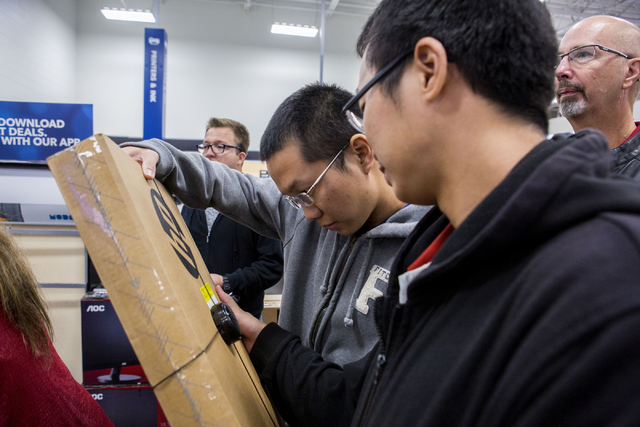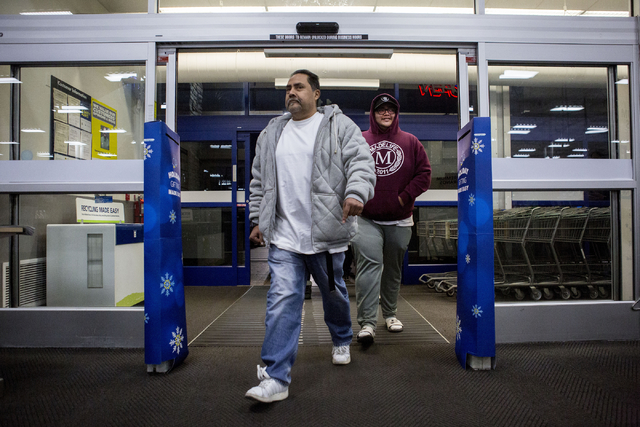 Outside a Best Buy in Summerlin, an unlikely friendship has formed over the past five or so years, thanks to holiday shopping.
Here, on a sidewalk by the Best Buy in the Canyon Pointe shopping center, 10950 W. Charleston Blvd., a small group of young men forms a few days before Thanksgiving. Five were there Thursday.
Since Tuesday, the men, all Las Vegans, have camped out together, hoping to be among the first inside the Best Buy on Thursday to nab electronics and other goods discounted for Black Friday.
The group was among about 150 people lined up outside the Best Buy when doors opened at 5 p.m. Similar lines formed outside stores across the Las Vegas Valley as shoppers wrapped up Thanksgiving dinner to go shop.
The men know one another by face and name, but claim to meet just this time of year.
"It's a family tradition with complete strangers," said Nacho, a 30-year-old who provided only his nickname. "We don't call each other or nothing. We just show up on faith. We are bonded by this Best Buy."
Michael, a 28-ear-old painter, said he learned to play Monopoly in the group and once got a soccer ball stuck on the Best Buy's awning during an impromptu scrimmage. He said the group discovered the shopping center's gas station will sell a can of Pabst Blue Ribbon beer for less than a bottle of water.
"It's like a mellow tailgate party," Michael said of the gatherings. "Truthfully, the deals aren't that great this year."
By early afternoon, hundreds of people had converged on Meadows Mall. Bored children played tag in the parking lot as their parents stood in a J.C. Penney line that wrapped around the building.
Rob Gonzalez, 34, was first in line to buy gifts for his parents and girlfriend. He brought granola bars, a camping chair and his iPad to entertain himself until doors opened at 3 p.m.
"I showed up at 9 a.m. thinking there was already going to be a line, but I happened to be the first one," he said.
At the Downtown Summerlin shopping complex, Christmas jingles rang from outdoor speakers, but barely any shoppers were on the sidewalks at 4 p.m.
"I figured we would be walking into mayhem," said Jennifer Feuerstein, 49, who went shopping on a whim after seeing a movie. "I thought there would at least be lines of people, so I'm very surprised."
The National Retail Federation, in its October consumer survey, t forecast Americans will spend $935.58 on average this year for holiday season gifts, food, flowers, decorations and greeting cards, down 1.2 percent from a record $952.58 in 2015. In a national survey this month, WalletHub, a consumer finance website, listed determined a holiday budget of $541 for Las Vegans, $608 for North Las Vegans and $720 for Henderson residents.
The federation forecast that total U.S. holiday season spending will be $655.8 billion this year, up 3.6 percent from a year earlier.
Zakk Meza, 28, said he planned a few thousand dollars by the weekend. He started at Best Buy on Rainbow Boulevard to buy a 60-inch TV.
'We'll get our shopping all done today, if not tomorrow," he said. "That's part of my holiday now. I budget and plan to do this every year."
Contact Michael Scott Davidson at sdavidson@reviewjournal.com or 702-477-3861. Follow @davidsonlvrj on Twitter.
Best Buy staff cheers as Thanksgiving shoppers are finally allowed in the store. It was chilly out there. #RJnow pic.twitter.com/p0OvBroFKP

— Michael S. Davidson (@DavidsonLVRJ) November 25, 2016
And they're off! Doors open at JC Penny's at Meadows Mall for hundreds of deal seekers. #RJnow pic.twitter.com/COPmL0bEwe

— Michael S. Davidson (@DavidsonLVRJ) November 24, 2016