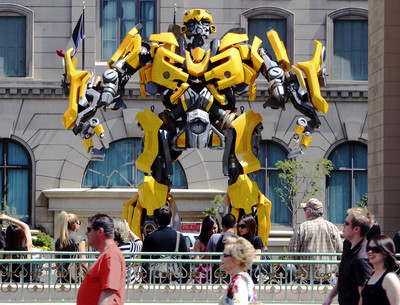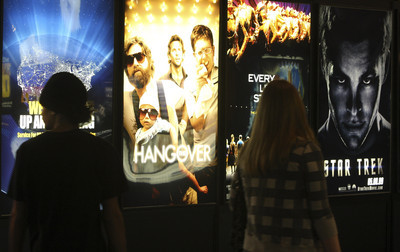 The inside of a darkened theater is a good place to escape the brutal reality of the nation's economy.
The inside of the theater's accounting department is a good place to celebrate it.
That's what they're saying at ShoWest, the film industry's biggest annual convention now under way in Las Vegas.
"It is not something to be ashamed of, it is not something to apologize for," Dan Glickman, chairman and CEO of the Motion Picture Association of America, said of a surge in box office sales since late 2008, when the broader economy hit the skids. "What matters is getting folks back to work."
The event at Paris Las Vegas and Bally's is a meeting of the studios, theater owners and distributors behind an industry they say generates $60 billion in annual economic activity and 1.5 million jobs.
In Nevada alone, the industry had 440 productions worth $110.5 million in 2008, including feature films, commercials, reality shows and other productions.
On the surface it appears the industry is poised for another good year in 2009.
In 2008, domestic box office grew 1.7 percent to $9.8 billion. But Glickman said the gains were mostly in the fourth quarter, when sales jumped 7 percent.
Early 2009 admissions are up 8 percent although the months January through March typically feature weaker movie lineups compared with the summer blockbuster season and late-year holiday releases.
"In spite of all that is going on economically, we had a great year," said Alan Horn, president and chief operating officer of Warner Bros. Entertainment Inc.
Horn was on hand to preview several films he hopes will power the company through 2009, including "The Hangover," a comedy shot in Las Vegas.
Others included "Terminator: Salvation," "Harry Potter and the Half-Blood Prince" and "Sherlock Holmes."
Warner Brothers has a lot riding on the films. Its "tentpole," strategy means the company counts on a few big hits to hold up the roof for the entire operation.
Just how far success for Warner Bros., or other film studios, will percolate into the broader economy is yet to be determined.
Although studios are making big bucks and booking major cost savings through digital technology, computer-aided special effects and a resurgence in 3-D filmmaking, the number of productions is waning. According to the MPAA, the number of films produced in 2008 fell nearly 21 percent to 520.
That means fewer people employed on sets and fewer days on location, where a big-budget film can be worth as much as $260,000 per day to the economy in the area where shooting occurs. "The Hangover" spent 15 days shooting in Nevada and provided an estimated economic boost of $3.9 million, the equivalent of nearly 5,600 tourist visits.
Eddie Fickett, 53, a Las Vegas-based location manager and assistant director of production in Nevada, says he'd like to see more film opportunities.
"They should diversify the work force here in Nevada," he said. "Everybody doesn't need to work in a casino."
Lately Fickett says he's working about two days per week, compared with three or maybe more days in better times. He isn't alone.
The Nevada Film Office says Nevada peaked in 2005 as a location with 673 productions, a number that includes more than just the feature films tracked by MPAA. It hasn't come close to that number since.
Fickett and others would like to boost the presence of film in the state.
Nevada is one of just eight states that doesn't offer tax incentives to attract filmmaking. As a result, it has an uphill battle to fight against state's like New Mexico that, although further from the industry's epicenter in Los Angeles, offer subsidies and similar climate and scenery.
"It is actually hurting us," said Danette Tull of the Nevada Film Office. "We do lose productions to New Mexico."
Contact reporter Benjamin Spillman at bspillman@reviewjournal.com or 702-477-3861.
2008 NEVADA PRODUCTION HIGHLIGHTS
Feature films: "Race to Witch Mountain" "The Hangover"
Television Shows: "Reno 911," "CSI: Crime Scene Investigation," "The Young & the Restless"
Reality Shows: "America's Next Top Model," "American Idol," "Extreme Makeover Home Edition"
Commercials: Miller Genuine Draft, Burger King, Firestone