Shuffle Master bounces back
January 11, 2008 - 10:00 pm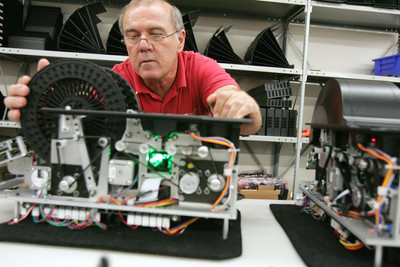 Shuffle Master executives hope Thursday's earnings announcement was the start of an upturn for the somewhat troubled table game and gambling equipment provider.
The Las Vegas-based company said it earned $8.2 million, or 23 cents per share, in its fourth quarter ended Oct. 31, up from $3.2 million, or 9 cents per share, a year ago.
Revenue rose 13 percent from $51.7 from $45.6 million.
For all of fiscal 2007, Shuffle Master earned $16.4 million, or 46 cents per share, versus $5.1 million, or 14 cents per share, a year earlier.
Twelve-month revenue rose 9.7 percent to $178.8 million from $163 million.
"Although we hit record revenues, earnings per share were impacted by a number of factors," Shuffle Master Chairman and CEO Mark Yoseloff said in a statement. "Fiscal year 2007 was an important transitional year for the company. We believe that the hardest times are behind us and that the future prospects for the company are strong."
During the fourth quarter, Shuffle Master completed an acquisition of Progressive Gaming International's table games division, including Caribbean Stud and Texas Hold 'Em Bonus poker. The acquisition gave Shuffle Master all of the top five and 11 of the top 15 revenue generating titles among the nontraditional table game market.
It was rough quarter for Shuffle Master on the executive front. Company CFO Richard Baldwin resigned in November and a month later, the company announced it hired an executive recruitment firm to look for a possible replacement for Yoseloff, whose contract expires Oct. 31.
On a conference call with analysts and investors, Yoseloff said there hasn't been any progress to date in the search. He said he supported the board of directors' position to develop a company succession plan.
Shares of Shuffle Master have also taken a beating on the Nasdaq National Market. On Thursday, before earnings were announced, Shuffle Master closed at $9.09, down 38 cents, or 4.01 percent. During trading the day before, the company shares hit a 52-week low of $8.86 before rebounding.
Before the earnings release, Morgan Joseph gaming analyst Adam Steinberg wondered whether Shuffle Master's share price could get any lower. Going into Thursday, Shuffle Master shares were trading more than 77 percent below the company's all-time high closing price of $40.33 on May 16, 2006.
"Shuffle Master shares continue to be hampered by economic concerns and poor performance, as well as by investor indifference to the name," Steinberg said in a note to investors. "We do believe we may be nearing a floor in the share price."
On Monday, Deutsche Bank gaming analyst Bill Lerner downgraded his rating of Shuffle Master shares, saying any transition in the company's business model may be slow to develop, which could drive down earnings and slow the company's growth.
"Further, recent management turmoil in particular the possible departure of the CEO has given us pause," Lerner told investors.
Contact reporter Howard Stutz at hstutz@reviewjournal.com or (702) 477-3871.