Sisolak wants coalition to lure Amazon to Southern Nevada
September 14, 2017 - 5:04 pm
Updated September 15, 2017 - 6:17 am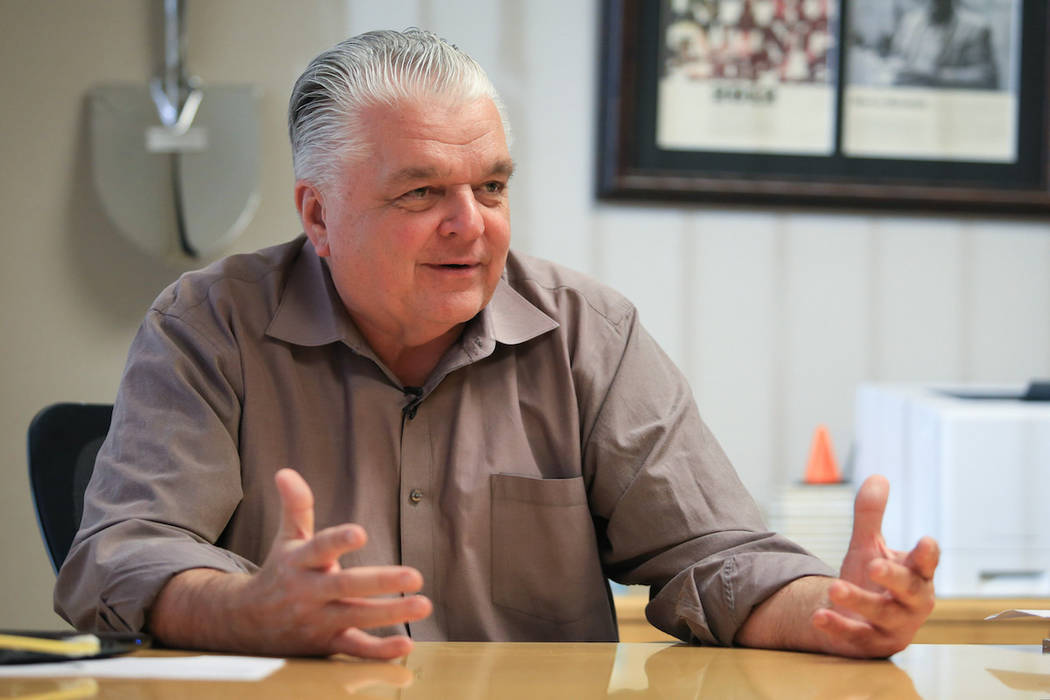 Chasing economic diversification, $5 billion in construction and as many as 50,000 new full-time jobs, Clark County commissioners will consider teaming with other local governments to woo Amazon.
Commission Chairman Steve Sisolak wants local municipalities to partner with the Governor's Office of Economic Development and others in persuading the Seattle-based online retailer to build its second company headquarters in Clark County.
"I think we have an infrastructure that would lend itself to this operation, we have land available, and hopefully we could find a fit," Sisolak said.
Sisolak's proposed coalition is scheduled to be considered at Tuesday's commission meeting. Last week representatives of the GOED and the Las Vegas Global Economic Alliance announced they would work on a bid to bring Amazon HQ2 to Nevada.
Together, Sisolak said, the county and the cities of Las Vegas, North Las Vegas and Henderson can better sell Southern Nevada.
He pointed to the Southern Nevada Tourism Infrastructure Committee as a similar alliance that helped bring a National Football League stadium project to the Las Vegas Valley.
"Working together, we can best describe the benefits we have," Sisolak said. "Together I think we make a pretty strong chain. Apart we're each just one link."
Local leaders react
Mayors of the Las Vegas Valley's major cities are also keen to bring Amazon's second headquarters here.
Las Vegas Mayor Carolyn Goodman wrote in a statement that the city is working with other local governments to promote the area's amenities under the umbrella of the LVGEA.
Henderson Mayor Debra March wrote in a statement that her city will collaborate with the county, cities and other development partners to attract Amazon.
"Henderson would love to be home to Amazon's second company headquarters, but no matter where they decided to locate in Southern Nevada, it would be a huge bonanza for our local economy and workforce," she wrote.
North Las Vegas Mayor John Lee said he was confused as to why the local municipalities would need to agree to form a coalition when the Las Vegas Metro Chamber of Commerce, the GOED and the LVGEA are working to attract projects like Amazon HQ2.
"As a coalition of cities and county, we should be talking about how to get water out to Apex (Industrial Park)," Lee said. "When we have the infrastructure in place, it'll be easier to attract these projects."
Amazon's wish list
Metropolises across the U.S. have expressed interest in becoming Amazon's second home, and the company has made clear the criteria it prefers in a host city.
The Las Vegas Valley clearly meets some of Amazon's preferences: proximity to an international airport, major highways and colleges. Sisolak said the area's low-tax climate and low risk of natural disasters could also lure the company to Southern Nevada.
Amazon also is seeking buildings at least 500,000 square feet in size and undeveloped sites of about 100 acres. County staff members are scouting potential sites, Sisolak said.
Dan Palmeri, a senior director for brokerage firm Cushman and Wakefield Commerce, said the Hughes Center office campus has enough space to meet Amazon's needs, but landlords there would need to relocate current tenants.
Building a headquarters to meet Amazon's size requirements would take at least two years, Palmeri estimated.
"Can we accommodate that? Yes. Do we have 500,000 square feet of office space we could provide them today? No," he said.
Workforce could be barrier
Southern Nevada could also struggle to fill some of Amazon's other desires, said Stephen Miller, UNLV economics professor and director for the Center for Business and Economic Research.
The company has said it prefers a location with "the potential to attract and retain strong technical talent."
Miller noted that while Zappos CEO Tony Hsieh has worked for years to make downtown Las Vegas a tech hub, the initiative has been slow to take off in a community known globally for its hotels, restaurants and entertainment.
Fewer than 30 percent of workers in Nevada have a bachelor's degree, Miller added.
"One area where we might be challenged relative to some other sites would be the labor force. We rely very heavily on leisure and hospitality. Around 30 percent of our employment is in that sector," he said. "I suppose if they were looking at two sites … all other things equal they probably go with a bigger supply of highly educated people."
Contact Michael Scott Davidson at sdavidson@reviewjournal.com or 702-477-3861. Follow @davidsonlvrj on Twitter.